Last minute travel guide
---
HOW TO GO AT SHORT NOTICE
Who doesn't love to be a little spontaneous? And yet, with schedules and social whirls that seem to just get more and more hectic, many of us are losing an ability to just pack and go. The travel industry doesn't always make it that easy for us either, with information overkill on the internet when it comes to late availability holidays.

This last minute travel guide aims to awaken that dormant adventure seeker within, and make the get up and go as smooth a journey as possible. There's information on what sort of last minute holidays are available, whether you need a visa or not, what you need to pack, what fits in with the school holidays, and how our travel team at Responsible Travel can help you along the way. We don't panic when it comes to latecomers to the ball. They are often the coolest travellers of all.
Read our last minute travel guide for more details.
How to go on holiday at the last minute
---
IT'S AS EASY AS ABC
A - Always call us
---
We have become so internet focused these days and think that the best way to book a holiday at the last minute is to go online searching until the early hours of the morning, put in our credit card details, which will probably be wrong, because we are so tired searching we've forgotten all our passwords, and just press 'book'. Wrong. We have people who care. Terrie, Tessa, Naomi, Shannon, Simone, Natasa and Alice on our
Travel Team
, to be precise. They are real people who will be excited about the fact that you want to book at the last minute, and throw themselves into making that work for you. At the end of a phone. Not in a chat room in Outer Mongolia. Although they will do their utmost to send you to Outer Mongolia at the last minute if that is what you're after.
B - Browse
---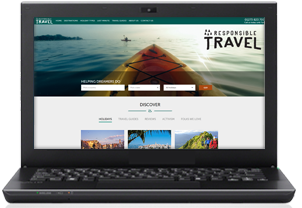 Before you
call Terrie and her Travel Team
, do have a browse through our last minute holiday offers. We have no hesitation in boasting about the fact that we are a top site for shopping the world's best small holiday companies. And small holiday companies are good at late availability, because they are used to working in a bespoke, one to one way.
Small tour operators don't pre-book things the way mass tourism giants do, who pay hotels and airlines up for the whole season way in advance. So, if they can fit you in on a tour, they will. Small tour operators also offer a lot of small group tours, and if only eight people have booked on a tour which can accommodate ten, there's your late availability. We also have clear listings of holidays all around the world that are offering late availability. They might not be offering smash and grab last minute deals, as these are small companies with a fair pay for all ethos, but they will have spaces ready to go.
C - Carpe diem
---
As someone once told the author of this guide, you are never going to lie on your death bed and say to yourself, 'I really wish I hadn't taken that last minute holiday to Africa.' Life is for living. So seize the day,
call us
, check our
Facebook
and
Twitter
updates for late availability offers,
sign up for our emails
packed with offers and last minute holiday ideas, scroll through the late availability offers on this guide, be inspired by the tempting adventures waiting to be grabbed, and just go.