Where to go cycling in Madagascar
Madagascar is massive – at 587,041 km² it's the fourth largest island on the planet. You've no hope of seeing it all in just a couple of weeks, so our cycling holidays focus on one area of the country. For example, from the capital Antananarivo, which itself sits in central Madagascar, you could find yourself cycling south, through the central highlands and down to the southwest coast, or perhaps out along the sultry coastline to the northeast.
Rampant deforestation has destroyed much of Madagascar's prehistoric landscape, but an astonishing variety remains – arid deserts, mangrove swamps, thick groves of bamboo, humid rainforests full of bright colours and avenues of iconic towering baobabs. And of course there's the amazing, and sometimes seriously weird, wildlife, including
lemurs
, one of the country's big draws.
Madagascar's diverse population is similarly intriguing. "Something that I love about Madagascar is the fact that it's so multicultural," says Mandy Richards from our tour partner Escape Adventures. "It's an island that has only been inhabited by humans for 2,000 years – the first came from Asia and then there were migrants from Africa and then more recently the French when Madagascar was a colony. And the Asian and the African cultures have really meshed to become one unique culture, and quite a young one. It's really special in that way."
Read on to find out more about where to go cycling in Madagascar.
1. Allée des Baobabs
One of the country's most recognisable images is a dirt road lined with adansonia grandidieri, or Grandidier's baobabs, some 20km out of Morondava, in western Madagascar. These huge, gnarled trees rise up 30m high, are thought to be up to 1,000 years old, and are all that remains of what was once dense tropical forest. The best photo opportunities come at sunset, but this is no secret, and it can get pretty busy during high season (July and August).
Andasibe-Mantadia National Park
2. Andasibe-Mantadia National Park
Clinging to the trees in Andasibe's virgin rainforest are its most famous residents – the indri. The country's largest species of lemur, known for its distinctive, whale-like cry, is critically endangered, thanks to loss of habitat and hunting. The nine other lemur species living here include the strange, spindly-fingered aye-aye – best spotted during an atmospheric night walk. During the day, keep an eye out for some of the park's 108 bird species.
3. Antsirabe
This chaotic highland city is a jumble of rickshaws, beggars and some of the best crafts in Madagascar. Many of Antsirabe's buildings date back to French colonial times, and the numerous thermal baths, the cathedral and the Saturday market are worth visiting. Get a local's-eye-view of the city by touring in a pousse-pousse – a colourful, hand-pulled rickshaw.
4. Ifaty
Set at the point where arid desert rolls into the Mozambique Channel, the palm-strewn little fishing village of Ifaty is a big draw for divers and snorkelers, and it's one of the best places in the country to spot humpback whales, who visit the waters from June to September. It's also the jumping off point for the otherworldly Spiny Forest, dotted with fat, centuries-old baobabs.
5. Isalo National Park
Wind and rain have chipped away at the sandstone massif in Isalo National Park, leaving a series of deep gorges, wide canyons and pinnacles, with thick tracts of forest in between. This is a popular spot, but if you get head deeper into the park – either by bike or on foot – you'll be rewarded with tranquil waterfalls and natural swimming pools, while the majority of tourists stick to the outskirts.
6. Nosy Boraha
A quieter, less developed island alternative to Nosy Be, Nosy Boraha is a former pirate hideout (complete with local pirate cemetery) turned tropical hideaway. You can explore the island via its potholed network of dirt roads, before settling down to enjoy palm-shaded beaches and tropical rainforests – welcome respite after sweaty, dusty days in the saddle.
7. Ranomafana National Park
Set in mountainous greenery of between 800m and 1200m altitude, Ranomafana's rainforest shelters chameleons, mongooses and 12 species of lemur; and is also home to rare mountaintop flora, including several kinds of orchids. Hiking trails range from an easy, four-hour track to a two-day circuit that crosses the park via a sacred lake.
Tsingy Bemaraha Nature Reserve
8. Tsingy Bemaraha Nature Reserve
The Tsingy is a 'limestone forest' comprised of huge rock pinnacles. The unusual landscape can be explored on foot via hanging bridges and chain ladders, while clipped onto safety harnesses. There are nine species of lemur here, and the park is bisected by the Tsiribihina River, which you can navigate by dugout canoe or slow boat cruise, camping on the riverbanks at night.
Our Madagascar cycling Holidays
If you'd like to chat about Madagascar cycling or need help finding a holiday to suit you we're very happy to help.

More about Madagascar cycling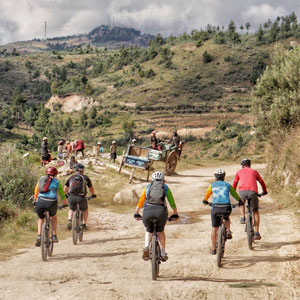 A biodiversity bonanza with over 80 percent of its flora and fauna found nowhere else, Madagascar is more unique than most; but rapid deforestation and habitat loss threaten many of its species with extinction.