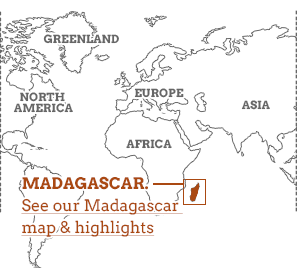 Our small group and tailor made holidays in Madagascar reveal the natural beauty of this huge island off Africa, with many species of wildlife found nowhere else. Youíll tour national parks in search of lemurs with expert local guides, helping ensure that surrounding communities have an interest in protecting often fragile habitats. Your guideís knowledge also comes in handy when trying to understand complex cultural beliefs such as fady, which result from Madagascarís unique and diverse heritage. Adventurous families will love it here too, especially when you combine your wildlife watching with a few days on the beach.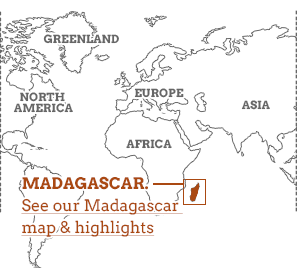 Our top Madagascar holidays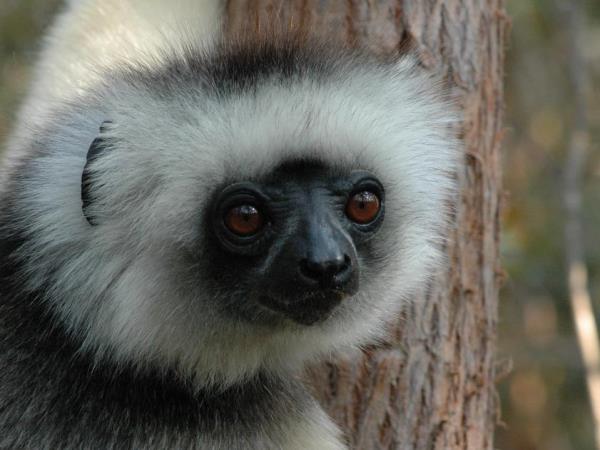 18 days
ex flights
Experience the best of this enigmatic island continent
Small group
2022: 13 May, 17 Jun, 5 Aug, 2 Sep, 16 Sep, 9 Oct, 14 Dec, 2023: 16 Jun, 4 Aug, 1 Sep, 15 Sep, 6 Oct, 15 Dec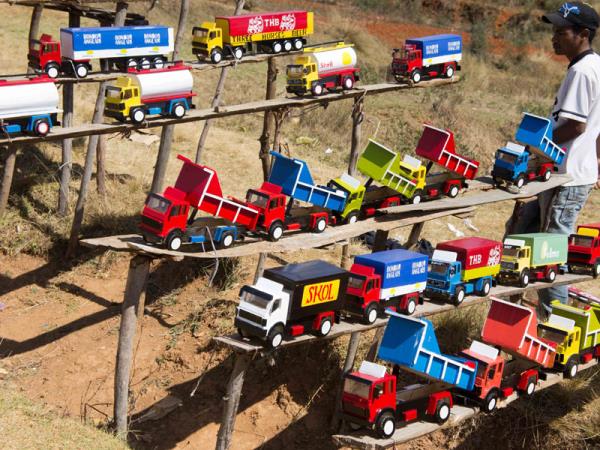 15 days
ex flights
Fantastic family explore adventure in South Madagascar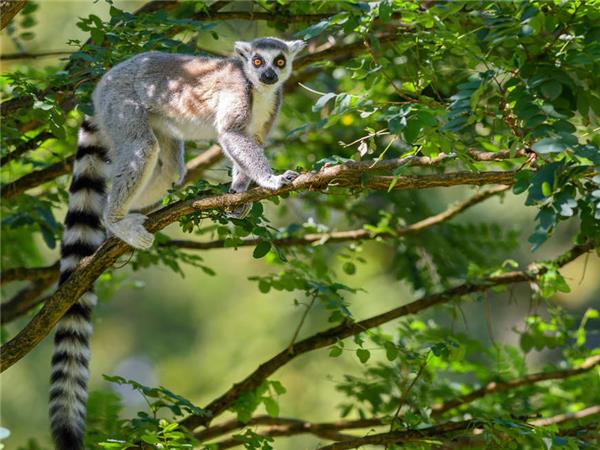 17 days
inc UK flights
Experience the culture and wildlife of Madagascar
Small group
2022: 8 Apr, 6 May, 10 Jun, 29 Jul, 12 Aug, 2 Sep, 16 Sep, 23 Sep, 30 Sep, 14 Oct, 21 Oct, 4 Nov, 18 Nov, 25 Nov, 2023: 7 Apr, 5 May, 9 Jun, 28 Jul, 11 Aug, 1 Sep, 15 Sep, 22 Sep, 29 Sep, 13 Oct, 20 Oct, 3 Nov, 17 Nov, 24 Nov
Best time to go on holiday to Madagascar
Generally speaking, the north is hot and humid, the east is wetter, and the south is arid. The rainiest season is January to March, with cyclones in February, but outside these months the best time to visit Madagascar depends on your itinerary. The central highlands are cold and wet between May and October, but these months are the best time to visit Madagascarís dry southwest Ė where temperatures in the summer (November-January) are unbearably hot. October to December is great for lemurs: babies are born at this time.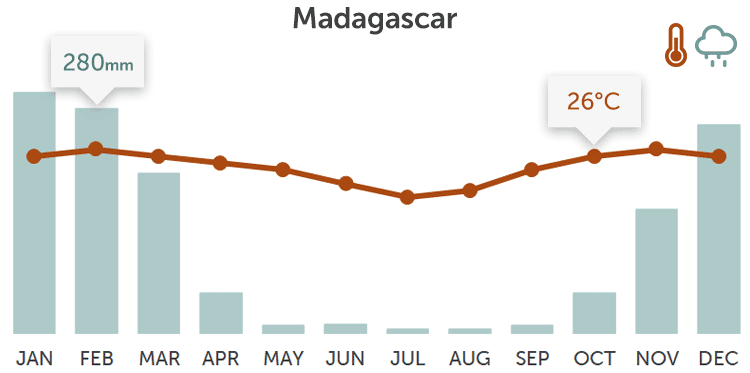 Map & highlights
On a holiday to Madagascar youíll leapfrog from wildlife reserve to wildlife reserve, getting the chance to see community-run projects like Anja Reserve (think ring-tailed lemurs and a nearby vineyard), as well as big national parks like Isalo (canyons and waterfalls included) and Ranomafana (for mountain and wildlife hikes). Whale watching trips launch from the fishing village of Ifaty, while Antsirabe is a wonderfully disorderly city of pousse-pousse rickshaws and sun-bleached colonial buildings. Nosy Be is the most touristy resort; explore the Caribbean-like beaches by sea kayak or yacht to escape the all-inclusives.
1. Anja Reserve
This small, community-run reserve in central Madagascar is best known for its ring-tailed lemurs. The nearby town of Ambalavao has one of Madagascarís only vineyards; do take the opportunity to try local wine - itís never exported. The town is also renowned for its parchment-like handmade paper, pressed with flowers, and fine, woven silk.
2. Antsirabe
This chaotic, highland city is a jumble of rickshaws, beggars and some of the best crafts in Madagascar. Many of Antsirabeís buildings date back to French colonial times, and the numerous thermal baths, cathedral and Saturday market are worth visiting. Get a localís-eye-view of the city by touring in a pousse-pousse - a colourful, hand pulled rickshaw.
3. Ifaty
The little fishing village of Ifaty sits where the arid desert rolls into the Mozambique Channel, via palm-strewn beaches. This is Madagascarís one-stop-shop for whale watching, snorkelling, diving and the otherworldly Spiny Forest, dotted with fat, centuries-old baobabs.
4. Isalo (& Randhira)
Isaloís Jurassic sandstone has eroded into sharp ridges, wide canyons and miniature pinnacles. This bizarre landscape conceals lemurs, burial sites and natural pools, and those who venture into the parkís interior will be rewarded with waterfalls and gorges - and a break from the many tourists that visit the outskirts of Isalo.
5. Nosy Be
A tropical island located 8km off Madagascarís north coast, Nosy Be is the most developed Ė though least authentic Ė tourist destination in the region, with its own international airport and all-inclusive resorts. Beaches rival those in the Caribbean, with much fewer tourists and an idyllic climate. Try sea kayaking, snorkelling, or take a boat to a nearby desert island.
6. Ranomafana National Park
Gazetted in 1991, Ranomafana is part of Madagascarís Rainforests of the Atsinanana World Heritage Site. The 417km≤ montane forestís varied altitudes hide rare mountaintop flora and many species of orchids, as well as 12 lemur species, chameleons and mongooses. Ranomafana offers astonishing scenery and excellent hiking through its lush green hills.
Read our top guides on Madagascar
Our expert travel guides take you on a virtual tour of Madagascar. Learn about the tracks, canoeing rivers and wildlife trails that take you through dense forests, to remote communities, and up craggy mountains in our
Madagascar adventure guide
. You'll soon see why a local guide is as essential as your mozzie spray. Our
guide to walking in Madagascar
takes a closer look at the hiking routes, plus read why travelling on two wheels is one of the best ways of immersing yourself in local life in our
cycling guide
.
Lemurs & other wildlife
Lemurs are the characterful – and, for many species, critically endangered – icons of Madagascar. From the ring-tails and singing indri to miniscule mouse lemurs and dancing sifaka, our guide will tell you
where to see lemurs in Madagascar
. They're not the be all and end all of wildlife here, though. Madagascar was an isolated island for around 70 million years, so around 70 percent of the fauna is endemic, including rarities like the panther chameleon, blue coua, mongoose-like fossa, and the intriguingly named satanic leaf-tailed gecko.
Walking holidays in Madagascar
Trekking holidays in Madagascar
are adventures that explore the rarely trod paths of the south-central and eastern corner of the island. Expect limestone massifs, lunar-like national parks, and rare intact tracts of rainforest that shelter hundreds of endemic species. It'll all be in the wake of a guide who can navigate unmapped trails with ease. Uncontrolled deforestation is serious business in Madagascar, so by walking here you're also helping to prove that forests have an economic value besides vanilla farming.
National parks
The
national parks in Madagascar
are little arks – wildlife rescue boats moored on an island where around 90 percent of the forest has been destroyed. The cathedral-sized trees of Amber Mountain National Park make up the first; now there are 24 more parks to explore. You've got a good chance of seeing one of 12 species of lemurs in Andasibe-Mantadia National Park. Other parks display varied landscapes: the toothy massif of Andringitra National Park, the prehistoric waterfalls and canyons of Isalo National Park, and the green hills and cloud forest in Ranomafana.
Culture & tradition
Madagascar culture
is a mix of Malagasy tradition and others brought by the seafaring nations that have settled here more recently, from Arabic traders to French colonists. You'll get the best insights on holidays that use local guides wherever possible. They'll lead you around trails on community-run nature reserves that they grew up on as children, and take you to locals-only cattle markets and silk factories. With their tips on where to buy traditional wood carvings and the freshest mangos, your money will fall directly into the hands of the communities you meet.
Types of holidays & vacations in Madagascar
Most trips to Madagascar are
wildlife holidays
that give you the chance to see lemurs, yes, but ultimately reveal the biodiversity of an island that's home to five percent of the planet's species of plants and animals. They're
adventure holidays
by nature. The lemurs are rarely delivered to you, and a guided hike through the rainforest is as rewarding as a sighting of a ring-tail.
Small group holidays
place you in the hands of real experts: you'll follow a set itinerary designed and led by those who know Madagascar best.
If you'd like to chat about Madagascar or need help finding a holiday to suit you we're very happy to help.