Madagascar National Parks
All national parks are precious, but when you consider that the vast majority of Madagascar's flora and fauna is found nowhere else in the world – and that 90 percent of its forests have been destroyed – the importance of this island's protected areas cannot be overstated. Much of its remaining primary forest is found within these parks, which are true wonderlands of dancing lemurs, endemic birds, endangered chameleons and striking vegetation – from fat-trunked baobabs to rare orchids, and the bizarre spiny forest.
Many of Madagascar's 25 national parks are explored in our holidays, as you trek, scramble, climb, raft and kayak your way through these extraordinary landscapes. Here are a few of our favourites.
Amber Mountain National Park
Close to Madagascar's northernmost tip, Amber Mountain National Park is a towering cathedral to nature, with a forest canopy soaring up some 40 metres high, hiding waterfalls and rivers. Lianas and orchids cling to the boughs as densely clustered ferns shade the forest floor below. Around a thousand species of plants have been recorded here – fine habitat for eight lemur species, civets and ring tailed mongoose, as well as around 75 species of birds. The national park even has its own chameleon – the Amber Mountain leaf chameleon, one of the world's tiniest reptiles.
This was Madagascar's first national park, designated in 1956, and interestingly there is no Amber Mountain; the park is named from the resin that oozes from some of its trees. Base yourself in nearby Joffreville, an unassuming rural village some 4km away, filled with ramshackle colonial houses, rum bars and lychee farmers.
Andasibe-Mantadia National Park
Madagascar's largest lemur, the metre-long indri, can be found in Andasibe-Mantadia National Park, along with 11 other lemur species, including the nocturnal, eerie-looking aye-aye. This park is also known as Perinet Reserve, and is one of Madagascar's most popular thanks to its accessibility; it's a three-hour drive along paved roads from Antananarivo. Local guides – required to accompany any visitors to the park – will give you a hand spotting many of the 108 bird species that can be found in Perinet's 155km² of primary rainforest, and follow the whining call of the indri, which sounds almost like whale song.
Andringitra National Park
Covering a section of the granite Andringitra Massif, this national park ranges in altitude from 650m to 2,658m at the crest of Boby Peak, Madagascar's second highest point. Andringitra has been protected since the 1920s, but wasn't gazetted as a national park until 1999. In 2007, it became one of the six national parks covered by UNESCO's Rainforests of the Atsinanana World Heritage Site. Even by Madagascan standards, Andringitra is biodiverse, thanks, largely, to the variety of habitats offered by the range of altitudes, rivers, humid forest and grasslands. The 50 mammal species include 13 lemurs, five of them nocturnal. There is excellent hiking in the park, including a three-day trek to the summit of Peak Boby, staying at campsites or simple hotels en route. Bring warm layers if spending the night here.
Our top trip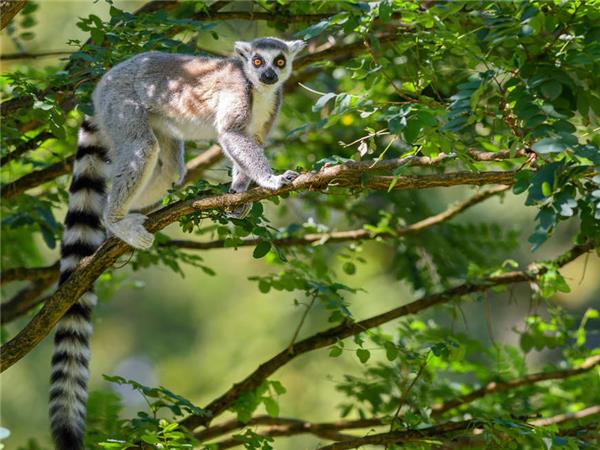 Experience the culture and wildlife of Madagascar
From
£2395

to

£2780
15 days
ex flights
Small group travel:
2024: 30 Mar, 6 Apr, 20 Apr, 4 May, 25 May, 8 Jun, 6 Jul, 20 Jul, 3 Aug, 7 Sep, 14 Sep, 21 Sep, 28 Sep, 12 Oct, 19 Oct, 26 Oct, 2 Nov, 9 Nov, 16 Nov, 23 Nov
If you'd like to chat about Madagascar or need help finding a holiday to suit you we're very happy to help.

Ankarafantsika National Park
The dry tropical forest of this little visited national park shelters eight lemur species, including the golden-brown mouse lemur, which is found nowhere else in the world. And of the 129 species of birds, over half are endemic to Madagascar. Look out, too, for rare Madagascan big-headed turtles and rhinoceros chameleons. A number of well maintained trails lead through the park, taking between two and four hours to walk. Meeting the Sakavala people is a real highlight of Ankarafantsika. A collection of ethnic groups concentrated along Madagascar's northwest coast, the Sakavala are known for their royal ancestor worship, most notably through their Tromba ceremonies, as well as for farming huge herds of zebu cattle.
Isalo National Park
Wind and rain have worked their magic in Islalo National Park, eroding the dominating sandstone massif into deep gorges, wide canyons, sharp ridges and mini-pinnacles. These surreal, prehistoric landscapes attract many visitors – but the few who hike into the park's interior, particularly on multi day hikes, will be rewarded with tranquil waterfalls and natural swimming pools to cool off in, while the majority of tourists stick to the fringes.
Ring tailed lemurs and sifakas – known for their skipping, sideways "dances" – are two of Isalo's wildlife highlights; spot them in the Canyon des Singes (Monkey Canyon) as they swing through the canopy.
Ranomafana National Park
Another of the UNESCO Rainforests of the Atsinanana World Heritage Site, Ranomafana's tropical cloud forest blooms with rare mountain flora including many pretty species of orchids. The national park was gazetted in 1991, following the discovery of the critically endangered golden bamboo lemur, which is found only in the region of this park and nearby Andringitra. Only around 1,000 individuals are believed to exist, and the bamboo they eat contains levels of cyanide strong enough to kill any other creature of their size. 11 other lemur species can be found in Ranomafana, including black and white ruffed lemurs and sifakas. The lush green hills offer excellent hikes – with views to match.