Marine conservation advice
Work-holiday balance tips
Polly Alford, from our supplier ReefCI shares her advice on having a work-holiday balance:
"Our trips are designed for people to get as involved as they like – if you choose to have a lie in and miss the early morning dive, or simply chill in a hammock under a palm tree then that is totally up to you you! The research methodologies we teach are very simple and straightforward; we try to give the general diver a unique opportunity to learn about and help conserve the marine environment while having a fun holiday. Our trips are for both experienced and non-experienced divers, scientists and non-scientists – everyone makes a contribution regardless of their background and experience, and we appreciate that although you're helping us, it's your holiday too."
Location advice
Harriet Whitmarsh, from our supplier, The Great Projects, shares her advice on choosing the right location: "Some marine conservation projects are located on obscure little islands where travel links are poor and even though that's amazing when you get there, arriving at your destination could involve internal onward flights, or lengthy road travel, which is fine if you're a seasoned and good traveller, but won't be comfortable if you're not. Think about the logistics involved and don't be immediately wowed by the location - places like Mexico and the Maldives are hugely popular marine conservation spots and very easy to get to, but might be a little bit more expensive than somewhere more isolated. Weigh up what's important to you an choose your destination wisely."
Advice on finding the right trip
Anne Smellie, from our supplier, Oyster Worldwide, shares her advice on doing thorough research: "If you are interested in joining a marine conservation project, you need to make sure you're booking with a company that briefs you thoroughly on all aspects of the trip. If that doesn't happen you could think you're booking something completely different to what it actually isn't and you'll arrive disillusioned and unhappy, plus the project won't be happy with you because you will have turned up with all of the wrong expectations. It's the tour company's responsibility to make sure you're prepared, so it's essential to ask as many questions as you can."
HEALTH
Be generous with the sun block. You may not notice the sun so much when you're in the water, but the water will magnify it, and you can get burned without even noticing. Source a suncream that doesn't contain too many harmful chemicals, which can wash off in the water.
Cover up when snorkelling - your back, legs and bum can get burnt.
Speak to your tour operator if you have any back or neck problems. Some smaller boats may not be suitable. They can also advise you on how to minimise the impact of repeated dives.
Keep well hydrated. Working in the sun is tiring and will make you more thirsty than usual.
If you are prone to seasickness, choose a land-based tour with shorter times out at sea. Some regions have rougher water than others. Take medication with you if you are worried. Ginger is also a good, natural remedy.
You may spend a long time scanning the ocean. Wear good sunglasses with UV protection to save your eyes from the reflective glare. Polarising lenses may also help you see more clearly.
Some regions will require specific vaccinations and other health precautions including antimalarial tablets. Visit your GP 6-8 weeks before departure to seek advice on what you may need.
Some marine conservation trips are based in very remote locations and could be some distance from hospitals or healthcare facilities - it's advisable to bring rehydration sachets, medicine for stomach upsets, a basic first aid kit and some antiseptic cream for any cuts, which can become infected easily and heal slowly when exposed to water.

SAFETY
Check that your chosen project has appropriate health and safety procedures in place for both diving and non-diving trips. Life jackets are essential.
If you are training towards a diving qualification while on a marine conservation holiday, make sure that your course is accredited by a reputable organisation – most will be PADI.
Do not approach any marine life without specific instruction from your dive leader and/or tour operator. It's harmful for many underwater species to be touched and you're going to encounter some weird and wonderful fish down there, so it's important to know what they're capable of before you approach them.
Never approach whales or sharks. Even though most species are non-aggressive, they are huge and powerful and could cause serious harm if they breach or slap their tails.
It's not just you that needs protecting from the elements, your camera does, too. If you're working on board a boat or on land, pack plastic bags to wrap it in when in your bag, and use a protective filter and a lens hood to avoid it getting splashed. Keep the lens cap on when not in use.
Insurance is essential. Make sure your policy covers all activities involved in your trip as well as emergency repatriation and medical evacuation.
Check the FCO website for the latest safety advice for your destination.
Our top trip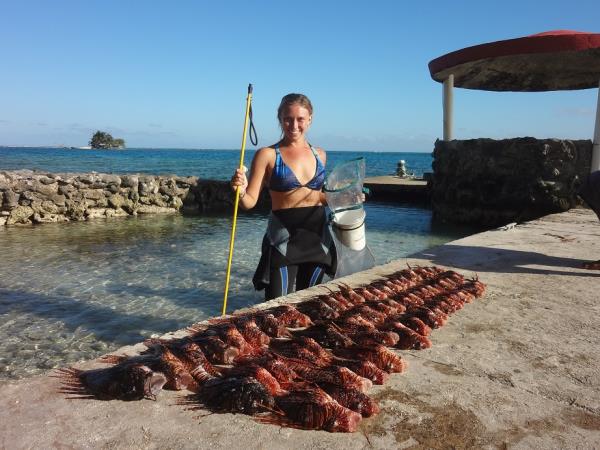 Help us protect reef ecosystems by hunting invasive species!
From
US $995
5 days
ex flights
Tailor made:
This trip can be tailor made throughout the year to suit your requirements
If you'd like to chat about Marine conservation or need help finding a holiday to suit you we're very happy to help.

Holiday reviews from our travellers
At Responsible Travel, we think the best people to advise our travellers are often... other travellers. They always return from our tours with packing tips, weather reports, ideas about what to do - and opinions about what not to.

We have selected some of the most useful marine conservation tips that our guests have provided over the years to help you make the very most of your holiday - and the space inside your suitcase.

Stay a day or two on each end of your week for visiting local sites. Be open to new people and appreciate the beauty and remoteness of it and the waters around it.

"Book for at least two weeks! I was only able to come for one week, but left wanting more." - Karen Whitham

"Be prepared for long days, enjoying yourself, and lots of very, very good diving." - Michael Allbritton

"Go prepared to learn, there's loads of really interesting marine ecology information to learn and there are interesting and knowledgeable people there, who are enthusiastic about sharing their knowledge." - Stephen Orwin

"Be prepared for what you are going to. Not that I think that anyone would be disappointed with the project, but being prepared makes the experience even better! Research what to bring in advance and what sort of tasks you will be doing at the site." - Emilie Gronsund

Go now! It's amazing! Even if you haven't ever dived before, you will love it.

"Bring warm clothing, but in layers. It can get nice and hot, but it can also get chilly and wet. Waterproof trousers and jacket are an absolute must, and on a sunny day, put sunblock on the back of your hands.... trust me!" - Cara Quipers

"The waves and wind in the mid-Atlantic can be very strong. If you have seasickness problems, the Azores may not be very suitable." - Patty Tse

"If you're heading to Canada, Remember Newfoundland is vast! Do not underestimate the distances between places you visit." - Helena Hodges

"Pack spare stuff, and bring some portable ipod speakers! Cannot stress how much music cheered everyone up and brought people together in the evenings for jamming sessions!" - Daniel Williams
More Marine conservation articles