Where to go on a marine conservation holiday
---
RESPONSIBLE TRAVEL RECOMMENDS
From the vibrant culture of Thailand to the rustic Atlantic coast of Portugal's Azores, the locations that host marine conservation holidays are as diverse as the work you can do on them. Although once you've arrived you'll be travelling by boat, either on short journeys between different dive spots, or spending the duration of the day out at sea, it's worth thinking about the travel that actually getting there entails. When you're thinking about where to go on a marine conservation holiday, consider how seasoned you are as a traveller – some projects are tucked away on faraway islands and require additional onward flights or long stretches of road travel to reach and may not suit everyone. Think about the logistics involved and don't be immediately wowed by the location.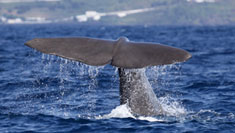 The Azores
Best time: Jun-Sep. A pocket of rugged Portugal in the middle of the North Atlantic Ocean, the Azores is a hotspot for whale and dolphin conservation. Join a dive-free expedition on a research boat ID'ing whales, recording vocalisations and tagging loggerhead turtles, or focus your total attention on whales assisting a team of biologists collecting photo ID and ecological data.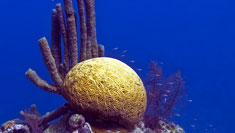 Belize
Best time: Year round. There are masses of options in beautiful Belize – home to the second biggest barrier reef in the world – from one week on a non-intensive, and, rarely, all-inclusive diving holiday with more free time, to a more full-on four-week conservation internship offering invaluable work experience for those thinking about studying or working in the field.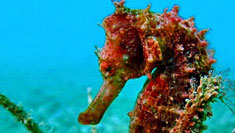 Cambodia
Best time: Feb-Aug. If you love scuba diving and want to use your skill to do something worthwhile, head to Cambodia. Here, you can build manmade coral reef pods under the water surrounding a remote tropical island, track and monitor endangered seahorses, and - when you're not diving - teach English to local kids and help install vital infrastructure in surrounding villages.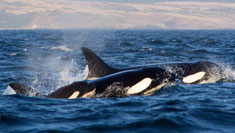 Canada
Best time: Jul-Aug. The planet's largest gathering of humpback whales off Canada's Newfoundland and Labrador Coast is also the least studied; join the only annual orca census carried out in the area, or participate in a relaxed whale study week onboard a boat in the North Atlantic helping to collect scientific information and learning how to capture incredible photos.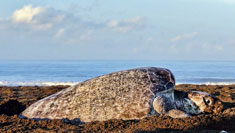 Costa Rica
Best time: Jul-Dec. Costa Rica is the ultimate beach destination and working on a turtle conservation project there gives you the chance to explore its unspoiled coastline while helping to protect the precious environment of its shelled inhabitants. You'll patrol the beach, monitor nests, protect new hatchlings, and record observations for future protection campaigns.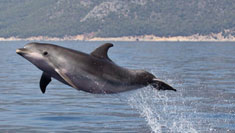 Greece
Best time: Jun-Sep. Dolphins have permeated Greek culture for centuries and important populations still live and reproduce in the Greek seas. Living the life of a full-time researcher, you'll assist with science-based conservation collecting daily surveys at sea aimed towards resolving successful management of local resources for the benefit of dolphins and locals alike.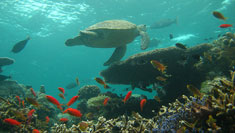 Malaysia
Best time: Mar-Sep. On the paradise island of Perhentian Besar in Malaysia, green turtles are in dire straits with their population decreasing by 80 percent in 50 years. Non-divers can participate in nightly beach patrols, hatchling release and hatchery maintenance, while divers can prepare coral frames, clean corals and replant frames across the house reefs surrounding the beach.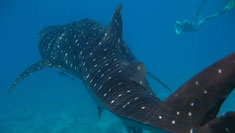 Maldives
Best time: Feb-Dec. The Maldives isn't just mushy, it's also where you can swim beside the biggest fish in the world: the whale shark. Suited to strong swimmers and divers, work is mainly out at sea picture ID'ing the phenomenal fish and entering your accurate data onto a database. Community involvement includes hosting activities to spark the interest of local school kids.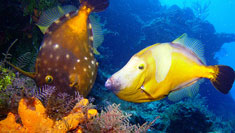 Mexico
Best time: Feb-Nov. An intensive dive-heavy option, marine conservation in Mexico involves living on a deserted beach for a minimum of 4 weeks assessing the health of the second largest coral reef system in the world. Collecting crucial data, you will be the only people diving in the Biosphere Reserve, surveying the deserted reefs under a special research permit.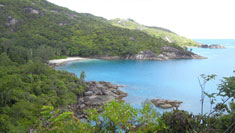 Seychelles
Best time: Jan-Nov: An natural utopia, the Seychelles are a serene set of islands, but the conservation work that needs doing there is tough: long days, early starts and lots of fantastic diving. Another option is turtle conservation with a difference – conducting in-water surveys by snorkelling and collecting data on endemic species via long, lush hikes.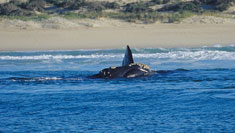 South Africa
Best time: Feb-Aug. Striking a brilliant balance between engagement with the local community and marine conservation, a whale and dolphin project in South Africa is all about empowering the community to become actively involved in the conservation effort. Besides sampling, tagging and monitoring fish, you'll raise awareness in local schools and replant trees.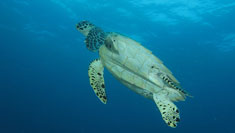 Thailand
Best time: Year round. Known for its incredible diving, many people flock to Thailand's idyllic islands to qualify as divers and help protect the all-important coral found off the country's stunning shores. Studying turtle behaviour and nesting patterns is popular too, with the aim to understand why the beautiful leatherback, green and olive turtles there are sadly dying out.

Hello.
If you'd like to chat about marine conservation or need help finding a holiday to suit you we're very happy to help.
Rosy & team.
01273 823 700
Typical daily timetables
---
WHAT WILL I BE DOING ON A MARINE CONSERVATION HOLIDAY?
Marine conservation in Belize (from 1 week):

• 6am: Tea, fruit
• 7.30am: First dive – lobster survey, commercial fish survey, lionfish spearing
• 9am: Big cooked breakfast; training – coral ID or fish ID session
• 11.30am: Second dive – coral watch, ID session fish, lobster/conch survey
• 1pm: Lunch - burrito
• Free time
• 3.30pm: Third dive – coral watch survey
• 7pm: Dinner – fresh fish, rice, okra,
• Evening: Relax, socialise; presentation on the marine environment or the organisation.

Turtle conservation in Costa Rica (from 1 week):

• 7pm-5am: Rotating 4-hour beach patrols
• 9am: - Tico-style breakfast with fruit, rice and beans, toast, cereal and pancakes.
• 10am - 1pm: Hatchery duties, logging of turtle data acquired overnight, releasing baby turtles if necessary and in season (Sep-Dec)
• 1pm: Lunch - Costa Rican/international
• 2pm - 6pm: downtime to explore or have a nap
• 7pm: Dinner - Costa Rican/international
• Evening: Relax, socialise; two patrols of 4 hours long each.

Marine conservation project in the Seychelles (from 4 weeks):

• 5am: Helping out – cooking, cleaning, general prep
• 7am: Breakfast
• 8.30am: Prep boats and dive kit
• 9am: Dive boats leave in waves every two hours
• 1pm: Lunch
• Afternoon: Those not diving - entering data, studying skills, preparing English lessons for local kids, beach cleans
• 3-5pm: As last boats come in: clean kits, prepare equipment for next day
• Evening: dinner, de-brief, discussions, make plans for next day