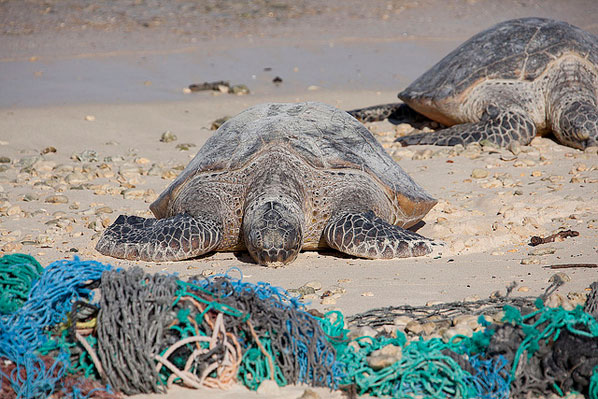 One of the most threatening behaviours towards marine life is fishing, or, more accurately, the destructive practices that are employed to catch more fish.
Bottom trawling, an industrial and massively detrimental fishing method that has the same effect on marine life as deforestation does on wildlife, destroys the seafloor and rips up beds and coral in its wake. Similarly, dynamite fishing, a particular problem in Southeast Asia that involves dynamite and other explosives being set off underwater prompting dead fish to float to the surface and be scooped up by the bucket load, leaves the underwater environment destroyed and disjointed, like a pile of rubble.
Overfishing is perhaps the one practice where some sense can be applied and in countries such as Thailand, survival is a language far clearer understood than sustainability. The dangers of overfishing, which can affect the ecological balance of coral reef communities causing long-term effects far beyond the plight of the directly overfished population, are thankfully being brought to the fore by marine conservation projects who are involving and educating the locals wherever possible in an attempt to break negative cycles.
What can you do?
Other than not become a trawler fisherman, the most valuable thing you can do is engage with the local community in the destination that you visit and try and understand their point of view, as well as educate any willing ears as to what the conservation work is trying to achieve. It's always worthwhile showing your support for organisations that are trying to combat the problem with overfishing, such as
Greenpeace
, and Hugh Fearnley-Whittingstall's 'fish fight'. The latter is a successful campaign launched to put the issue of sustainable fishing in the laps of our own politicians and supermarkets, which is being supported and continued by the
Marine Conservation Society
.