If you are on a beach at night where turtles nest, use a red light or switch off your torch altogether, wear dark clothing, and keep several metres away from any mothers you see coming ashore.
Never use flash photography. If you see any hatchlings, you can scare off any predators, but leave the hatchlings alone. They should only be picked up if they are clearly crawling away from the sea (this often happens when there are lots of lights to confuse them). If this happens, turn them around and make sure they make it out to sea. But let them crawl as far as possible, to ensure they get their bearings and remember the beach they hatched on. If they are female, they will hopefully return here in years to come, to lay their own eggs.
If you choose to take a turtle watching tour, these can be a great way for projects to raise funds to pay for local rangers and awareness campaigns, so
you don't always need to be a volunteer to help local turtles.
However, do ensure you choose a reputable operator and guide. Responsible companies will inform you about the rules and regulations such as no flash photography, wearing dark clothes, small group sizes and keeping your distance from nesting turtles. Irresponsible companies will simply try and get as many tourists as possible onto their trips.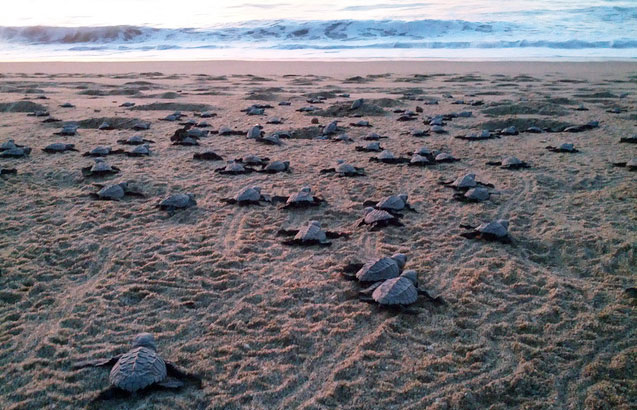 Dolphin-friendly tuna has been around now for decades, but no equivalent exists yet for sea turtles or other marine animals which are caught as part of the bycatch or injured by nets and boats. However,
wherever you are in the world it is worth looking into different brands to find out which have responsible fishing policies.
Pole and line caught fish is considered the most ethical (well done Sainsbury's tuna), but without a reliable kitemark, information from food brands on how their fish was caught, or even an agreement amongst campaigners of what an ethical yet practical fishing method would look like, we appreciate that ensuring your fish choices don't harm turtles is virtually impossible. The best course of action? Get to know your local fishmonger, research the brands sold at your local supermarket and try and educate yourself as best as possible. And for American tuna fans – Greenpeace has done some of the hard work for you with their
tuna guide.

Do be aware of how tourism and turtle conservation can support local communities, and vice versa, and keep an open mind when learning about cultural differences.
Anne Smellie, from our turtle conservation holidays expert Oyster Worldwide, explains: