Mont Blanc is so beautiful it just had to be shared. With approaches possible from France, Switzerland and Italy, it is a tripartite triumph of nature. A multinational massif. A joint adventure. The highest peak in Western Europe, it has seven main valleys feeding off it, all lying in its stupendous shadow. Mont Blanc's summit at 4,810 metres is covered in snow and ice all year round, so when people talk about 'doing Mont Blanc', they usually mean hiking the lower regions of it.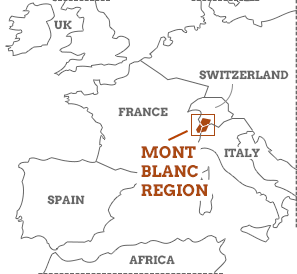 For some, Mont Blanc appears rugged, jagged and alienating. But when you hike here, it just feels like a privilege. Like you have entered a special kingdom.

This Mont Blanc travel guide explores ways in which you can trek or climb Mont Blanc, head to its summit or through its shadows, staying in traditional huts or four star hotels along the way. The most famous route is the Tour de Mont Blanc, a 170km circuit through all three countries. Although the climb to the summit is iconic and achievable, you need more climbing experience than the circuit, but there are plenty of holidays to take you to the top too.
The classic trip up or around Mont Blanc is on a small group holiday, led by a highly qualified International Mountain Leader, or IML.

There are several ways to tackle it, trekking around it at lower level, trekking across it at high level, or climbing to the top. Whichever route you choose, depending on the time you have to spare and your trekking experience, it is important to have a good level of fitness.

You can go classy or camp, stay in four star hotels or remote mountain refuges, but whatever way you tackle Mont Blanc, you will want to come back for more. Because this is Alpine Arcadia.
The main Mont Blanc itineraries
Tour de Mont Blanc
Sometimes known as TMB, you can do this in one week or two weeks, depending on how challenging you want your Mont Blanc holiday to be. Either way, you get to marvel at the massif by circumnavigating its 170km at a lower level, using the trekking paths that link the seven main valleys surrounding the prestigious peak. Note: you do not climb to the summit on the TMB. Although many people start in the Chamonix Valley and go anti-clockwise, a great way to approach it is starting in Switzerland and go clockwise, as it is quieter. Either way, you will be traversing Mont Blanc's mountainous tripartite terrain of France, Italy and Switzerland. The highest you climb on the TMB is 2,537m, staying in a variety of accommodation types according to your budget or comfort thresholds. Camping on a col is not for everyone, especially when you can have a hot tub with a view of one.
Climb to the summit
This is one of those challenges of a lifetime, with the pinnacle of this highest peak in the Alps standing strong at 4,810m. Covered in snow and ice all year round, you do need climbing experience to take this one on, as you will be using ice picks, crampons and a lot of courage to conquer the more elevated cols and glaciers. There are two options for getting to the summit: the Gouter Route, aka Voie Royale, or the more challenging Cosmiques Route aka 'La Traversee'. The usual, and traditional, accommodation on the ascent is in mountain huts.
Mont Blanc to the Matterhorn
This route follows a classic ski touring route called the Haute Route, which are then used by hikers in summer. You spend two weeks hiking 100km through the valleys of the Haute Savoie in France to the Swiss Valais. Starting at the Chamonix valley floor, you ascend to start a journey which takes you beneath ten of the twelve highest mountains in the Alps. As you are way up there, you will sleep in mountain huts or in tents along the way.
Centre based trekking
This might be considered Mont Blanc 'Light' by the hardcore alpinists, but if they could come back to the hot tub overlooking their beloved beauteous beast of Mont Blanc every evening, with dinner and wine waiting, they might see this as Mont Blanc 'Sorted' instead. Taking on some of the mountain's most celebrated hikes every day, such as Lac Blanc, Aiguillette des Houches and the Ferret Valley, you have the joy of minibuses to help with transits to and from your hike every day, for eight days. Hikes range from 9-15km a day.
Our top Mont Blanc Holiday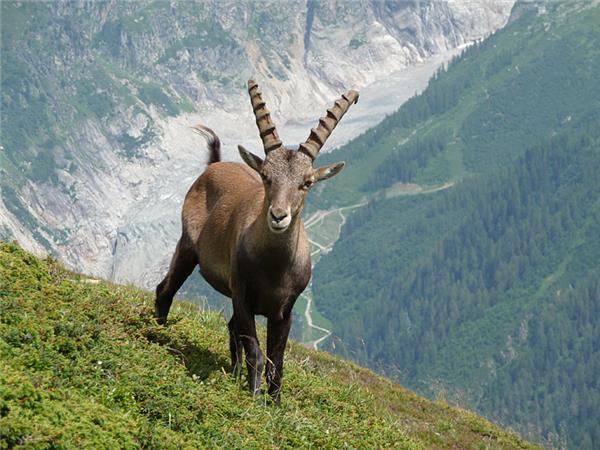 The best of the Tour du Mont Blanc
From
£1049

to

£1249
8 days
inc UK flights
Small group travel:
2018: 29 Sep
2019: 18 May, 25 May, 1 Jun, 8 Jun, 15 Jun, 22 Jun, 29 Jun, 6 Jul, 13 Jul, 20 Jul, 27 Jul, 3 Aug, 10 Aug, 17 Aug, 24 Aug, 31 Aug, 7 Sep, 14 Sep, 21 Sep, 28 Sep, 5 Oct
Hello. If you'd like to chat about Mont Blanc or need help finding a holiday to suit you we're very happy to help. Rosy & team.
Hike Mont Blanc if…
The summit isn't the only pull. You need alpine skills and experience to get to the top, and not just the sort you can just learn on YouTube. You can, however, do some serious hiking on the Tour de Mont Blanc, which circumnavigates the massif.
You have the right gear. No matter what time of year, you need sturdy boots, layers and waterproofs. This is NOT just a walk in the park. It is the biggest mountain in Europe.
You enjoy the company of an expert guide. Not all Mont Blanc holidays are guided, but good ones take you, and your holiday, to another level. On Mont Blanc you need a qualified International Mountain Leader (IML), not just a local guide.
You like mountain food. You can walk through three different countries when taking on the massif, eating your way through Italy, Switzerland and France. One thing in common is mountain food, with plenty of potatoes, cheese and cured meats to maintain your trek through the tundra.

Don't hike Mont Blanc if…
You want to race to the top. If you are trained and tackling the ascent it takes a few days. There are mad people who try to do it in 24 hours. Mont Blanc is not for mad people.
You don't want to get wet. In the mountains, in particular, weather conditions change quickly, so you need to be prepared, even when taking on the lower altitude routes.
You are a fastidious time keeper. Walking holidays are for taking your watch off and switching off.
You are more into Michelin Stars than star gazing on a remote mountainside. Chocolat chaud in a mountain refuge overlooking the mother peak of them all is sometimes the taste that will linger longest.
A brief history of Mont Blanc
Ownership of Mont Blanc's summit has always been a bone of contention through the centuries, but it was finally sliced down the middle, right through the icecap in 1861, giving equal territories to Italy and France. The main towns of jurisdiction are the Italian town of Courmayeur and the French town of Saint-Gervais-les-Bains. Switzerland is home to a large part of the massif, which is why you pass through all three countries while taking on the Tour de Mont Blanc walking circuit. Consequently, any political decisions regarding the future management of the Mont Blanc massif need to be approved by all three countries.
Read more
Convert currencies