Namibia family holidays guide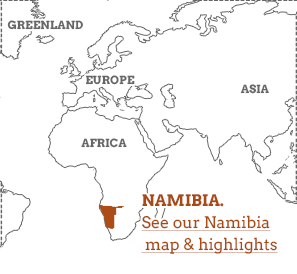 Keeping kids of all ages happy, active and engaged on holiday is a perennial challenge for parents, but Namibia takes care of all of the above, effortlessly. Dishing up hearty servings of active adventure, mind blowing scenery and abundant wildlife, this Southern African country is a superb destination for families, striking that tricky balance between feeling new, strange and exciting, but also approachable.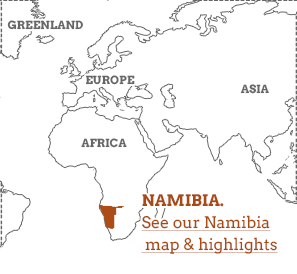 Four times the size of England yet with only 2.5 million people, Namibia is desert wilderness, wildlife and adventure in one exhilarating package.

While Kenya or Tanzania are predominantly about wildlife watching, Namibia is a veritable playground of possibilities. Hike up the towering dunes of Sossusvlei, camp in the shadow of massive sand monoliths in Sesriem, take a flight over the Skeleton Coast or try adventure sports in Swakopmund – anything from sandboarding to quad biking. Plus wildlife – don't forget the wildlife. Elephants, lions, rhinos and more besides cluster around waterholes in Etosha National Park; gemsbok and ostrich stroll through the Namib Desert, flamingos gather at Walvis Bay and seals at Cape Cross, while desert elephants rule in Damaraland. Find out more in our Namibia family holidays guide.
Our Namibia family Holidays
What do Namibia family holidays entail?
Namibia is famed as a destination for self drive holidays, but to take the strain out of a family break, a guided small group holiday works best. The children have the chance to make friends with other youngsters in the group (usually no more than 12 people in total) and parents can relax knowing that all the driving, navigating and organising is taken care of by an experienced guide and driver.
Family tour guides
In fact the guides that accompany family group holidays to Namibia are regularly name checked in reviews as one of the best things about these trips. They are practiced at entertaining and engaging children and work hard to ensure all ages get the most from the holiday. They will make sure there are opportunities for younger children to burn off some energy and will strike the balance between sharing their love and knowledge of Namibia, with giving everyone some private family time. They are unfailingly patient when it comes to explaining what's happening and what everyone is seeing, so even the youngest kids come home with a deeper understanding of the country (and some fun facts, too).
Are their age restrictions?
Are their age restrictions?
There are usually age restrictions on family holidays – children typically need to be at least seven or eight years old – but many Namibia holidays that are not specifically marketed at families are open to children aged 12 or above, so if you have older kids, you'll have a greater choice of tours. Some family holidays also operate as teen only departures, so that the activities can be adapted to suit.
Small group family trips are efficient at seeing the most of Namibia – a massive country – in a two week window. You should expect some long drives and early starts, though, to cover the ground, but family holidays usually aim to keep journey times to no more than five hours at a time, and you are welcome to request loo breaks, snack stops and photo ops. It's a good idea to bring, books, games or music to while away long drives, and generally children are happy to stick on headphones, snooze and enjoy the downtime while in the vehicle. The scenery never disappoints, either, so most people find the travelling fine.
Accommodation
Most small group family holidays stay in a mix of guesthouses, lodges and campsites. Some trips include a night or two of wild camping in the remote wilderness, too, with only a pit toilet and no other facilities – a great adventure. Most lodges, chalets and campsites have Wifi, good shower facilities and a swimming pool, but if you're travelling during the Namibian winter, remember the pool water can still be icy, even if the sun is warm. You will also be able to charge devices here, so everyone can keep phones topped up for long journeys.
Our top Namibia family Holiday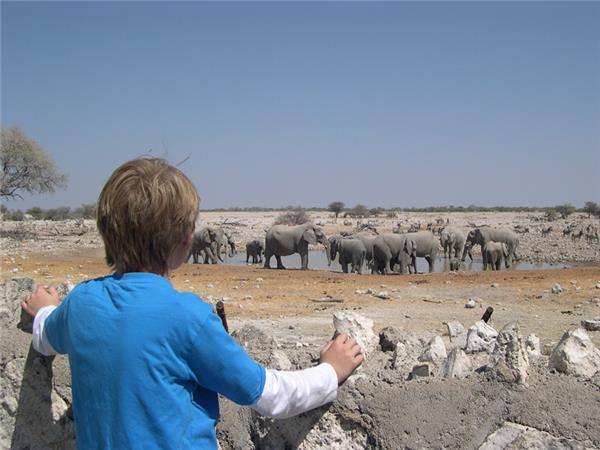 Climb the highest sand dunes in the world
From
£3799

to

£4449
15 days
inc UK flights
Small group travel:
2023: 15 Jul, 22 Jul, 29 Jul, 5 Aug, 13 Aug, 19 Aug, 20 Aug, 22 Dec
2024: 13 Jul, 20 Jul, 27 Jul, 3 Aug, 10 Aug, 11 Aug, 17 Aug, 18 Aug, 20 Dec
If you'd like to chat about Namibia family or need help finding a holiday to suit you we're very happy to help.

Immigration rules
Be advised that you will need to travel with a full birth certificate for all children under the age of 18 (the same rules apply in South Africa, too). Only the full birth certificate, that details the child's name and the names of both parents, is sufficient. The abridged (short) birth certificate which only lists the child's particulars won't be accepted by the Namibian Ministry of Home Affairs and Immigration. Find out more on the
FCO website
.
Health & safety in Namibia
Health & safety in Namibia
When it comes to illness, Namibia has a low risk of malaria, especially during its winter, although many travel companies still recommend using anti-malarials. Talk to your GP or travel clinic six to eight weeks before you leave to decide what's best for you. The food here is high quality and safe, and the tap water is safe to drink. If you're travelling during the school summer holidays, bring plenty of moisturiser and lip balm – Namibia is incredibly dry in August. If you're travelling to Namibia from mainland Europe, there is minimal time difference, so a family sized dose of jet lag won't be on the menu.
Family holidays to Namibia include a range of activities to keep young people of all ages entertained, including hiking, dolphin watching, sandboarding and spotting game at Etosha National Park. Be aware that some activities, such as climbing the sand dunes at Sossusvlei and walking to see the White Lady rock art could be challenging for younger children, but most tours give you the option to skip anything that doesn't suit.
Volunteering as a family
There is also the option to take a family volunteering holiday in Namibia, with a mix of community and conservation work. You might spend an 11 day trip doing renovation work in a local school, then hit the road to track and monitor elephants. This kind of holiday, designed with families in mind, always includes time to relax, explore and learn, with family games, fishing trips, nature walks and other fun activities included alongside the volunteer work. They typically suit children aged eight and upwards.
Best time to go on a Namibia family holiday

During the school summer holidays, Namibia dishes up the Southern African version of a winter wonderland – dry weather, warm days and cold nights.

Namibia's climate obliges families by serving up good weather in the school holidays. The summer break is the best time to visit, when it's winter across southern Africa and the weather is dry and game viewing in Etosha at its best. Pack for cold temperatures, though – it can drop to almost freezing at night in July and early August. At Easter, the rains are easing off, the landscape is green and temperatures in the high teens, but avoid Christmas and New Year, as it's wet in the interior and far north. You can't do justice to Namibia in a week, so this isn't the ideal destination for a half term escape.
More about Namibia family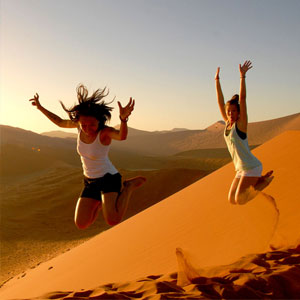 Discover the lunar landscapes, soaring sand dunes, adventure hotspots and wildlife wonders of Namibia with our interactive map and highlights. These must-see spots provide perfect family entertainment and all within close – by Namibian standards, anyway – proximity of each other.