Namibia family holidays map & highlights
Family holidays to Namibia typically rely on the country's well maintained road system to move between destinations, with drive times deliberately kept to a maximum of five hours so children aren't taxed by full days of driving. A full but family friendly fortnight in Namibia might involve a circuit that starts in Windhoek, heads south to the Namib desert, on to the coast at Swakopmund, up through Damaraland to Etosha National Park and back to Windhoek via the Waterberg Plateau. There are plenty of international flights into Windhoek and from the UK, only a minimal time difference, so no jet lag.
1. Brandberg
Namibia's highest mountain, Brandberg, lies in Damaraland, an area famous for desert elephants which roam the Ugab River. Enjoy a valley walk to the White Lady rock painting, thought to have been made by Bushmen some 2,000 years ago, seeing granite rock formations and birdlife along the way. Star gazing is spectacular in this remote area.
2. Etosha National Park
The enormous salt-crusted pan that dominates this national park also gives it its name – Etosha means 'Great White Place'. This is the place to see game in Namibia, home to 144 mammal species including lions, elephants, rhinos and giraffes. During the dry season, animals cluster around the few waterholes (which are often close to camp), making game viewing easy and spectacular. Night drives are also possible.
Namib-Naukluft National Park
3. Namib-Naukluft National Park
This is one of the largest national parks in the world, home to one of the driest and oldest deserts on earth. Come to marvel at spectacular desert scenery, towering jagged rock formations and incredible lunar landscapes. Highlights include the Sesriem Canyon, the iconic dunes of Sossusvlei, which you can hike up as the sun rises, and atmospheric Dead Vlei with its centuries-old camelthorn tree skeletons.
4. Spitzkoppe
German for 'pointed dome' the Spitzkoppe mountains are a group of granite peaks that rear up from the desert landscape of Namibia's sparsely populated centre. Find Bushmen artwork painted on the rock and watch the peaks take on rich reds and oranges at sunset (and sunrise, if you can get up at 5:30am!). Staying here usually involves wild camping – a great adventure for children.
5. Swakopmund
The bakeries and architecture of this small coastal resort town are the legacy of German colonial times, and it's now a centre for adrenaline adventure, along with nearby Walvis Bay. There are heaps of family friendly activities and excursions to enjoy, from dolphin and seal watching cruises, quad biking over the dunes and the new sport of sandboarding. Relax afterwards with a seafood dinner on the front.
6. Waterberg Plateau Park
This reserve protects several species, including black and white rhino, introduced in the 1980s. The plateau itself is 200m high and covered with bushveld. It's one of the more fertile areas in Namibia and there are several walking trails here, including one to a spectacular viewpoint near the top. The Cheetah Conservation Centre is nearby, too, where you can learn about these big cats.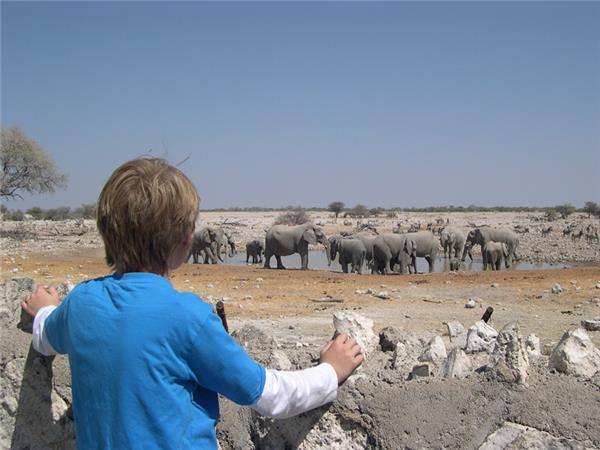 Climb the highest sand dunes in the world
From
£3899

to

£4599
15 days
inc UK flights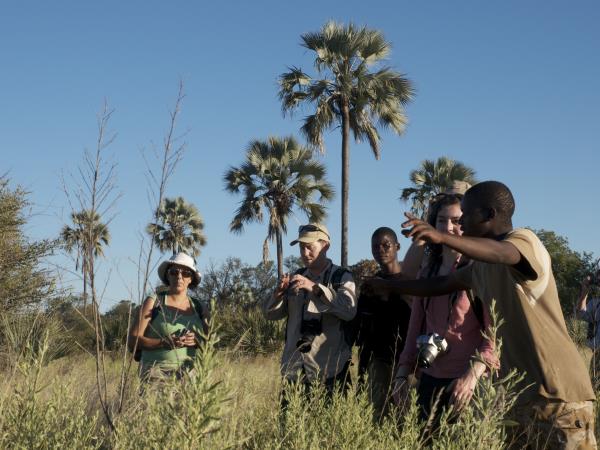 Overland camping safari to Namibia, Botswana & Zimbabwe
From
€2740
21 days
ex flights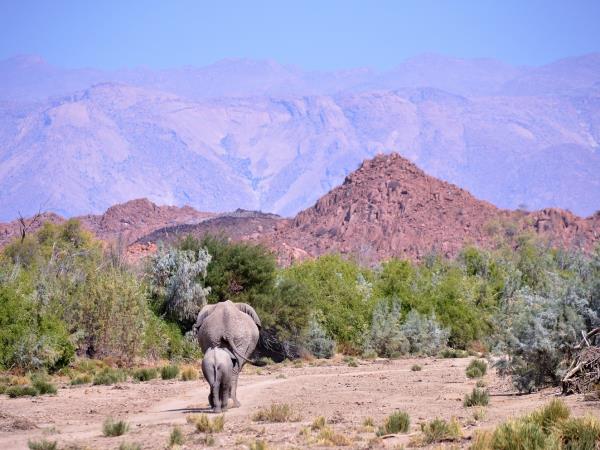 Elephant conservation volunteering project for families
From
£1450
11 days
ex flights
If you'd like to chat about Namibia family or need help finding a holiday to suit you we're very happy to help.

Namibia family holidays advice
Pete Burrell, recently retired MD of Exodus, our leading supplier of small group holidays, has this advice on family travel in Namibia:
Packing advice
"Namibia has a classic desert climate in that it is warm to hot during the day but can get very cold at night, particularly in their winter. Freezing temperatures are not uncommon. This means t-shirts during the day but several layers and fleeces at night. Gloves and a woolly hat are also a good thing to take. You will also want to be outside at night as it is one of the best places to stargaze as there is little manmade light. During the day the sun can be burning so long sleeves and sun hats are a must if you are out walking."
Which school holidays to travel in
Which school holidays to travel in
"You can travel during any of the school holidays. Our summer is their winter so cooler days but cold nights, but Easter is also a good time as the air is fresh and can be less dusty as any rain that does fall tends to be December through to March."
Tips on tailoring Namibia to kids
Tips on tailoring Namibia to kids
"Our kids loved it. The dunes at Sossusvlei were a highlight along with Etosha for the animals, and Swakopmund provided a little 'cafe/ice creams and pizza relief', as well as WiFi! What we did try to do is manage the driving times as Namibia is a big country and you can drive for hours through undoubtedly stunning scenery, but six- to eight-hour drives are needed sometimes. So books, music, games that you can play in the car and frequent stops to stretch legs, explore small towns or marvel at views are needed. It is also good to drink a lot of water due to the dry heat, so a few added 'pee' stops are needed. We always try to find a place with a few large rocks to give everyone a bit of privacy!"
Advice on what age works best
Advice on what age works best
"In my experience, 11 or 12 year olds and upwards get the most out of a visit and it is possible for them to drive quad bikes. Some places will let younger kids on quad bikes but parental control needs to be applied as there is obvious risk attached! Make sure you are supplied with helmets and are given a thorough safety talk as well as a proper guided practice run before heading off into the wilds. In general, though, Namibia is not ideal for very young ones because of the remoteness and the long drives. But for adventurous 10-12 year olds and certainly early teens and up it is one of the best destinations I know. It is also generally very safe with friendly polite and hospitable people. We stopped by chance next to a small school and when a teacher saw our kids, we were immediately invited in for a guided tour and a big singalong with one of the younger classes - great!"
More Namibia family articles