Our Namibia holidays & safaris
The stark, desert-bound landscapes of Namibia offer an exciting contrast to many African safaris. Self drive holidays and small group camping tours are popular ways to discover the wildlife of Etosha National Park and the vast sand dunes of Sossusvlei. Our Namibia holidays, often combined with Botswana, put a twin focus on wildlife and people. So you might stay in lodges using innovative eco-technologies and supporting conservation initiatives such as anti-poaching units. Meanwhile, your local guides will show you around community farming projects or schools that you can support with needed materials by 'packing with purpose'.
Our top Namibia holidays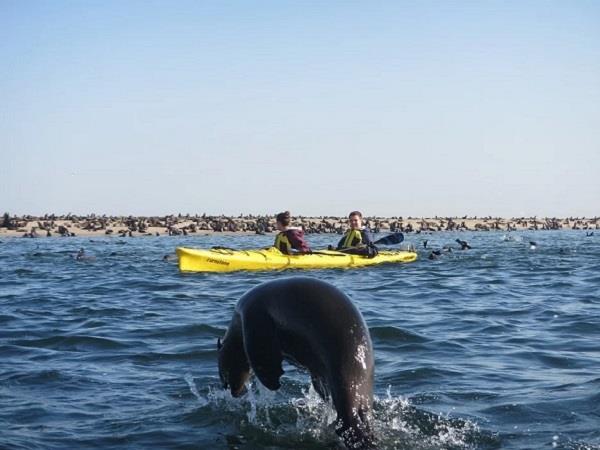 14 days
ex flights
Self drive trip taking in Namibia's highlights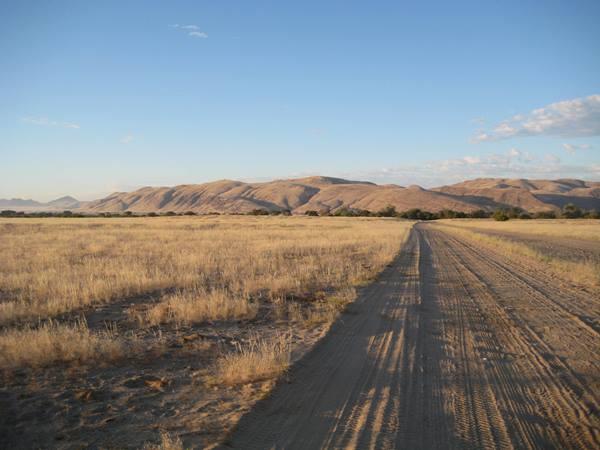 14 days
ex flights
An iconic self-drive safari through north and south Namibia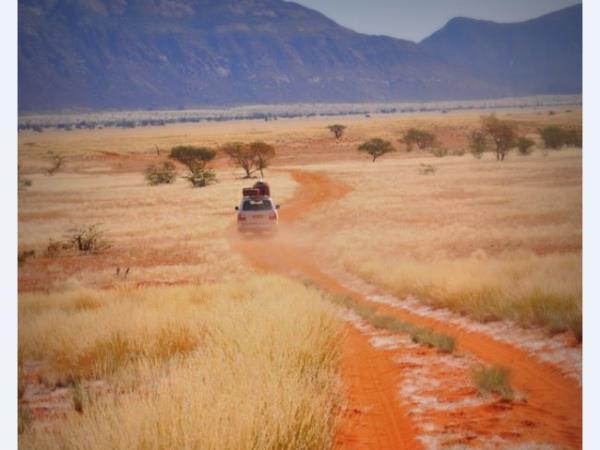 11 days
ex flights
Self drive holiday on a budget in stunning Namibia
Best time to go on holiday to Namibia
Namibia has a harsh desert climate, with over 300 days of sunshine a year and freezing night-time temperatures. Constant mists mean the coast is cool and damp, while the extreme north of the country is hot and humid.

If you're going to Namibia for safari, go in dry season; visiting in the southern winter, which runs from April to November, means you have a better chance of spotting wildlife when there's less vegetation, and the animals are easier to find as they tend to congregate around water holes.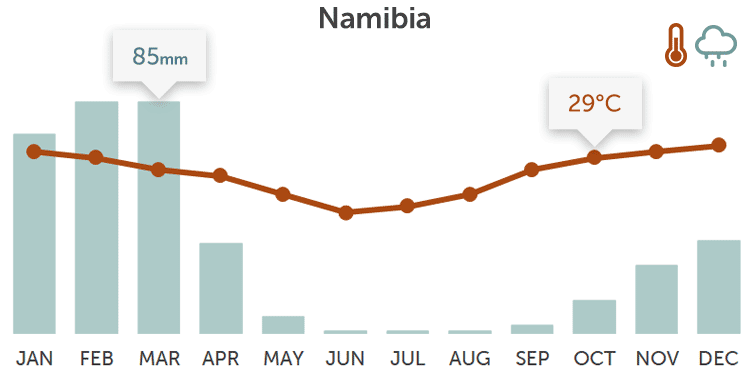 Map & highlights
Namibia's sights are scattered to the winds, with lots of attractive natural emptiness in between. North you'll find Waterberg Plateau, a reserve where white rhino roam, but the jewel for safari-seekers is Etosha National Park, where a giant salt pan dotted with water holes provides great game viewing, including endangered black rhino sightings. On the coast west of Windhoek, Swapkomund has German colonial architecture and boat tours from nearby Walvis Bay give you a good chance of spotting dolphins, whilst Namibia's famous dunes are found at Sossusvlei. Fewer people head south to Fish River Canyon, the second largest canyon in the world.
1. Etosha National Park
Etosha translates roughly as 'Great White Place', thanks to the enormous Etosha Pan, a salt-crusted, dry lakebed that dominates the 22,900km2 national park. The 144 mammal species that live here include lions, elephants, black and white rhinos, and the endemic black-faced impala. During the dry season, these species jostle for space around the few remaining waterholes, creating a game-viewing spectacle quite unlike any other.
2. Fish River Canyon
Fish Fiver Canyon rips a 160km-long scar through the parched plains of Namibia's south. Over half a kilometre deep in places, the world's second largest canyon can be trekked on foot or mule back over four or five days, sleeping under the stars each night. There are no facilities in the canyon, and it can only be hiked from May-October, when weather conditions are favourable.
3. Himba villages
Himba village tours introduce you to this semi-nomadic community as they go about their daily life. Paint your skin with ochre and ash; waft yourself with a deodorising smoke; see goats being milked; and step inside the privacy of a Himba hut for an experience as far removed from your daily life as you can get. You can contribute further by purchasing jewellery and other souvenirs at the end of your tour.
4. Sossusvlei
The iconic dunes of Sossusvlei are some of the world's most towering. Hike the crest of Dune 45 or the even taller Big Daddy for a view over the vast sand sea, descend into Dead Vlei with its cracked white surface and centuries-old camelthorn tree skeletons, and let the sun, shadow and sand inspire you to get creative with your camera.
5. Swakopmund
Namibia's adventure capital is the base for activities such as dune boarding, skydiving, and camel riding. The town itself is small and quaint, with German-inspired architecture and bakeries, excellent seafood and lively nightlife (by Namibian standards!) during local holiday periods. If you have a free day, we highly recommend taking a tour of Mondesa, the nearby township, with a local guide for a lesson in Namibia's history and culture.
6. Waterberg
This reserve protects several species, including the endangered white rhino, introduced after conservation efforts in the 1980s. Breeding colonies of several endangered species have been established here and a 'vulture restaurant' feeds Namibia's last remaining colony of Cape vultures. The Cheetah Conservation Fund is based nearby - a conservation, research and education centre where visitors can learn about these big cats.
Namibia safaris
Namibia's wildlife has to contend with some serious extremes in the desert, and seeing your first oryx, with its painted face and poker-straight horns, standing in the road, is a wonderful introduction to what's in store. The biggest draw is Etosha National Park, for its sheer size, and the number of different species you can spot while you're here. It's happy hour every hour at the park's handful of waterholes; elephants, zebra, jackals and giraffes congregate to drink in the day, and big cats like leopards and lions might come sneaking up at night.
Desert elephants
For those of us who readily imagine elephants slinging water with their trunks and breaking trees in their eagerness to eat,
Namibia's desert elephants
are an extraordinary anomaly. This cautious, smaller framed version of the savannah standard has large feet adapted to walking on sand and is able to live for days without water. Coming across the desert elephant is a rare treat – and they're found in the north Kunene region, near Brandberg Mountain. Camp in the desert, learning to track their movements with a local guide, and you can help with conservation efforts.
Further afield
Botswana, Namibia's neighbour to the east, makes an excellent contrast if you want to
combine countries
. Desert soon gives way to the grasslands, and the famous Okavango Delta, where hippos throw back yawning heads close to your canoe. With Chobe National Park known for its lion populations, multiple safaris are a must. If you've got more time and resources, Namibia's epic scale becomes part of an ambitious overland tour of southern Africa, from
Cape Town to Victoria Falls
. It starts with penguins on a South African beach, and ends with white water on the Zambezi.
Types of holidays & vacations in Namibia
Namibia is very driveable. Though the distances are long, the roads are good, and you're more likely to see herds in the road than traffic jams.
Self drive holidays
mean you can also conduct your own safari in Etosha National Park. If you'd prefer some company,
small group tours
give you like-minded travellers with whom you can share your exclamations of awe. And there are plenty of exclamation-worthy moments on a Namibia safari holiday, where you can see everything from leopards to rhino, desert elephants to delicate oryx. Spot it all on game drives, or even from your tent, while camping at a flood-lit waterhole.
If you'd like to chat about Namibia or need help finding a holiday to suit you we're very happy to help.