Desert elephants in Namibia
The rocky, gravel plains of Namibia's northern Kunene region seem an unlikely place to find elephants. Lying in the shadow of Namibia's highest mountain, a hulking mass of granite hiding one of the Africa's most important collections of ancient San Bushmen rock art, this exceptionally arid area is criss-crossed by parched riverbeds, whose water flows above ground for just a few days each year. Yet around 600 of Africa's most unique elephants make their home here, delicately grazing on the sparse vegetation lining the dusty river channels.
Desert elephants, the lowdown
While not officially a subspecies separate from their savannah cousins, desert elephants are unique in their learned behaviours, migrating long distances in search of food. On these journeys, they are much more careful with the sparse, precious vegetation. Savannah elephants tend to leave a trail of destruction in their wake, but in the desert, where all plants are precious, the elephants take care not to damage trees and bushes. Physically, their home has left its mark too, as Namibia's desert elephants are able to survive for days without water. They have smaller bodies and longer legs than their bush-dwelling cousins, and markedly larger feet to give them traction in the sandy terrain. Seeing any elephants in the wild is a profoundly humbling experience, but finding Namibia's desert elephants is extraordinary.

Desert-adapted elephants are found in just two places in the whole of Africa, Namibia and Mali, and Namibia's are under constant threat. During Namibia's 1966-1990 war for independence, over-hunting and fighting forced the elephants north, and Herero farming communities moved into the herds' traditional territories in southern Kunene. Since the mid-1990s, good rains have encouraged the elephants to return south, and communities unaccustomed to coexisting with these sometimes not-so-gentle giants are struggling to balance their own needs with the elephants' voracious demand for food and water. In the early 20th century, this region of Namibia was home to around 3,000 elephants; in 2013 they numbered just 600. Human-elephant conflict is unavoidable, but glimmers of light are emerging. Research projects are offering practical solutions to keep elephants out of crops and villages, and tourism initiatives are starting to help communities understand the value in keeping their giant neighbours alive.
Where to see desert elephants in Namibia
You'll need to head north, into Damaraland and towards the Skeleton Coast National Park to find desert elephant territory. Here in the little developed, arid and wild Kunene, elephant families roam ephemeral river beds alongside black rhino, zebra and giraffe, and remote desert camps give you access to game drives, and on private concessions, walking safaris.

Overshadowed by the Brandberg Mountain, the wilderness surrounding the subterranean Ugab River at the southern boundary of the Kunene region is one of the most accessible places to see desert elephants. While water may only flow above the surface for a few short days each year, the Ugab is still one of Namibia's major rivers, supporting enough vegetation to sustain the rare elephants as well as Africa's largest population of free-roaming black rhino.

Further north, the Aba Huab River, also mostly dry year-round, offers basic camps with on-foot safaris, too.
What does this trip entail?
Unlike most other safaris in Africa, this is a true wilderness experience; the desert elephants wander long distances and don't, unsurprisingly, follow man-made roads. You can expect to spend most of your time tracking the elephants in 4x4 vehicles, off-roading out into the heart of the sparse, otherworldly desert landscape.

If you're lucky, you might spot other wildlife as you seek out the elephants, but ultimately these trips are about tracking the herds. And your patience is rewarded with truly wild, intimate encounters with some of Africa's rarest creatures. Park up, watch and wonder, often for much longer than you would on other safaris, as the elephants interact in family groups, take a dust bath or chomp delicately on the sparse vegetation.

Walking safaris are possible at camps on privately-owned concessions. Less about seeing the elephants themselves and more about enjoying the environment's smaller details; walking safaris with an armed ranger reveal the sounds, smells, tracks and signs that you might otherwise miss from your vehicle.
How to see desert elephants in Namibia
The Ugab Wilderness Area camps are remote and difficult to access. If you choose a self drive holiday, you'll likely head north under your own steam from Swakopmund, along the Skeleton Coast, and to the beautifully preserved rock art at Twyfelfontein.

Your tour operator will then arrange for you to be met by a private guide and transferred by 4x4 to your camp in the Ugab Wilderness Area. A tour operator will be able to seamlessly arrange transfers, guides and park fees for you, enabling you to sit back and enjoy your adventure into one of Namibia's wildest and least accessible corners.

If you've chosen a self-drive tour of Namibia then your tour operator may give you the freedom to book any game drives or walking safaris directly with your desert camp when you arrive, although they can offer you advice and information in advance. This gives you more control over your daily itinerary and the chance to choose a rest day after a long day of driving if you prefer.
Our top trip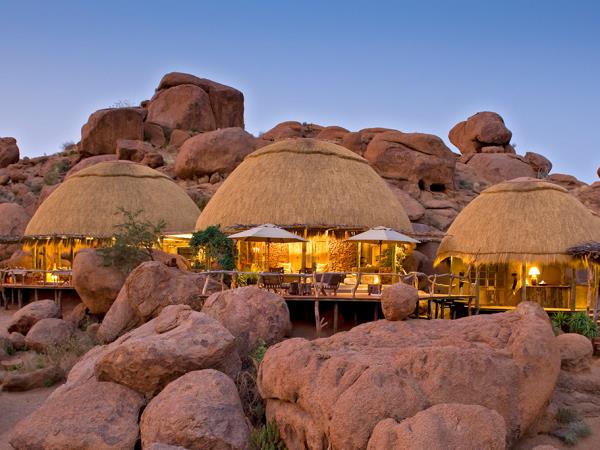 A fabulous small group guided trip in Nambia
From
£4180

to

£4475
12 days
ex flights
Small group travel:
2023: 18 Dec
2024: 8 Jan, 19 Feb, 4 Mar, 18 Mar, 1 Apr, 12 Apr, 15 Apr, 22 Apr, 26 Apr, 6 May, 10 May, 17 May, 20 May, 24 May, 3 Jun, 10 Jun, 14 Jun, 17 Jun, 21 Jun, 24 Jun, 28 Jun, 1 Jul, 12 Jul, 19 Jul, 22 Jul, 26 Jul, 2 Aug, 9 Aug, 16 Aug, 19 Aug, 23 Aug, 26 Aug, 30 Aug, 2 Sep, 6 Sep, 9 Sep, 13 Sep, 16 Sep, 27 Sep, 30 Sep, 4 Oct, 7 Oct, 11 Oct, 14 Oct, 21 Oct, 4 Nov, 18 Nov, 2 Dec, 16 Dec
If you'd like to chat about Namibia or need help finding a holiday to suit you we're very happy to help.

Conservation volunteering with desert elephants in Namibia
For a more hands-on approach, consider joining an award winning desert elephant conservation programme, set up to harmonise relationships between elephants and their desert-dwelling human neighbours. Spend anywhere from two to 12 weeks at a basic wilderness camp working on a variety of projects; elephant-proofing farmers' water infrastructure and creating secure alternative water sources for elephants; delivering education programmes at local schools; and tracking and monitoring the herds' movements.

The volunteer programmes also offer an eye-opening chance for children to play a role in securing the future of some of the world's rarest elephants, as well as meet their rural Namibian peers at local schools. Families with children as young as five can work together to assist local research teams in tracking the elephants and collecting data on their behaviour, although these trips are probably best suited to children aged eight years plus.
When is the best time to see desert elephants in Namibia?
With over 300 days of sunshine year-round there's no particularly bad time to visit Namibia. However, while rain is unlikely to stop play, temperatures might, with daytimes in the desert soaring into the 40°Cs. The dry Namibian winter from May to October brings the most pleasant daytime temperatures to the Ugab Wilderness Area, around 25°Cs, and wildlife will congregate around the few remaining waterholes making it (relatively) easy to find and spot.

However, winter nights in the desert can be cold – frosty even – so come prepared with warm layers for early morning and evening game drives. This is also peak season, and accommodation in Namibia's tourist hotspots – for example Etosha National Park – typically combined with a trip to see the desert elephants, will book up quickly. Choose the latter part of the season – around September to October – to avoid the peak crowds and the chilly nights, but be aware that daytime temperatures can start to sky-rocket in October.