Namibia volunteering holidays guide
Namibia is on the radar of many keen travellers, beloved for its dramatic landscapes, adventure sports and superb wildlife viewing. It's less well known as a volunteering hotspot, yet as our Namibia volunteering guide explains, this desert nation has some really exciting wildlife conservation options.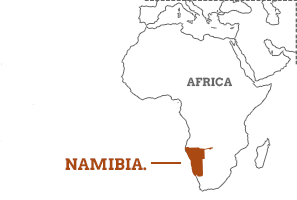 Volunteering takes you deep into Namibia – working with its wildlife, exploring its wild terrain and promoting peaceful co-existence between its animals and people.

You can volunteer at a wildlife sanctuary, or join a cheetah or elephant conservation project that takes you into the desert or mountains to track these beautiful creatures. Whatever you choose, your work will help alleviate human-wildlife conflict, directly benefitting local people as well as indigenous animals. This is a chance to learn more about the challenges both Namibia's wildlife and people face, to get down and dirty feeding African wild dogs and walking orphaned baboons, and to bond with new friends over a braai and a beer at the end of the day.
Is volunteering in Namibia for you?
Volunteer in Namibia if…
… you are enthusiastic about conservation work. That's the only qualification you need, really.
… you're sociable. You'll be living and working with other volunteers and the project's full time team – this is a brilliant option for solo travellers.
… you want an alternative family break. Family volunteering holidays offer children an exciting taste of conservation work, the chance to see wildlife up close and a desert adventure rolled into one.
… you are reasonably fit. No need to be a triathlete, but be sure you're up to a day's work in the sun, and on some conservation holidays, walks of 10-15km each day.
… you want to explore Namibia while contributing in a practical way. You can volunteer for two weeks, and then head off to discover more of the country.
Don't volunteer in Namibia if…
… you prefer spectating over participating. Volunteering holidays are about getting stuck in. This might mean feeding captive animals, cleaning enclosures and doing maintenance work, or tracking wildlife, logging data and doing construction work in villages, too. … you want something smart to put on your CV. Let your own personal development, rather than your CV, be the driver for volunteering. … you expect five star luxury. You'll be staying in simple accommodation or even camping, and may have to help prepare meals. … you like a lie in. On a volunteering holiday you can expect to be up early, and working in both the morning and afternoon. There is usually a decent break for lunch and the evenings are your own, but this is not a stop and flop break.
Our top trip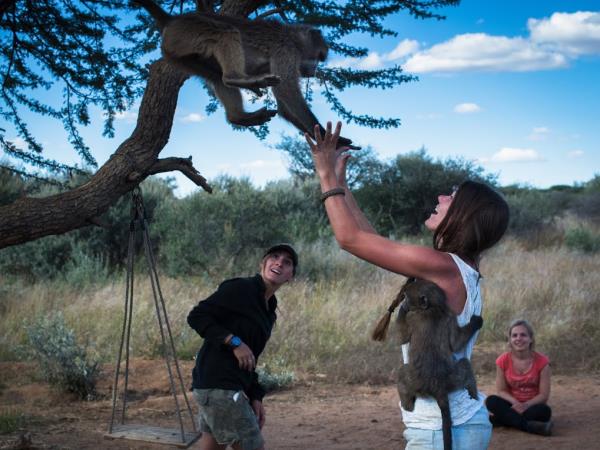 Care for rescued animals in Namibia
From
£995

to

£5395
15 days
ex flights
Small group travel:
This project can be joined any day of the year
If you'd like to chat about Namibia volunteering or need help finding a holiday to suit you we're very happy to help.

What do Namibia volunteering holidays entail?
How long are the trips?
All the Namibia volunteering holidays on our site require a minimum stay of between 10 days and two weeks, with usually a maximum of 12 weeks. Most trips start on set dates, but with departures typically once or even twice a week, you can start your volunteering at almost any time you like, and trips run throughout the year. Usually, only specialist family volunteering breaks are tailor made, and on these you can travel when you like.
What's the work like?
Volunteering work in Namibia can be quite physical. Long walks to track big cats and construction work to protect water supplies from desert elephants demand a degree of physical fitness. On a wildlife sanctuary, expect to roll up your sleeves and get dirty, helping with caring and feeding for animals, and all kinds of maintenance work around the site. Working days are pretty full, although there's usually a long break for lunch and evenings free for relaxing. On some projects you may be expected to help prepare the evening meal, too. Within a two-week placement, you can expect one day off or two half days.

You'll be working in – or on the fringes of – the desert, so factor in its harsh climate. In November, December and January the mercury can climb into the 30°Cs while in the Namibian winter – June, July and August – it's incredibly dry. Nighttime temperatures can drop to freezing and the dryness can be uncomfortable.
Do I need experience?
No specialist qualifications or experience are necessary to volunteer in Namibia. The projects that run here simply demand an enthusiasm for wildlife conservation and a willingness to get stuck in. Inductions and training are always provided and you'll have the support of the local team throughout, so enthusiasm is generally more vital than experience.
Why do I need to pay to volunteer?
Although volunteering breaks involve you giving your time and energy to a project, they are not free to join. You are booking onto an organised holiday, via a specialist operator that has spent time building a relationship with each project in Namibia and vetting it carefully, to be sure it delivers genuine benefits to local people, the environment and wildlife. The cost goes towards your food (usually all meals are included), accommodation, training and valuable pre-trip and in-country support. Often, a portion of your fee also goes towards funding for items such as building materials and medications for the animals.

A volunteering holiday is a chance to travel to remote corners of Namibia, to meet local people and see a great deal of wildlife. When you take all this into account, a volunteering is an economical way to immerse yourself in Namibia.
More Namibia volunteering articles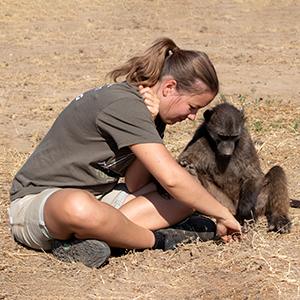 Take part in wildlife conservation and help reduce the human-wildlife conflict.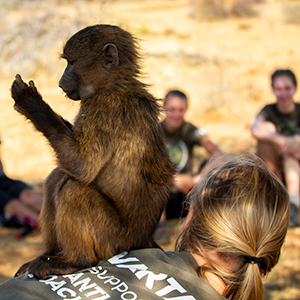 Your chance to be hands on with some of the country's most beautiful wildlife.