Types of volunteering holiday
in Namibia
Volunteering projects in Namibia focus on the country's diverse wildlife, so you'll leave Windhoek or Swakopmund behind and head into remote landscapes, to work in an animal sanctuary or track elephants or cheetahs. Conservation projects usually include some building work or other manual labour, too, either around the animal sanctuary or out in the community, where you might be protecting villagers' wells from thirsty elephants, for example. Responsible volunteering organisations offer fully vetted placements that genuinely benefit wildlife and the community, and they know each project inside out, so ask lots of questions and find the right one for you.
Carnivore conservation
Namibia's cheetahs and other big cats are at constant risk of being killed by local farmers who regard them as a threat to livestock. Carnivore conservation projects hope to solve this issue by gathering data that demonstrates how big cats are not a threat. Volunteers help monitor large carnivores in a fence-free wildlife reserve, contributing to ongoing and invaluable research. A typical day might include game counts, camera trap setting and collecting, footprint collecting, spoor counts, helping with capture and release, and radio telemetry tracking of collared animals.
Elephant conservation
Namibia's elephants have a habit of damaging property, wells, pipes and pumps in their search for water. This can bring them into direct conflict with families in the desert who rely on farming to survive and need a reliable water supply. On an elephant conservation holiday, you can expect to spend one week of a two week placement building walls to protect wells on isolated farmsteads – water supplies for elephants are also created – and camping out each evening. This is tough but rewarding work, and a great way to meet local people. Your second week will involve tracking elephants, researching their movements and identifying herds. This helps the conservation team decide which farmland is a top priority for building protective walls.
Family volunteering
Family volunteering holidays in Namibia typically combine community work with elephant conservation, to help humans and elephants survive alongside each other in the desert. You might do some maintenance or decorating work in a local school for a few days, then head out into the desert to track elephants and gather data on their movements. There is always plenty of time to relax, go fishing or take a nature walk, and kids love the chance to camp in the desert, cook around camp fires and sleep under the African stars.
Wildlife sanctuary volunteering
You can volunteer at a sanctuary which provides refuge for orphaned and injured wildlife, and also acts as a halfway home for animals needing to be relocated. The animals might include cheetahs, leopards, lions, African wild dogs, caracals, baboons and zebras. Volunteers are expected to get their hands dirty, caring for and feeding the animals on a daily basis and helping out with all kinds of maintenance and construction work, too.
Our top trip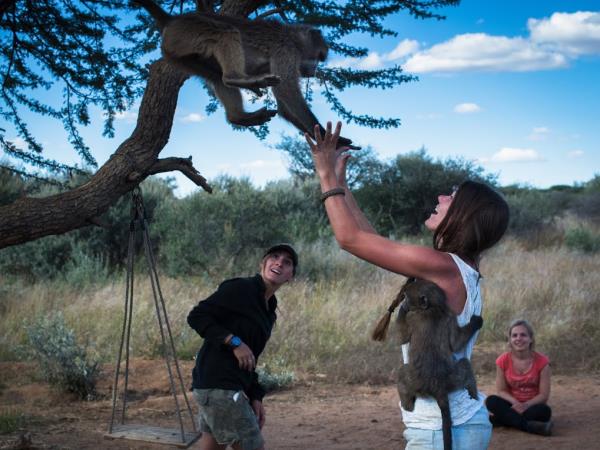 Care for rescued animals in Namibia
From
£995

to

£5395
15 days
ex flights
Small group travel:
This project can be joined any day of the year
If you'd like to chat about Namibia volunteering or need help finding a holiday to suit you we're very happy to help.

Volunteering in Namibia advice
Michael Starbuck from our wildlife volunteering specialist The Great Projects, which runs volunteering holidays in Namibia, has this advice:
Age range
"The average age of our volunteers is quite young, with most being in their 20s. We do still have older volunteers join, and I always say to those looking to volunteer that the most important thing is you have a passion for wildlife and conservation, and that you travel with the mindset of giving back to an experience rather than taking something from it. This way, no matter the age of the volunteers, everyone will have a common goal."
Sanctuary or field work?
"Working at a wildlife sanctuary offers a very different experience than working 'out in the field'. At a sanctuary, volunteers work around wildlife on a daily basis and have the opportunity to see animals close-up on a regular basis, as they are usually working to help rehabilitate them for future release or care for those that cannot be released. When working in the field, volunteers are mostly conducting research on released and wild animal populations. Where possible, we recommend combining time volunteering at a sanctuary and also in the field at research and release sites, which is something you can do at the Namibia Wildlife Sanctuary. This lets volunteers better understand the whole process of wildlife conservation across Namibia, from understanding human-wildlife conflict, to rescue and rehabilitation, release and monitoring."
Where your holiday fee goes
"The fee paid by volunteers goes toward a variety of aspects including airport transfers, accommodation, three meals per day and a donation to the project. This contributes to paying for food for the animals, veterinary care, enclosure construction and maintenance, rescue and release efforts and staffing among many other things."
Volunteering tips from
our holiday reviews
At Responsible Travel, we think the best people to advise our travellers are often... other travellers. They always return from our tours with packing tips, weather reports, ideas about what to do – and opinions about what not to.

We have selected some of the most useful  Namibia volunteering holiday tips that our guests have provided over the years to help you make the very most of your holiday – and the space inside your suitcase.

Food and accommodation, though relatively basic, were good (although do bring your own plunger and ground coffee if you don't drink instant).

"Be aware that it can be very cold in Namibia at night and the accommodation is basic so take plenty of warm clothing for the evenings." – Chris Downing on a Namibia wildlife sanctuary volunteering trip

"Be prepared for really hot weather – I sunburned – and get ready to enjoy." – Catherine Armstrong

"Bring a few more layers than you might think you'll need… I was there in Sept and at nights it dropped well below zero. But most importantly bring a camera to capture the amazing things you'll see and come ready to love every minute… Also come prepared to make life-long friends – I met the most awesome group of people who I know I will keep in touch with and hopefully either welcome to my home or see again somewhere!" – Mairi Hutchison

"Two weeks is not enough, to get the most out of your time at this project you'll need to be there at least a month and then there's the other sites to consider." – Stephen King

Be prepared to work hard.

More Namibia volunteering articles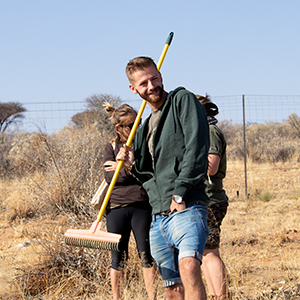 Work in a sanctuary or on conservation projects that protect desert elephants.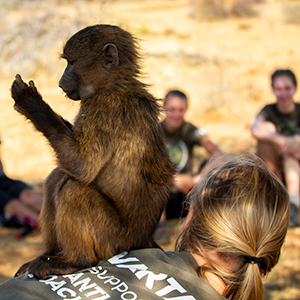 Your chance to be hands on with some of the country's most beautiful wildlife.