"This 17 day luxury self drive safari takes in the best of Namibia's wilderness areas, while allowing you the freedom to travel at your own pace"
Highlights
Windhoek | Kalahari Desert | Fish River Canyon | Namib Desert | Sossusvlei | Swakopmund | Damaraland | Etosha National Park | Okonjima Nature Reserve
Description of Namibia self drive safari
Namibia is a land of geographical extremes encompassing vast areas of inhospitable desert, towering mountain ranges and unspoilt wilderness areas. It's home to elephant, rhino, lion, giraffe, and a host of unique flora and fauna.

Whereas much of southern Namibia is made up of desert, the north is home to the rich farmland of Damaraland, fed mainly by the Okavango River, as well as the sub-tropical forest and mopane bush of Etosha National Park, one of the largest game viewing parks in Africa.

This Namibia self drive explores the best of the country's north and south, taking advantage of good tarmac roads, which are straight and traffic free. You'll experience the country's wildlife, landscapes, and culture from your own vehicle and at your own pace, staying at lodges working with local community and animal conservation projects.

See black rhino, ostrich, springbok, wild horses and desert adapted elephants in the vast expanses of Namibian wilderness. Witness the enormity of Fish River Canyon and explore the prehistoric rock paintings of the San (Bushmen) in the Twyfelfontein Conservancy.

Next stop is Ongava Game Reserve, where you'll stay at a lodge on the southern boundary of Etosha National Park. The reserve acts as a buffer to Etosha, helping animals to move freely around the park without coming into contact with the surrounding environment. Finally you will stop in Okonjima, home to animal rehabilitation and research centre the AfriCat Foundation, where you'll come into close contact with cheetah, leopard, and lion first hand.

Your route ends back in Windhoek where you'll return your hire car before being transferred to the airport for your flight home.

Day-by-day experiences
| | |
| --- | --- |
| Day 1: | Arrive Namibia. Surrounded by mountains, Windhoek is the perfect place to start your self-drive adventure. Enjoy its Germanic influence in its cuisine, architecture and crafts. You'll be given a briefing to discuss your route and the keys to your 4WD vehicle at your hotel. |
| Day 2: | Kalahari. The Kalahari is the largest stretch of sand on the planet, characterised by towering red dunes which stretch for 100s of kilometres. Drive through this wilderness to your hotel which lies in a lush green oasis surrounded by the desert. (B, D) |
| Day 3-4: | Fish River Canyon. The largest canyon in Africa and second largest on earth after America's Grand Canyon – Fish River Canyon is an impressive gorge which meanders for 160km. Drive to the lookout for stunning panoramic views before checking into your hotel. (B, D) |
| Day 5-6: | Namib Desert. Settlements sprung up in the desert courtesy of the diamond rush in the early 1900s. Now these are ghost towns, slowly being covered by sand. Enjoy a tour of deserted Kolmanskuppe with its grand mansions before heading to the seaside town of Luderitz. (B, D) |
| Day 7-8: | Sossusvlei. Drive to one of Namibia's most spectacular landscapes, a place of massive sand dunes (the biggest in the world) with dramatic streaks of black and red. Keep an eye out for the wild horses of the Namib who have conquered the inhospitable desert. (B, D) |
| Day 9-10: | Swakopmund. Back to the Atlantic coast and the sandy beaches of Swakopmund. Enjoy an optional catamaran cruise to see dolphins, seals and pelicans in the bay while enjoying fresh Walvis bay oysters and sparkling wine. There are plenty of other activities on offer, from sand boarding to quad biking, and deep sea fishing. (B) |
| Day 11-12: | Twyfelfontein. Drive to Damaraland where you will see ancient rock paintings, petrified forest and the indigenous Welwitschia plants which only grow in a remote place in the desert. It is also home to open plains filled with elephant, rhino, ostrich and spingbok. (B, D) |
| Day 13: | Etosha National Park. One of the largest and best game viewing parks in Africa, Etosha has dozens of waterholes which attract a huge number of plains game including the endangered Black Rhino and huge herds of elephants. (B, D) |
| Day 14-15: | Okonjima Nature Reserve. Explore this national park, home to unrivalled cheetah and leopard safaris and nestled in the Omboroko Mountains. (B, D) |
| Day 16: | Return to Windhoek. Check into your hotel and return your hire car. (B) |
| Day 17: | Departure. Transfer to the airport for your return flight. (B) |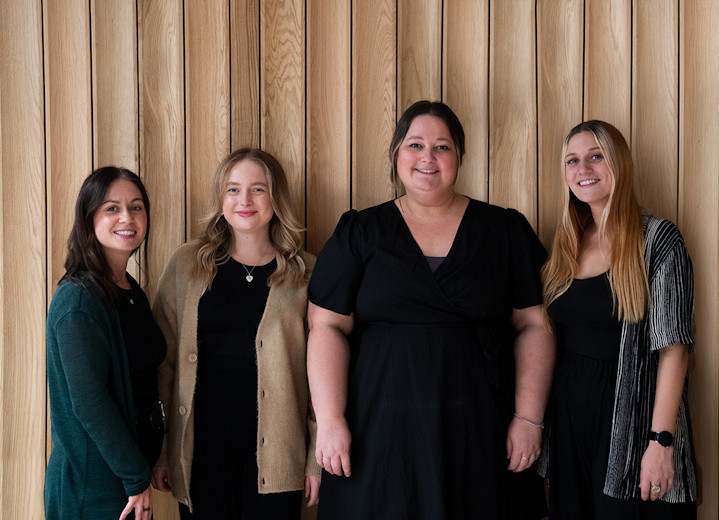 Departure information
We offer a complete tailor made service allowing you to decide when to travel, where you stay and what to do.
Holiday type
We offer a complete tailor made service allowing you to decide when you go, where to stay and what to do, to create a unique holiday for your individual requirements by our travel experts. We would be happy to telephone you to discuss your requirements and options. Our staff have intimate knowledge of this destination, so do please include your telephone number when you complete the enquiry form.
Responsible tourism
Namibia self drive safari
Carbon reduction
Your holiday will help support local people and conservation. We must also reduce CO2. Learn about the CO2 emissions of this holiday and how to reduce them.
Environment
Although Namibia enjoys one of the lowest population densities in the world, the main drive behind conservation is overwhelmingly its people - given the fact that in so many cases land is shared between wildlife and people.

Nowhere is this more apparent than in the community conservancies. Here large areas of small-scale pastoral farming have been brought under wildlife with successful ecotourism the most important revenue earner and employer for the communities.

Hunting and poaching in Namibia is forbidden meaning that wildlife is at its most natural, and with such vast spaces of wild land, humans are not as encroaching on the animals as some other African countries.

Namibia is bringing mainstream conservation into tourism with its community projects and animal conservation projects, such as AfriCat, Save the Rhino Trust, and the Torra Conservancy.

Save the Rhino Trust's (SRT)
Due to poaching of desert wildlife in the early 1980's the rhino numbers shrank to near extinction. This prompted people in the area to form a Trust, the aim of which was to stop the horrendous slaughter of rhino, elephant and other wildlife. Since the Trust's inception, it has successfully collaborated with government, traditional leaders and local communities with an aim to provide security for and monitor the rhino population in the region, as well as to benefit the community through conservation and tourism.

All staff at SRT come from the areas neighbouring the rhino range within the Kunene region. Many more community members are benefiting indirectly from the work done by SRT, through the Trust's employment of local people. The SRT has established one of the first Community Based Species Survival (CBSS) Projects for rhino in Africa, with direct community involvement in the conservation of rhino, and benefits received through conservation and tourism flow to the local population.

Several tourism ventures in the Kunene region have been supported by SRT for the benefit of the community, for example Desert Rhino Camp and Ongava Lodge.

Desert Rhino Camp
The camp offers a brilliant insight into the ecology and conservation of this incredible area and at the same time contributes directly to the Trust and ultimately the sustainability of this vulnerable area and its wildlife. This concession supports a healthy population of desert adapted black rhino and elephants.

The Desert Rhino Camp donates a portion of each guest's fee to the project, while the Wilderness Safaris Wildlife Trust has funded specific projects such as relocation of individual rhino to boost other population centres in Namibia.

Ongava Game Reserve
In 1991, the shareholders of Ongava converted four unproductive cattle ranches into a highly productive 30,000-hectare private game reserve that is now a haven to large concentrations of wildlife. The Ongava Game Reserve forms a buffer between Etosha National Park and the farms to the south, which enables large game such as elephant and lion to move between the Park and the private reserve.

The most successful reintroduction project on the Reserve, however, is the white and black rhino project. At present, Ongava holds one of the largest Namibian rhino custodianships for the Namibian government.

Today, Ongava is a safe haven for breeding rhino to more sustainable numbers and then reintroducing them into areas where they previously flourished making it possible to show its guests an endangered species and to participate in meaningful conservation programmes.

Okonjima – Africat Foundation
Based on Okonjima's 22,000 ha private nature reserve, in central Namibia, the AfriCat Foundation was founded in the early 90's and formally registered as a non-profit organisation. AfriCat has since grown significantly and what started out primarily as a welfare organisation has over the years identified the need to include a focus on education and research as being essential to accomplishing long-term conservation of Namibia's large carnivores.

The foundations objectives are to create awareness and promote the tolerance of large carnivores among the farming community by assisting farmers in effective farm management techniques including targeting problem predators as opposed to indiscriminate removal. They also educate youth about large carnivores and environmental awareness.

As well as this they provide humane housing, treatment and care for orphaned and injured animals. The AfriCat foundation has rescued more than 850 cheetahs and leopards and over 85% have been released back into the wild.
Community
The ground agents we use have been fundamental in the conservation in Namibia, owning a lot of National parks and Lodges, and consequently supporting wildlife trusts, schools and local families and communities in those areas. They believe that in protecting these areas, and including the local communities in this process, they can make a difference to Africa and ultimately the world. Tourism is a crucial part to the conservation for this reason. All staff at the lodges and game reserves are local to the area.

Our local ground agents have a unique approach to bringing tourism and conservation together with its goal to share these wild areas with guests from all over the world, while at the same time helping to ensure the future protection of Africa's spectacular wildlife heritage and sharing the benefits of tourism with local communities.

Windhoek Craft centre
Namibian Craft Centre in Windhoek offers unique handiwork from Namibian only manufacturers. By buying at the Craft Centre you are directly support the Namibians with no middlemen sitting in-between.

Okahandja Town
Okahandja is an important centre for woodcarvers from the north. They practice their ancient skills at the Woodcarvers Market next to the main road. The Wood Cavers are a major tourist attraction and offer curios at very low prices. Stone and other products are also available. Most of the items sold are truly African and are made locally. This is a good place to pick a souvenir as well as support the local community and their families.

Damaraland Camp
The Damaraland community comprises of a unique group of people who have recognised the value of the wildlife on their land and formed a Community Wildlife Conservancy to protect it.

Torra Conservancy is an unfenced multiple use area, zoned by the community members in order to derive benefit from wildlife populations while continuing sustainable, subsistence and commercial farming projects. In return for responsible management of wildlife populations, the Namibian government gives communities the rights to consumptive and non-consumptive use of this natural resource. The formation of the conservancy has resulted in substantially increased numbers of desert wildlife and in uplifting of the local community.

In the case of Damaraland Camp, finance, project management and expertise has been provided for the camp's development while the community contributed labour, skills and the conservancy itself. Revenue flows back to the community both directly and indirectly through the payment of the land lease, conservation levies and salaries. All staff employed in the lodge come from the community and their employment is overseen by a joint committee comprised of the Torra Conservancy and Damaraland Camp ensuring that income is as evenly distributed across the 40 villages of the conservancy as possible.

The camp's emphasis on conservation-positive impact and sustainable ecotourism has been reflected in the considerable increase in general game numbers. The award winning Damaraland Camp has become an inspiration for communities and conservationists throughout Africa and beyond.
5 Reviews of Namibia self drive safari
---
Reviewed on 23 Jul 2019 by
Tarek Hbeichi
1. What was the most memorable or exciting part of your holiday?

The ease of communicating and booking the trip with the provider, as well as the actual trip itself. Everything went according to plan and we had an amazing,
once in a lifetime experience.


2. What tips would you give other travellers booking this holiday?

We spent some time before contacting an agency doing our own research and creating a tentative itinerary with the things we wanted to see and do included.
This really helps the provider tailor a unique program and experience for you.


3. Did you feel that your holiday benefited local people, reduced environmental impacts or supported conservation?

Somewhat, the majority of the lodges and campsites we stayed at were privately owned by whites, whereas all of the employees were black. There's a
significant salary gap between the two races and I personally would have liked to have stayed at more properties that were black owned.


4. Finally, how would you rate your holiday overall?

AMAZING!
---
Reviewed on 20 Mar 2019 by
Victoria Cooper
1. What was the most memorable or exciting part of your holiday?

The wonderful diverse scenery,flora and fauna appearing when you least expect.


2. What tips would you give other travellers booking this holiday?

Stay in accommodation near the sights you intend to visit, as travel times can be long due to the many gravel roads.


3. Did you feel that your holiday benefited local people, reduced environmental impacts or supported conservation?

Not only the local communities ,as many of the staff had travelled from other areas in the county for the job opportunities made available through tourism .


4. Finally, how would you rate your holiday overall?

Wonderful
---
Reviewed on 10 Dec 2018 by
Helen Smeaton
1. What was the most memorable or exciting part of your holiday?

ALL of it! SO many amazing memories from the surreal, moving experience of climbing Big Daddy dune at Sossusvlei to stand on top of the sand dune world, scree running down to Deadvlei below, jaw-dropping scenery from another world, the raw beauty of the landscape and sheer scale of the mountain scenery, kayaking with playful seals at Pelican Point, black rhino tracking with exceptional guides from Grootberg lodge, the smiley amazing Namibian people, gazing for hours at graceful giraffe and zebra, the pride of lions that surprised us at our last waterhole stop in Etosha, stunning lodges, amazing food. It was all we could wish for and more!


2. What tips would you give other travellers booking this holiday?

Don't be put off by the amount of driving. We covered over 3000km in 16 days, but it is not tiring if you stop frequently to literally "take in the views." Be aware that not all gravel roads in Namibia are equal! Driving at the max speed (80km on most gravel roads, some are 100km) is just not possible on some of the rougher sections. So allow plenty of time for your journey when moving from one lodge to another. Also very important - check that your mobile phone works before heading off into the wilderness! We had a signal so assumed it was ok, but our Cypriot mobile phones did not work. We bought a Namibian SIM card once we got to Swakopmund and had access to Wi-Fi at some of the lodges, but if you need assistance from the 4x4 company, you really need to be able to call them.


3. Did you feel that your holiday benefited local people, reduced environmental impacts or supported conservation?

Absolutely. ALL the staff at lodges were Namibian, many from the north of the country where work is harder to come by. There was ZERO litter and staff at the lodges were very aware of saving water, not leaving anything behind after a game drive etc and were very aware of the difficult human animal conflict that exists where wildlife is freely roaming. Conservation is top priority to protect the wildlife, but we were also very aware that farmers have to live alongside the big cats and elephants, which sometimes leads to wildlife being shot.


4. Finally, how would you rate your holiday overall?

10 stars!!! Madri Bowman tailored the holiday to our exact requirements and the ground staff in Namibia were excellent.
---
Reviewed on 25 Aug 2018 by
Susanna Diacono
1. What was the most memorable or exciting part of your holiday?

Traveling through Namibia for 3 weeks meant we managed to see some of the different landscapes, people and animals where each was very exciting. It is difficult to choose as there were all special. Seeing cheetahs at close range in Bagatelle, feeling the eerie quietness at Deadvlei with the long perished trees, experiensing the harsh beating waves from the south Atlantic at pelican point with the acrobatic seals, feeling the vastness of Damaraland whilst meeting desert elephants at close range, experiencing the melting pot of cultures at
Opouwo, going for sunrise drive game spotting at Etosha National Park and last but not least seeing the wild life along the northern border at Kavango river falling to sleep to the sound of a frig concert. How can one choose!!! All this in amazing lodges thanks to Madri Bowman.


2. What tips would you give other travellers booking this holiday?

If you thinking of going to Victoria falls after Namibia go by air as a day was wasted on crossing 3 borders with all the papet work.


3. Did you feel that your holiday benefited local people, reduced environmental impacts or supported conservation?

All the accommodations we used employed local people which gave them job opportunities.


4. Finally, how would you rate your holiday overall?

Excellent! Can only use one word.
---
Reviewed on 23 Jun 2018 by
Nevil Rimes
1. What was the most memorable or exciting part of your holiday?

Very hard to pick one thing!! Many different aspects... Really enjoyed Fish River Canyon for its remoteness and lodge location, but then self-driving through Etosha and watching lions stalking prey at a water-hole was very special too.


2. What tips would you give other travellers booking this holiday?

Be prepared for long drives on gravel roads (max speed 50mph if its in good condition!) which can take a lot of time and with so many places to visit can lead to long days.


3. Did you feel that your holiday benefited local people, reduced environmental impacts or supported conservation?

Hopefully it helped all those things.


4. Finally, how would you rate your holiday overall?

Great trip that was enjoyed by all.
---
Popular similar holidays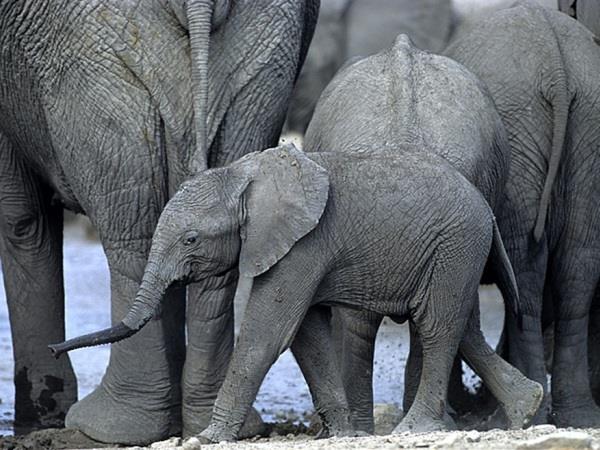 Self drive trip taking in Namibia's highlights
From £2000 - £4000 14 days excluding flights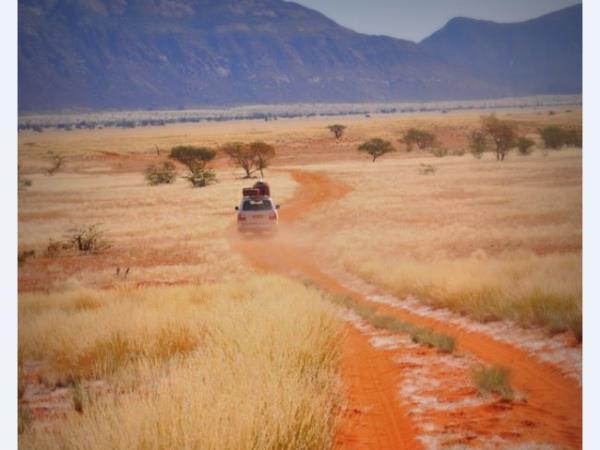 Self drive holiday on a budget in stunning Namibia
From £1385 11 days excluding flights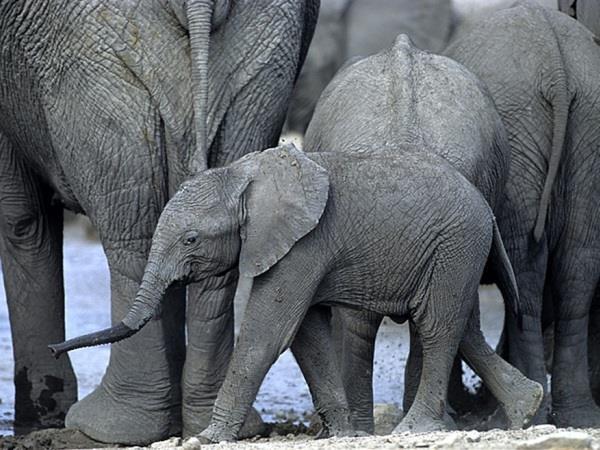 Self drive trip taking in Namibia's highlights
From £2000 - £4000 14 days excluding flights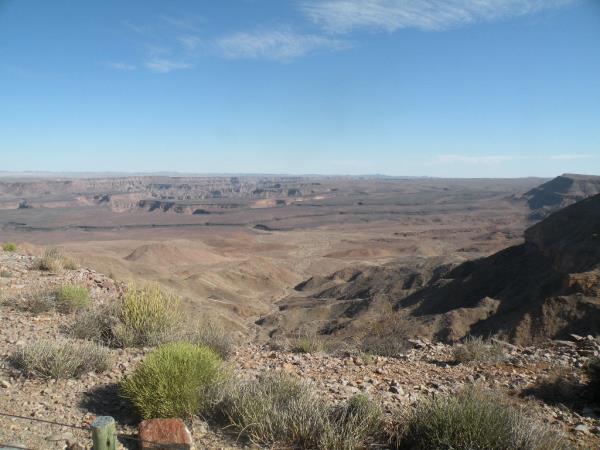 Explore the 4 amazing eco-systems of Southern Namibia
From £1530 - £2650 14 days excluding flights