Best time to visit Namibia

Namibia basks in over 300 days of sunshine per year

The best time to visit Namibia for a safari is during the dry winter from June to October. Temperatures are comfortably around 20°C, vegetation is thinner and wildlife congregates around waterholes, where predators hungrily await. This is also the best time to travel to Namibia and Botswana for a combined trip. But the desert climate is harsh. Night-time temperatures can drop to freezing in winter and it's parched; we recommend packing moisturiser and lip balm. The rainy season in Namibia is from November to April. It's drier on the coast, though, and this is the best time to go to Namibia for bird watching.
When to go to Namibia, month by month
A visit to Namibia in December, January or February will require an umbrella if you're travelling within the interior or far north, although coastal areas, surrounding Swakopmund, are a lot drier and certainly not as humid. January-February is midsummer. That means heat, from 30-35°C, climbing to 40°C in the deserts of the Kalahari. Rainfall tends to be short and sharp, often in the afternoon but not every day, dulling the heat before clearing to reveal the sun again. The rainy season is considered the best time for bird watchers. March begins to see afternoon thunderstorms become less frequent, particularly in northern regions around Etosha, and into April and May you'll find a much fresher, greener and clearer environment which many find the best time to visit Namibia, especially when tackling the five day Fish River Canyon hike. The nights don't feel too cold yet, and daytime temperatures hover around 24-28°C. June, July and August are the driest months across the country with the coast and interior areas, around Windhoek, offering a drop in temperatures, especially at night, when it can drop below 10°C and hit freezing in desert areas. Daytime temperatures are still pleasant, around 20-24°C. The southern winter is Namibia's peak wildlife watching season and accommodation will start to fill up as early as April, right through to November. September is a great month in Namibia, with temperatures still comfortable but less of a chill in the early morning. There is little rain and skies are clear. Come the end of September, much of Namibia is heating up, with October often proving to be the hottest month. The coast, however, keeps fairly consistently warm temperatures all year round. November signals the start of the rainy season, although the rains might not get going till December. It remains hot, with daytime temperatures reaching 30°C and a lot higher in the Namibian deserts. On the coast, mist and breezes make it feel cooler.
Windhoek/interior Weather Chart
Our top trip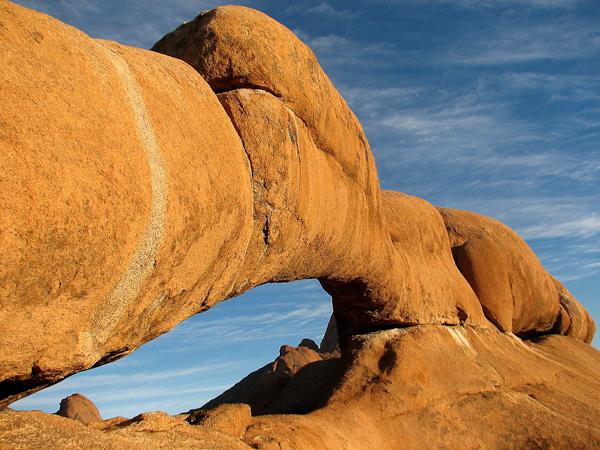 Camping safari to Namib desert, Caprivi, Etosha & Okavango
From €2640 21 days ex flights
Small group travel:
2023: 17 Dec
2024: 24 Mar, 14 Apr, 12 May, 9 Jun, 30 Jun, 14 Jul, 11 Aug, 25 Aug, 8 Sep, 22 Sep, 6 Oct, 17 Nov, 15 Dec
If you'd like to chat about Namibia or need help finding a holiday to suit you we're very happy to help.

Emma Gregg is an award-winning travel writer, specialising in responsible tourism in Africa. She talks us through her best times to visit Namibia: "The end of the dry season is excellent for wildlife watching in Etosha National Park; it's so dry at this time that giraffes, elephants and zebras converge at the waterholes in impressive numbers. If you arrive a little earlier - September, say - there's less dust in the air.
Namibia's landscapes look amazing in May, when the air is very clear, the temperatures are moderate and much of the vegetation is still green."
Our nature pick:
Whale watching season!
Southern right, humpback and Minke whales pass by the coast from July-November, with most sightings taking place in October and November. The best place to see them is Walvis Bay, of course - Walvis means "whale" in Afrikaans.
The annual Windhoek Jazz Festival is held in November, and showcases some of southern Africa's best musicians and singers. Herero Day takes place every August and is the best opportunity to see Namibia's Herero community kitted out in their finest dresses, complete with cow horn inspired hats.
Windhoek Oktoberfest
Namibia's German community comes together each October to celebrate in true Bavarian style - complete with lederhosen, bratwurst, oompah bands... and plenty of beer. It's all quite surreal in 40 degree heat!