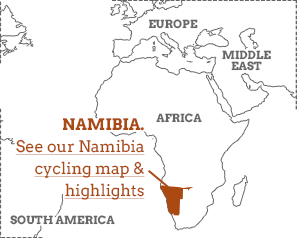 Holidays don't sound more intrepid than this. Empty, epic Namibia is dominated by two deserts, and has the highest sand dunes in the world. Tell people you're planning to cycle here and their first question might be – can you cycle up a sand dune? In reality, cycling in Namibia is as much about stopping and sightseeing (and giving your buttocks a break) as it is about eating up the vast landscape under two wheels.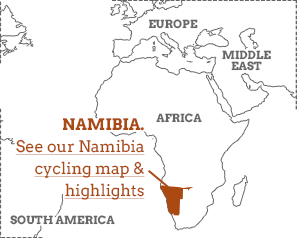 Get used to braking at zebra crossings. By which we mean: stopping to let herds of Hartmann's mountain zebras run across the road.

Namibia's burnt landscape looks hardy, but is actually very fragile. In 2019, it experienced its worst drought in seven years, and declared its second state of emergency in three years. Camping as you bike saves vital water, and opting for two wheels allows you to cover great distances with little noise pollution. Cycling is great for wildlife spotting, and makes you feel like you've truly earned each view. With local guides on hand to help you tell a gemsbok from a springbok, and Dune 40 from Dune 45, don't just tick Sossusvlei off your bucket list, find out what makes Sossusvlei tick.
Our top Namibia cycling Holiday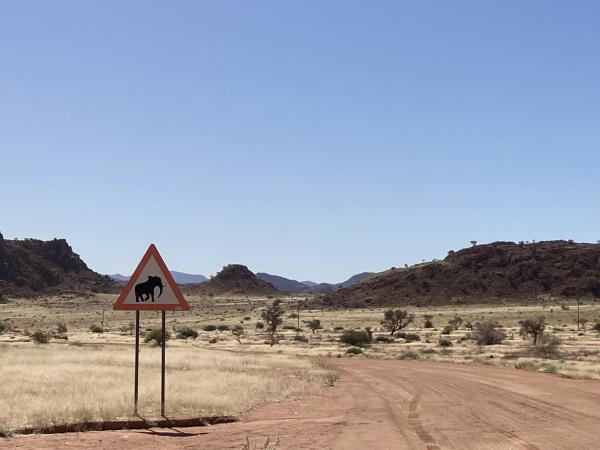 Cycle the sublime landscapes of Namibia
From
NZ $6600
16 days
ex flights
Small group travel:
2023: 18 Nov
2024: 11 Sep, 28 Sep, 15 Oct
If you'd like to chat about Namibia cycling or need help finding a holiday to suit you we're very happy to help.

Go cycling in Namibia if...
...you want to see wildlife, but you're not impatient about it. Whilst a visit to a cheetah conservation centre like Namib Carnivore Conservation Centre, will give you an instant big cat fix, the rest of the wildlife is a little more fickle. Flamingos flock at Walvis Bay and at Etosha National Park you can look out for the fabled Big Five.
...you're keen on photography. Make sure your camera has a case that keeps off the dust, and then get snap happy at sunrise.
...you want something new. With its enormous dunes, Namibia is like nowhere else in the world. Try a short 'fat biking' excursion as part of your trip and you'll actually be able to cycle on sand.
...you like meeting people. Cycling is best done in a small group tour, normally with between 10 and 14 people sharing a support vehicle. You'll camp together and cycle together – and race to see who spots the first zebra together.
...you're relatively fit. Whilst you won't be in the saddle 24/7, the terrain is quite tough and the temperatures are high. This is a moderately-graded holiday; you'll cycle an average distance of 39km a day.
Don't go cycling in Namibia if...
...you can't camp, won't camp. Towns are few and far between in the desert, so camping is the best way to stay, though there are some lodges along the way, too. ...you don't like dust. Or sand. Or dirt. Namibia's sand dunes don't stay put. You'll have a dust bath every day when you cycle. ...you want charming villages. You're not going to see many people on this trip. Namibia is one of the most sparsely populated countries on the planet – up there with Greenland and Mongolia. What's more, people stay indoors in the heat of the day, and the deserts are pretty... deserted. ...you need constant stimulation. Namibia is built on a big scale and it can take an hour to pass a dune. Some days, the horizon takes a little while to arrive. ...you don't like it hot. The average daily high in Windhoek in December (the height of the southern hemisphere's summer) is 31°C.
What does this trip entail?
Two weeks gives you a really nice survey of the Namibia's best bike-able highlights and you can pack in eight days of cycling. You'll need to be moderately fit, happy to submit your legs to multiple days of pedalling and your buttocks to multiple days in the saddle; the bumpy terrain can take its toll after a while. You won't be expected to take a bike all the way up a sand dune, but a half-day on fat bikes, bikes with supersized tyres, will allow you to have a go at cycling on sand.

Cycling here is a rewarding experience that's best when it's shared. A small group trip will have a maximum of 16 participants, and participants need to be aged 16 or over. Trips include mountain bike hire and you'll be accompanied by a support vehicle and two or three highly knowledgeable support staff. Ask them anything: what kind of gazelle just sprang across the rocks, what the weather will be like (hot) and how tall they reckon that sand dune is (the highest is 383m).

Expect heat and dust. It's actually too hot to spend all day cycling and besides, there are far too many other interesting things to see. Generally you'll start early in the morning (we're talking catch-the-sunrise early) and stop for the day around midday, before the sun gets to full strength. The average daily cycling distance is 39km, which usually amounts to three or four hours in the saddle.
What's the terrain like?
Using a mountain bike, 90 percent of the time you'll be cycling on gravel tracks, but there will also be some quiet road cycling. You also have the opportunity to try cycling on sand dunes, with help from a 'fat bike'.
A support vehicle cuts out the hard slogs, so you can enjoy downhill cycles down from mountain passes, and along flat roads where dramatic features, like Spitzkoppe and the Elim Dunes, look like they've been teleported from another planet. There are some gentle hills along the way.
When you stop
You'll stay in a mix of lodges and desert ranches, but for the majority of the trip you'll be camping. The staff will make and break camp each night, whilst you're relaxing or busy tipping half a sand dune out of each shoe. You'll be amazed at the variety of food that can be cooked on an open fire, but expect braii – South African barbecue, and potjie – stews. Towns are few and far between. When you're out on the bike, toilet breaks will be al fresco, so be prepared.

Whilst this is a cycling trip, when you get to Sossusvlei you'll climb its famous dunes on foot. There are also great opportunities to hike at Waterberg Plateau. At Etosha National Park you'll leave your bike for a game drive, and at Solitarie, near Sossusvlei you can visit the Namib Carnivore Conservation Centre, where formerly captive cheetahs, leopards and hyena are re-released into the wild after rehabilitation.
What to pack
Dust off your cycling gear (and get used to dusting it off!). Whilst you'll get a mountain bike for the trip, you are welcome to adapt it with gear from home. Cyclists swear by padded shorts for longer trips – and your own pedals, and a padded saddle might also be a welcome addition. Bikes are fitted with men's saddles as standard. You should bring your own helmet.

A lip salve, a bike scarf or snood and some anti-chafing cream are little things that can make a big difference to your comfort on the road. Your guide might bring isotonic mixes for your water, and you could bring your own stash, too. If you want to rinse your kit at any point you'll find that it dries very fast overnight in the desert.

You'll also need a bit of camping kit: a sleeping bag is essential (perhaps also take a detachable liner for warmer nights – it can be as warm as 17°C at night in December). You might also want a head torch, ear plugs and a pillow. Take a pair of binoculars so you can check out the wildlife without being eaten.
Best time to go
Group cycling trips run in March, May, October and December – the southern summer has its hottest temperatures in November, December and January, so be prepared to set out early in the morning to beat the heat. The rainy season means there's higher rainfall from January to March, but it's rarely torrential and the landscape turns lush and green. The best time for game viewing in Etosha National Park is in the drier months (the southern winter, running from April to November) , when wildlife converges on the water holes.
In the last five years or so, tourism to Namibia has seen a big increase, but the country still retains its absorbing emptiness. Namibia has adapted to tourism well, and a lot of money goes back into conservation projects. Park entrance fees are reinvested in the landscape by the Ministry of Environmental and Tourism, the whole coastline is protected through national parks, as is 19% of the country.

However, water is scarce. In 2019, Namibia experienced terrible drought – the worst in seven years, which is killing wildlife and putting 500,000 people at risk. Many of the lodges that you'll visit use solar panels, collect rainwater and reuse shower water as 'grey water' for cleaning floors. Be very careful with your water consumption and take short showers to wash off the daily caking of dust – you could also try out washing your clothes in the shower with you, by stamping on them. Tap water is drinkable across Namibia, so bring a reusable water bottle.

Namibia's deserts are fragile. Much of life exists just below the hot surface – and it's easily destroyed if you go off road. It's important to follow your guide at all times. They'll take you to better, less crowded places – which will satisfy your inner explorer and minimise erosion on worn-out trails. Don't set your heart on climbing a particular sand dune – they're on rotation so they can recover from tourists.
More about Namibia cycling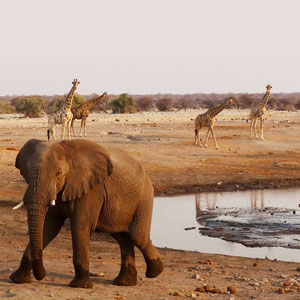 It's hard to appreciate Namibia's size – but cycling certainly helps you take in its vast landscapes.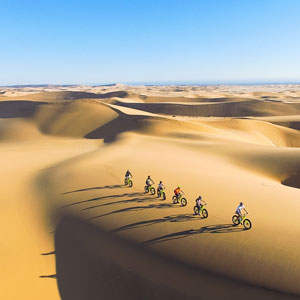 Cycling here seems adventurous – but don't be daunted. We've spoken to the specialists to give you the best tips and advice for your trip.