Namibia cycling map and highlights
With two weeks to play with, you can complete a comprehensive circuit of the country's best sights using a bike and a support van. Starting at Windhoek, dip south across the Tropic of Capricorn for a week to explore the gravel tracks around Sossusvlei's famous sand dunes, before hitting the coast at Swakopmund for flamingos and beaches. By your second week you can head well into north Namibia, racing along tarmac roads past the dramatic silhouette of rocky Spitzkoppe, eventually reaching the country's other highlight: Etosha National Park.

As part of the conservation of Sossusvlei, the authorities rotate which sand dune is open for people to climb, whilst the rest are protected – John Penge from our specialist for Namibia cycling, Exodus, on the Sossusvlei dunes

1. Etosha National Park
A pale, arid salt pan pocked with water-holes, Etosha National Park is one of the best places in Namibia – nay, in Africa – to watch big game. The park's flourishing population of black rhino are one of its biggest success stories, but they're not even the biggest animal; there are white rhino and elephant here, too. In dry season, predator and prey call truce and drink together at the waterholes.
2. Fat biking
The dunes on Swakopmund's doorstep are a popular destination for trying all manner of unusual sand sports. Try fat biking and you can use extra-thick tyres to conquer the dunes on two wheels. It seems like it will be hard going, but it's actually marvellous fun. Plus, you can try daredevil drops and steep slopes, and the sand is there as a ready-made gym mat if you fall off.
3. Gamsberg Nature Reserve
Khomas Hochland is the highland southwest of Windhoek. It's dominated by the Gamsberg, one of Namibia's largest mountains. From the Gamsberg Pass, and one of the highest roads in the country, you can see for over 100km. The famous road down from the flat-topped mountain drops like a loose thread from a seam. Freewheel down towards the desert, passing troops of baboons on the way.
4. Sossusvlei sand dunes
Is that a gigantic mound of cinnamon... or a sand dune? The landscape around Sossusvlei is so striking that it's become Namibia's poster child. At Deadvlei, dark skeletal trees add to the view, whilst Elim Dune's orange-peel ridge stands solitary. Solitaire, a desert town, makes a useful base camp if you're planning to visit the area. There are some conservation centres nearby that do great work with big cats.
5. Swakopmund
You might be surprised to see the German-style buildings at Swakopmund: these date back to the turn of the 20th century, when Namibia was part of the German empire. They contrast strangely with the city's Atlantic beach setting and desert backdrop – and the nearby dunes attract plenty of adventurers. Nearby, wetlands around Walvis Bay provide habitat for pink, prawn-guzzling flamingos.
6. Waterberg Plateau
Waterberg – or 'water mountain' – is dotted with abundant springs which mean the red sandstone rock shivers with bright green trees. The plateau is 50km across, and resembles a giant's doorstop. Cross the threshold and you'll find that it's home to heaps of rhino and abundant birdlife. People come to enjoy wildlife hikes and the surrounding views.
Our top trip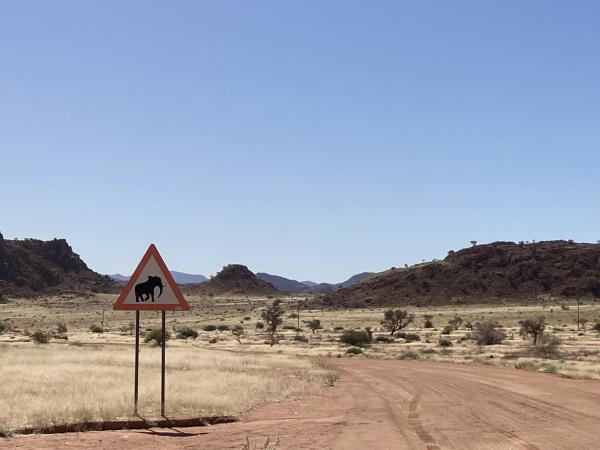 Cycle the sublime landscapes of Namibia
From
NZ $6600
16 days
ex flights
Small group travel:
2024: 11 Sep, 28 Sep
If you'd like to chat about Namibia cycling or need help finding a holiday to suit you we're very happy to help.

More Namibia cycling articles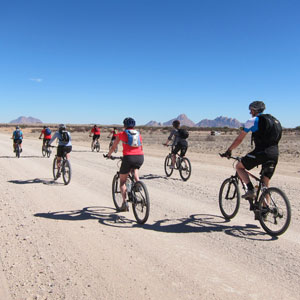 Do you get ecstatic about emptiness? On a cycling holiday you can eat up Namibia's deserts under two wheels.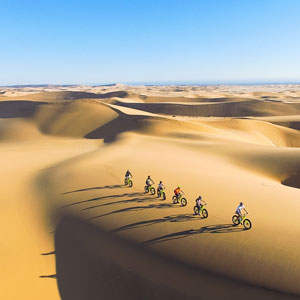 Cycling here seems adventurous – but don't be daunted. We've spoken to the specialists to give you the best tips and advice.