John Penge from our specialist for Namibia cycling, Exodus, has this advice:
What's this trip like?
"This trip for someone who wants to see the classic Namibia itinerary, but with a different spin. It's not a full-on cycling trip. You'll have to be reasonably fit, but apart from the fat biking excursion, there's minimal off-roading. You'll be cycling along gravel tracks for the most part. There are some long days, but it's not steep. All our guides are Namibian – from the fat biking excursion to our two-three tour leaders."
Our top Namibia cycling Holiday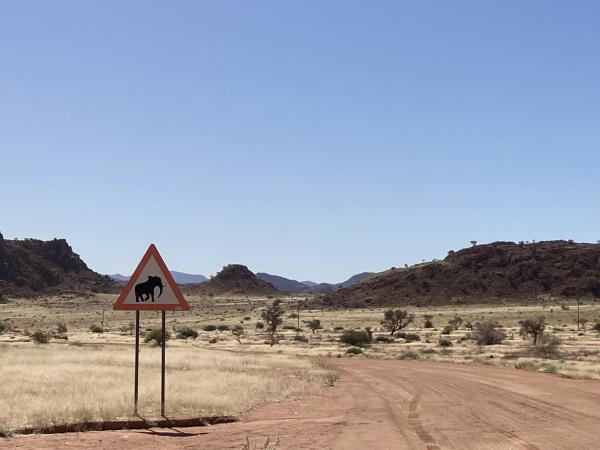 Cycle the sublime landscapes of Namibia
From
NZ $6600
16 days
ex flights
Small group travel:
2023: 18 Nov
2024: 11 Sep, 28 Sep
If you'd like to chat about Namibia cycling or need help finding a holiday to suit you we're very happy to help.

The joys of fat biking
"The fat biking is incredible. I had a two hour session with our local supplier, who is based in Swakopmund and I really enjoyed it. You'd think cycling on sand would be difficult and that you'd skid around, but the fat bikes are geared towards it. You'll get a briefing on how to use the gears, and how to use your weight on the bike, and then around three hours to try them out. There are a fewer steeper dunes and drops for people who want more of a challenge."
Spotting wildlife
"The best place to see wildlife on this trip is in Etosha National Park. Some people do see wildlife outside the park, too. Once you head north, from Spitzkoppe onwards, you might see some of the bigger animals. I went to Etosha in April after a particularly wet rainy season. The wildlife was more dispersed than normal (it tends to gather around watering holes in dry season, and is easier to spot), but I still saw a leopard, a lion, an elephant."
Is it busy?
"Tourism in Namibia is on the up – we do have to book some accommodation far in advance – at least a year in advance. This isn't because it's overcrowded, it's because there are fewer places to stay in the first place.

I went a couple of years ago and I didn't find it touristy at all, and neither did my colleague, who went in the summer. Etosha National Park is popular, and you will see other people, but it's nowhere near as busy as, say, the Masai Mara.

Sossusvlei is popular, too, but it's not like you're going to the Taj Mahal. You won't be the only group climbing the dune – there will be a line of people all climbing up – but I didn't find that that took away from the experience."
Travelling responsibly
"Namibia is a very clean country, and you can tell that Namibian people take pride in the fact that it's unspoilt. The cities and towns are clean. The tap water in Namibia is drinkable, and the support vehicle has a water tank on board. I spoke to our operator today and they're experiencing the worst drought in seven years at the moment. Drought affects the country's agriculture, but it hasn't impacted our departures so far."
HEALTH
Your biggest enemy in Namibia will be the twin dangers of overheating and dehydration. Your support vehicle will carry an enormous tank of water, so make sure you make use of it. You can also mix energy gels and powders into your drink to replenish electrolytes. It's not essential, but it can give you a welcome boost.
The sun is no joke in this part of the world. There's no shade, and as you pass the Tropic of Capricorn you'll be reminded that you're in a tropical zone. Wear sun cream. You might also want to cover your face with sunglasses and a scarf.
Cycling on longer trips can take its toll on your muscles. By day three, you'll be grateful for padded shorts, padded saddle, padded everything. Take a few pairs of shorts, plus anti-chafing cream.
You'll need to be reasonably fit to cycle in Namibia. There aren't currently electric bikes for hire.
Make sure your cycling guides are aware of any medical issues you have. They're used to hearing about everyone's aches and pains and will be happy to hear about yours. And take your medicine with you.
SAFETY
There is virtually no malaria in Namibia, and the areas you'll visit are low risk. English is widely spoken and tap water is drinkable. It's considered one of the safer countries on the continent. You'll normally be asked to bring your own helmet on your cycling holiday – and you won't be allowed to cycle without one. You'll have a support vehicle and two or three guides accompanying you, but it's always worth brushing up on your own puncture repair skills before you go. Gravel roads and dust do take their toll on the bikes, but luckily the support vehicle has spares. Though there isn't much traffic on Namibia's roads, you've got to apply a bit of road sense when you're cycling along. If your guide tells you to stay in single file, keep in single file. There may be big 4x4s rattling along on their way to Etosha, or Sossusvlei.
At Responsible Travel, we think the best people to advise our travellers are often... other travellers. They always return from our tours with packing tips, weather reports, ideas about what to do – and opinions about what not to.

We have selected some of the most useful Namibia cycling travel tips that our guests have provided over the years to help you make the very most of your holiday – and the space inside your suitcase.

I was gobsmacked by the scale of it all sometimes. Just the sheer pleasure of being out and seeing the landscape as you are cycling along, seeing the vastness.

"I was a bit concerned about whether or not I would cope with the cycling, particularly ten days of it, but actually it worked out really well. Because the way we did it, we got up early and set off cycling about seven in the morning and did four hours... you could do your exercise in the morning and then feel good for the rest of the day.
"I took my own cycling pedals and clip on shoes just because I am more used to cycling in them. So if people are used to their own, then I would advise that. I took four pairs of cycling shorts and that was more than enough, as you could easily wash them through and dry them out for the next day. Definitely have padded shorts."
"I was gobsmacked by the scale of it all sometimes. Just the sheer pleasure of being out and seeing the landscape as you are cycling along, seeing the vastness. There were times when you just saw this road going on forever, and I thought, ah OK, that is where I am going – well I just have to keep going then!"
- Jennifer Milward booked on a Namibia cycling holiday.
You can also
read our full interview
with Jennifer on her cycling holiday.
More about Namibia cycling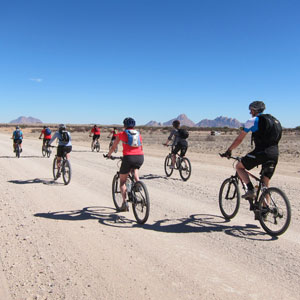 Do you get ecstatic about emptiness? On a cycling holiday you can eat up Namibia's deserts under two wheels and reach its famous dune-scapes.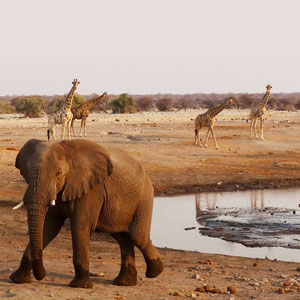 It's hard to appreciate Namibia's size – but cycling certainly helps you take in its vast landscapes.