Best time to go to North America

Leaf-peeping is a national pastime in the USA and Canada in autumn, when forests from Quebec to the Appalachians to the Rockies turn bright red and gold.

North America is often thought of as fairly homogenous in comparison to other continents – but this is highly misleading. West to east, there are six time zones on the mainland alone (while Hawaii is another two hours behind), and north to south the continent stretches from the polar bear inhabited reaches of the Arctic Circle to the sweltering swamps of the Everglades. In-between are towering mountain ranges, one of the earth's hottest deserts, vast forests and Pacific, Atlantic and Gulf of Mexico coastlines. In other words, when it comes to working out the best time to go to North America, there is always some time.
When to go to North America, month by month
February, March and April are top times for seeing the Northern Lights and dog sledding up in the wilds of Canada's Yukon Territory. February to April is also the best time for whale watching in Hawaii and along Mexico's Baja California Peninsula. Watch bears as they emerge from hibernation in Yellowstone National Park in March, April and May. For Alaska, the best time to go is generally mid-May until mid-September – especially if you're camping. Mid-June until the end of July is notorious for mosquitoes, so take precautions, particularly at dawn and dusk. June is also the time for displays of breaching humpbacks, as well as dolphins, orcas and porpoises. Hurricanes happen in the southern US states between June and November. For serious hiking in the famous USA canyons such as the Grand Canyon, the heat in July and August can be extreme and dangerously high. Avoid the height of summer if you can unless you are with experts. Consider visiting them in winter, when they are dusted with snow and devoid of tourists. In the cooler Rocky Mountains, however, summer is an excellent – if busy – time for hiking. British Columbia is mild, warmed by Pacific currents, and one of the best times to go is during tourist-free September. The whales still come to play off Vancouver Island too. Autumn is great for bear watching in the USA and Canada, when they come out to catch the migratory salmon and stock up for hibernation. For polar bear watching in Churchill, Canada, key times are October and November, when they move from land to sea in search of seals, or March, when cubs emerge from their dens for the first time. Most national parks are open all year round, but sometimes certain roads are closed during heavy snow periods. Public holidays are huge in the USA, so book well in advance if your holiday coincides with Independence Day (4 July), Memorial Day (last Monday in May), Labor Day (first Monday in September) or Thanksgiving (fourth Thursday in November), which are the biggies.
Our North America Holidays
Denali National Park (Alaska, USA) Weather Chart
North America & the climate crisis
It's hard to talk about the weather in North America without mentioning the climate crisis. In 2021, North America sweated through its hottest June on record. This "heat dome" triggered Canada's highest recorded temperature (49.6°C), 180 wildfires and 500 excess deaths in British Columbia alone. Another anomaly: the heatwave effected the Pacific Northwest, a region known for its temperate climate and reliable rainfall. Scientists concluded that climate change accelerated by human activity made the heatwave
150 times more likely
.
Flooding is even more common and costly. Increasingly intense hurricanes soak the east coast, where low-lying communities like New Orleans are also exposed to rising sea levels and storm surges.
It all sounds frighteningly out of our control, but in fact
our holiday choices make a difference to how local people cope with and combat the climate crisis.
Tourism is often a source of income to the communities most vulnerable to climate change. When people visit, it encourages governments to protect landscapes that might otherwise be used for oil drilling and mining. We're also big believers that experiencing our amazing world inspires us to take the actions needed to save it.
With that in mind, here are our tips for climate-conscious travel in North America.
Travel tips that help the climate
Our holiday partners support local guides and businesses – the people directly impacted by climate crisis in North America. You'll also end up with more insight and some great stories.
Choose a nature positive trip; perhaps kayaking with orcas in British Columbia or watching the salmon run in Alaska.
Visit the national parks. It's hard to imagine how quickly glaciers are retreating without witnessing the year markers at the Athabasca Glacier in Jasper National Park, for instance. Seeing these for yourself is a real call to action to do what we can to slow global warming.
Eat locally to reduce the need to transport food. Of course, it's a real hardship in a continent that serves chilaquiles (cheese tortillas) for breakfast and pecan pies for dessert... Avoiding all-you-can eat buffets reduces food waste, too.
Fly less and stay for longer. Avoid internal flights where you can.
Watch our video on how to curb your carbon.
Festivals in North America
Mainly celebrated in Mexico, the
Day of the Dead
(31 October-2 November) is a bit of a misnomer. It's in fact a celebration of life – and it lasts more than a day. Decorated
calavera
skulls and dance-till-you-drop street parades are part of it, but you're more likely to be moved by the tiny courtyard altars decorated with offerings for loved ones. Go with a guide to fully understand the mix of indigenous and Catholic traditions at play here.
Go north for summer solstice festivals (June 21) that squeeze every drop out of almost 24 hours of sunlight. The
Summer Solstice Indigenous Festival
in Ontario, Canada, brings together local chefs, musicians and dancers, and culminates in a pow-wow. Even further north, concerts, cookouts and late-night trail hiking go on into the eerily light early hours in Alaska. Fairbanks and Anchorage put on the most events, including
Downtown Days
and the
Midnight Sun Baseball Game
, which has been played since 1906.
Head to Hawaii in May for
Mele Mei
, when the islands are alive with the sound of ukuleles and
mele hula
chants. To get the most out of this music festival, finish off your holiday with a few extra days on Honolulu, where you can take your pick of surfside grills and cafés hosting live music nights.
Things to do in North America
Things to do in North America
The USA invented the concept of the national park, so it'd rude not to visit several while you're here. Yellowstone and Banff are two of the oldest, but remember the lesser-known national parks too. Kenai Fjords in Alaska and Loreto Bay National Marine Park in Mexico are just as dazzling as the big-hitters.
North America brings cetaceans in droves, so it's a great place for whale watching. Dolphins, blue whales, sperm whales and orcas come to play along the coastline of Baja California between February and May. Thousands of grey whales glide from Mexico to Alaska every spring. On the Atlantic Coast, whales follow the warm waters from their Florida calving grounds to the Canadian Maritimes.
Camping is one of the most exciting ways to embrace North America. Snoozing al fresco is practically a religion in the US and Canada, involving campfires and cookouts, and the ubiquitous RV parks. Campsites range from family-friendly (think kids' clubs and communal barbecues) to wilderness mountain plateaus for serious hikers.
Watch out for bears by treading in the quiet (but not too quiet – no one wants to surprise a 300-kilo grizzly) footsteps of expert trackers. Unusually, you can go bear watching by boat in British Columbia; bears rummaging for clams along the shoreline will barely give you a second glance when you're on the water.
Things not  to do in North America
Forget how big distances are. Famously vast, and with six time zones and eclectic landscapes from Arctic tundra to Rocky Mountains, there is a lot to get your head around.
Hiking in North America is an adventure; it's no good setting off into the wilds on a whim. Swot up on what to do if you come across a bear and check wildfire movements in the summer (or avalanches in the winter). In the desert, days might be sizzling, while evenings are freezing, so research what to pack too. Don't worry – our travel partners are experts in their fields and will advise exactly what you need to explore safely, matching you up with guides and tailored packing lists.
Stick to the mainland. Vancouver Island – a mere slip on the map of Canada – is a quarter of the size of England; you could easily spend your whole holiday exploring its long surf beaches and first-growth rainforests. A six-hour flight south-west, the 50th US state, Hawaii, has more in common with Polynesia than the mainland.
Get caught up in national myths. The idea that America was "discovered" by Columbus is the most obvious tale to dismiss. But also cast a critical eye at the mythologised Confederacy symbols when travelling in the American South and delve beyond the triumphant colonial history of Mexican capitals built from the ruins of Mayan cities. Meanwhile, Canada – often seen as an environmental hero – has an economy that relies on mining, oil, logging and gas. Your reward for digging a little deeper? A full and fascinating picture of North America.
If you'd like to chat about North America or need help finding a holiday to suit you we're very happy to help.

North America holiday advice
Natalie Morawietz, co-founder of our partner Infinite Adventures, shares her tips for travelling in the USA.
National park appreciation
"The national parks and wilderness are totally underestimated in the USA. You can get lost without cell phone reception, and in fact it can be very challenging... you can go and hike for a week and not see anyone. I haven't seen this much accessible, untouched wilderness in all my travels in South America or Africa."
Summer in Alaska
"Don't be put off Alaska because you think it will be too cold… This summer we had so many days with 25°C, lots of sunshine, and then you arrive at the campsite and at 9pm you sit at the campfire with the sun shining on your face. It might only be 18°C by then, but because the sun is shining, it always feels warmer. I love that feeling. Don't always associate Alaska with snow and ice."
Souvenirs with soul
"Stay clear of the shopping malls that sell Native American jewellery. These are totally overrated. Go and find the real thing. We try and seek out craftspeople in the small outlets, where tribes don't have to pay super commissions and rents in order to sell their products."
Get talking
"Americans love to talk and are interested in other people. Even if you come from a culture that isn't as open, go into a local bakery or shop and just talk to people. Tell them what you are interested in seeing locally and they will be more than willing to help you."
Vicky Rodford, from our small group adventure specialists Intrepid Travel, recommends spending as much time as you can in Mexico.
Eat your heart out
"Some people get concerned about the food – they think it is all tacos, fajitas and fast foody. But the food is absolutely fantastic. Things like arrachera, which is a really tender cut of steak usually served with plantains and guacamole. It is really delicious… And the elote, which is corn on the cob with loads of cheese and mayonnaise. It is really simple, but really tasty."
Watch out for wildlife
"The wildlife in Mexico is underrated. People don't think of it as a big wildlife destination, but there is a lot of jungle out there, and with jungle comes wildlife. So you have spider monkeys and howler monkeys, toucans and other brightly coloured birds. There is so much going on in the trees around you."
Choose your cenote wisely
"Swimming in cenotes is a top experience, but you need to be careful that you go off the beaten path a little bit, rather than going to one that is just off a highway that is packed... But if you find the right cenote it is stunning. You can swim underneath, into the dark, you can hear birds flying in and out, the water is absolutely crystal clear, and it is so peaceful. They can be gorgeous."
Spring break
"Spring is an amazing time to go, around March and April… But you do want to be wary of the US spring break along the Mayan Riviera, as there is a massive influx of college students who are out to drink as much as they can in a two-week period… Autumn is also lovely in Mexico – not too hot."
Peter Grubb founded our kayaking specialists ROW Adventures. He recommends focussing on one region in North America – and packing light.
Cool your jets in Canada
"Europeans tend to try to cover way too much on their travels in Canada. They want to do all the iconic things... They spend so much time driving that they don't have the time to take it all in… But on a wilderness trip, you really get an intense experience of one area, and we love that in Canada."
Pack light
"Headlamps are one of the best things to have on your travels, especially if you are going into wilderness areas. There is an awesome product called the Luci light – a little solar LED light that squishes down like a pancake, and then you inflate it so that it turns into a cylinder. It is the perfect night light for camping. They also float and are waterproof, so we love them as kayakers."
More about North America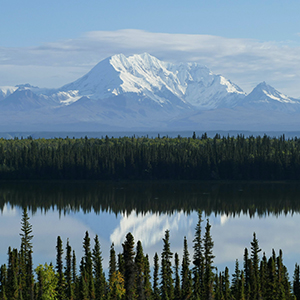 Holidays to North America are epic adventures. Focus on the Rockies, explore national parks in Hawaii, or head south to Mexico.