Where to go walking in
Northern Ireland
Northern Ireland may be a small country, but it feels much bigger, especially when youíre stood on a mountaintop admiring the views. Here, youíre never more than two hours from the coast or mountains. That means thereís a great variety of landscapes and activities that are easily accessible, from the Mourne Mountains and the Antrim Hills to the Giantís Causeway and the historic and cultural attractions of Belfast. This is a country that lends itself perfectly to Ďwalking and talkingí. Local guides donít simply show you around; they help you forge a connection with the places youíre visiting. Itís also an excellent way to understand the history behind the Troubles, and to see that Northern Ireland is much more than its politics.
1. Antrim Hills
Not as tall as the Mourne Mountains, but no slouch in the looks department, the Antrim Hills lie inland from the Causeway Coast, with over 20 peaks. After a few days spent wandering these mountains and glens, past glacier escarpments, forest, waterfalls and soaring views as far as Scotland, youíll understand why this was such a sought-after location for the Game of Thrones team.
2. Belfast
Most Northern Ireland walking holidays arrive and depart from the capital city. Northern Ireland is a small country, so in fact wherever you are you can always spend a day in Belfast to break up your trip. The award-winning Titanic Belfast centres on the shipyard where the ill-starred ocean liner was built, and you can also take a Peace Wall walking tour for a localís perspective on the Troubles.
3. Giantís Causeway
Northern Irelandís best-known natural landmark, Giantís Causeway is surprisingly small Ė given its name, a cluster of basalt columns best admired on foot. Most visitors (and there are a lot of them) come by road from Belfast, and miss the rest of the magnificent, largely uncrowded, Antrim Coast. Self guided walking holidays take in rolling hills, pretty seaside harbours, beaches and the famous Carrick-a-Rede rope bridge.
4. Mourne Mountains
The Mourne Mountains are the best hiking destination in Northern Ireland. Whatever your ability, there will be more than enough trails to satisfy, with sublime views throughout Ė especially of the Mourne Wall. We recommend walking with a local guide, not only for safety and the ease of getting around, but because thereís no better way to appreciate the regionís history, nature and culture.
5. Rathlin Island
A short ferry ride off the Causeway Coast and therefore an easy add-on when walking the Giantís Causeway, Rathlin Island is small, L-shaped and home to many thousands of chattering seabirds. Despite its small size (just 10km long and 1.5km wide), the island has a community of about 150 people, and is criss-crossed with walking trails.
6. Ulster Way
The Ulster Way is one of the longest walking trails in the UK Ė 1,000 waymarked kilometres of wonder. On its circular route it takes in several significant walking destinations, including the Mourne Mountains, Giantís Causeway, Glens of Antrim and Sperrins. Self guided walking holidays on the Ulster Way will typically take in a small section such as the Moyle Way.
If you'd like to chat about Northern Ireland walking or need help finding a holiday to suit you we're very happy to help.

Northern Ireland walking travel tips
David Kay, from our partner Ramblers Walking Holidays, reveals his Northern Ireland walking highlights: ďA lot of the time you do really need a guide. Some landowners in Northern Ireland can be mistrustful of walkers, so access can be an issue. Things are changing for the better, but having a guide who can show you where you can and canít go is very useful.Ē
Andrew Magowan, from our partner The Inside Trek, leads guided walking tours of the Mourne Mountains and Antrim Hills. He says:
Mourne mouthful
ďNewcastle is on the coast, so the seafood is definitely the cuisine highlight. You get a lot of oysters, mussels and prawns, and there are some good seafood restaurants. Northern Ireland has always been excellent regarding local food, certainly beef and lamb. But the local go-to meal has got to be seafood chowder, with local wheaten bread and lashings of butter on the side, accompanied by a perfect pint of Guinness. Iím salivating now, just thinking about it.Ē
Accessibility
ďI help out with auditing walking routes in the Mourne Mountains. Theyíre supposed to be checked annually to ensure that the information walkers get is as trustworthy as possible Ė are the marker posts in the right places, is the information on the routes still up to date? I would love to see more routes become available as the Mournes are so accessible. Thatís the advantage of walking with a local Ė we know so many ways that you can come at them.Ē
More Northern Ireland walking articles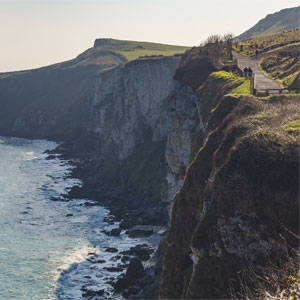 What do Northern Ireland walking holidays entail, and the benefits of having a local guide.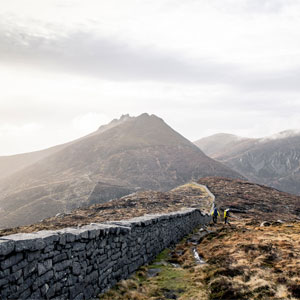 The Mourne Mountains are the finest walking destination in Northern Ireland.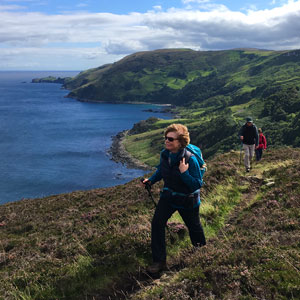 Our Giantís Causeway walking holidays give you more chance of spotting wildlife than crowds.