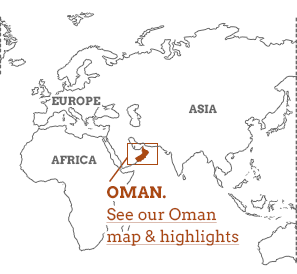 Neighbouring United Arab Emirates tends to hog the high end limelight, but in Oman you'll find an authentic Arabian experience without the excessive bling. It's a forward looking state that remains true to its roots, where modern shopping malls, smooth roads and top quality hotels blend seamlessly with ancient forts, windswept desert and mountains plucked from the surface of Mars. The best thing about luxury holidays in Oman is that they allow you to get stuck into the country's incredible landscapes, and to get to know the friendly Omani people in a land where the spirit of warmth and hospitality run deep.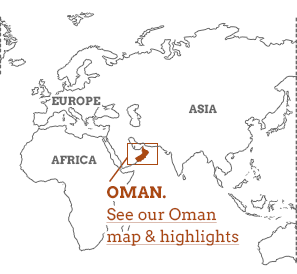 It's often overshadowed by brash neighbour Dubai, but Oman luxury holidays serve up both adventure and indulgence with quiet confidence and Arabian flair.

Ramping up the spending gets you speedy access to remote desert and mountain areas, a range of adventurous experiences such as camel treks and diving excursions, and nights spent under the stars in locally run desert camps. And as our Oman luxury travel guide reveals, there's always time built in to relax at swish beachside hotels, too.
Why choose luxury in Oman?
The main reason to choose a luxury holiday to Oman is the flexibility that it affords. Most holiday companies will work with you to individually tailor itineraries, meaning you'll be able to go at your own pace and spend time at the places that most interest you, without lifting a finger to organise anything yourself. Your trip will include transfers, and in most cases a private driver/guide, so you'll be able to get to all those hard to reach areas, and go off roading, desert camping and mountain trekking to your heart's content.
Transport & accommodation
Transport & accommodation
Oman has some seriously swanky lodgings, and a luxury break is the perfect chance to sample them. You can stay in contemporary Muscat hotels with lush grounds, top notch dining and facilities from swimming pools to dive centres; or head out into the wilds to remote resorts designed using traditional techniques and natural materials. You can even sleep under the desert stars in Bedouin tents full of romantic One Thousand and One Nights atmosphere.
You won't have to make your own way there, either. Just get yourself to Oman and a luxury itinerary will take care of the rest. Private transfers and all your internal travel will be arranged for you; this will usually consist of a private 4WD with a driver, though the odd camel might make an appearance, too.
Luxury doesn't have to mean lower environmental standards, and some of Oman's top hotels and lodges go to great lengths to work in harmony with and protect their natural environment. Many have environmental policies in place regarding water usage and recycling as well as supporting local communities, from employing and educating staff from the surrounding area, to working with local schools, farms and charities. A 'leave no trace' policy is applied to all excursions in all regions, and tour operators make sure to leave the country's wild spaces as they found them.
Desert trails
No luxury tour to Oman would be complete without heading into the Arabian Desert, and time spent in the sands gives you a glimpse of a traditional way of life that is fast disappearing in the modern world. Most luxury itineraries will include one or more nights spend sleeping amongst the sands – usually in posh, lamp-lit, Bedouin style tents. It's a good chance to get to know the Bedouin people, the women in particular, who play a more prominent social role than other Omani females. They are also skillful craftspeople and you'll have the chance to learn about and buy their traditional wares.
All the desert camps offer a range of activities, including sandboarding, camel and horse rides, but the best experience may well be the simplest: watching a magical sunset over the dunes.
If you'd like to chat about Oman luxury or need help finding a holiday to suit you we're very happy to help.


Unless you want to deal with serious sizzle then head to Oman between October and April – temperatures are cooler and sea turtles can be seen at Ras al Jinz.

If you want to keep your cool, then avoid the peak of summer, Jun-Sep, when the mercury touches 40°C unless you head for the heights of the mountains. The best time to visit Oman is in cooler Oct-Apr, when you can enjoy the all the wilderness wonders that it offers, such as hiking in the mountains, camping in the desert, scuba diving around the coral reef or driving through wadis. Many places close during Ramadan, so check with your holiday company beforehand, although food and alcohol are both available in most international hotels in Muscat after sundown.
Responsible tourism
Many of Oman's luxury hotels and lodges take pains to protect the environment and local communities, such as by supporting wildlife conservation initiatives. Some of the country's top desert camps are owned and run by local people. They use lamps and candles instead of electricity and are built using natural resources to blend in with the environment.
Holiday companies employ Omani tour leaders and driver guides who know their areas well and can help educate guests on the environmental dos and don'ts of the areas they are travelling through. In addition, many itineraries are designed to allow you to spend valuable time with local people to gain an understanding of their beliefs and way of life. On desert excursions you may get the chance to buy local handicrafts, the proceeds of which help the local Bedouins to support their families.
Dive centres are also getting in on the act. Many employ local staff who make it their business to educate travellers about protecting and conserving their reefs. They also regularly spend time cleaning up litter and plastics from the beaches and waters.
Five of the world's seven species of sea turtle swim in Oman's waters, and two of them – loggerhead and green – come ashore to breed. Sea turtles emerge from the Arabian Sea at Ras al Jinz and the government-run Ras al Jinz Turtle Reserve protects a nesting site of international importance. If you're visiting the reserve, operators will always fully brief you on the rules to make sure the turtles remain as undisturbed as possible.
More Oman luxury articles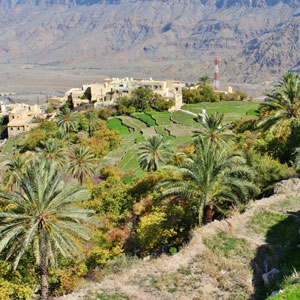 Our interactive map reveals where to go, from vast desert wilderness, to heritage cities and marine life rich waters.