RANTHAMBORE NATIONAL PARK
Reading Rudyard Kipling's words as you trundle across Rajasthan will undoubtedly enhance your Indian experience; spying Shere Khan in Ranthambore National Park, however, will send spines a-shiver and eyes misting over in wonder. Our Ranthambore National Park travel guide has been written for you, Best Beloved, so you can discover its wonders on a tailor made or small group tour.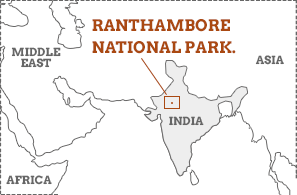 Keep peace with the Lords of the Jungle - the Tiger, the Panther, and Bear - and trouble not Hathi the Silent, and mock not the Boar in his lair.

Game drives in Ranthambore are one of the best ways to discover its impressive list of fauna, including tigers, leopards, crocodiles and monkeys; book as far ahead as you can to ensure your seat in the Jeep. However, neither tigers, nor any of the other animals within the park, will appear on demand. Manage your expectations and enjoy the park's other highlights – the stillness of Padam Talao lake or a hike to the ancient temple of Shri Ganesha or Ranthambore Fort. This is a time to reflect, after a rickshaw ride around Old Delhi and seeing the sun rise over the Taj Mahal, as you slowly step into the pages of The Jungle Book.
Our Ranthambore National Park Holidays
WHAT DOES A RANTHAMBORE HOLIDAY ENTAIL?
The majority of our trips that include Ranthambore National Park will be tailor made. This allows travellers to decide how long they'd like to spend visiting the park and how long they want to dedicate to other areas of Rajasthan. Ranthambore is geographically well-placed within the popular Golden Triangle circuit. Old Delhi, the Taj Mahal, Varanasi and Jaipur are all accessible either side of visiting Ranthambore.
On average travellers tend to stay in the park for around three days. This provides plenty of time for several Jeep safaris to see the wildlife and perhaps spot a tiger, as well as explorations on foot to the ancient temple of Shri Ganesha and Ranthambore Fort overlooking Padam Talao, the park's largest lake. If you're a complete wildlife enthusiast, especially where bird watching and tiger spotting is concerned, it's quite possible to spend an entire week in Ranthambore. Of course, you could also go on a two week big cat safari tour that will not only include tigers in Ranthambore but also Asiatic lions in Gir Forest National Park and jungle cats in Blackbuck National Park, both of which are to be found in the neighbouring state of Gujarat.
Accommodation around Ranthambore is excellent, ranging from budget hotels to top-end safari lodges. All accommodation is outside of the park. The closest city, Sawai Madhopur, is considered the gateway to the park and has the best variety of places to stay.
Tailor made tours
Tailor made tours that include Ranthambore National Park include your own private car and English speaking driver in addition to local guides in Rajasthan's key cultural and wildlife locations. Qualified naturalists may also be available on a safari in Ranthambore which will certainly add to the overall experience as you learn more about what you're seeing within the park. Bookings for safaris are now open one year in advance and our tour operators will have bagged the best seats in a shared six person Jeep. Definitely the only way to travel when compared to a noisy and excitable 20-person open top truck (canter) alternative. Only 20 full canters are allowed in the park at any one time. Also, although safari tours in Ranthambore don't have a minimum age, it's worth considering how your kids will handle hot days or cold mornings, not fidgeting and being relatively quiet – especially in a Jeep – before you book.
Small group tours
Small group tours are another way to visit Ranthambore as part of a more extensive exploration of Rajasthan. Maximum group size will by 12 people with single room supplements allowing solo travellers to have a social experience as well as enjoying their own space. Alternatively, solo travellers can opt to share a twin room with another traveller of the same gender. Local guides will be used throughout the tour and a group leader will be on hand to help with general travel arrangements. Small group tours include travelling in private minibuses and also public transport, sometimes in the form of overnight sleeper trains: Delhi to Udaipur, for example. It's also possible to make this section of a small group trip by plane for an extra cost. Safari tours in Ranthambore will already have been booked in advance for small groups.
Note: Ranthambore is recommended for travellers wishing to watch wildlife in Rajasthan and also enjoy a cultural tour. If your sole priority is spotting tigers, and lots of other wild animals, we suggest a visit to the national parks of Madhya Pradesh in central India. A 12 day tailor made wildlife watching holiday in central India might include safari tours around the tiger reserves of Kanha, Pench, Bandhavgarh and Satpura.
Safaris in Ranthambore National Park
Wildlife tourism continues to grow in popularity in India, especially within Ranthambore National Park, due to its proximity to the celebrated Golden Triangle. The park is very well managed by the Indian government and as such regulations restrict the numbers of visitors, so competition for safari slots is great. If you hope to see tigers, it's really important to book a safari well in advance. We would recommend using a responsible tour operator which has experience of tiger watching, works with knowledgeable local guides and will have already booked seats on six-person Jeeps.

There are two safari slots each day, with morning game drives leaving between 6am and 7am, and afternoon safaris between 2pm and 3pm. Each usually lasts for more than three hours, depending on the season. Safaris take place on jeeps and on larger open buses called canters, which seat up to 20 people. Canters are often very busy and exude excitement and noise, certainly so when a tiger is spotted. Jeeps are much more intimate and less intrusive.
Our top Ranthambore National Park Holiday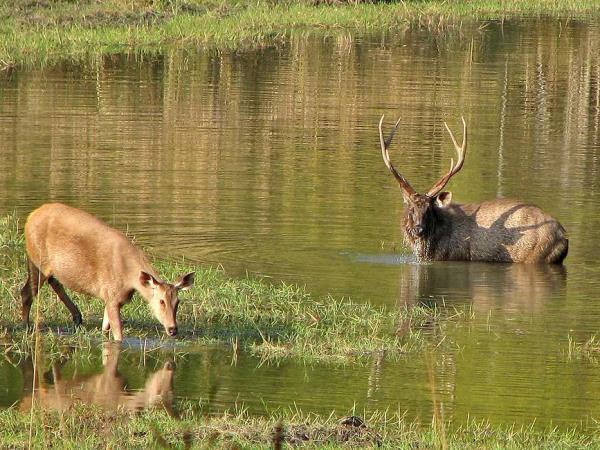 Brilliant experiences including Tigers and Temples
From
£1199

to

£1299
11 days
ex flights
Tailor made:
This trip can be tailor made throughout the year to suit your requirements
If you'd like to chat about Ranthambore National Park or need help finding a holiday to suit you we're very happy to help.

RANTHAMBORE MAP & HIGHLIGHTS
Ranthambore is relatively compact but still one of India's largest national parks at just over 390sq km – roughly the same size as the Isle of Wight. Travellers are allowed to explore heritage sites, such as Ranthambore Fort, on foot as well as getting deeper into the jungle on designated safari trails. The city of Sawai Madhopur, 14km from the park's entrance, provides a variety of accommodation for visitors and is roughly equidistant from Delhi, Agra and Jaipur. A two day visit to Ranthambore as part of a small group or tailor made Rajasthan Golden Triangle tour is often one of the standout highlights.
Birds
Thanks to Ranthambore's variety of lakes and jungle habitat it attracts an inordinate amount of birds. More than 270 indigenous and migrating species have been known to touch down within the park's perimeters with Ranthambore Fort and Padam Talao, the park's largest lake, a couple of key locations. Get your binoculars out in readiness for parakeets, kingfishers, swifts, owls, nightjars, pelicans, storks, ibis and flamingos.
Mammals
Ranthambore's steep slopes, plentiful grasslands and deciduous forests provide protection for many of India's indigenous mammals. Keep eyes open for leopards occupying vantage points on cliff edges and rocky escarpments, and langur monkeys in high tree tops where their warning calls notify shy chital deer on the forest floor below. Jungle cats, sloth bears, jackals, nilgai, hyenas and sambar all reside in Ranthambore.
Padam Talao
The largest lake in the park is well known for its beautiful blanket of white water lilies and lotus flowers that appear during the spring. Serving as an important watering hole, which slowly reduces in size during the summer, Padam Talao is one of the best locations to spot big cats and crocs as well as thirsty deer and wild pigs. The former hunting lodge and temple, Jogi Mahal, overlooks the lake and is also worth a visit.
Ranthambore Fort
This is one of six Rajasthan hill forts collectively listed by UNESCO. Built in the 10th century and occupying an advantageous vantage point, overlooking the park, Ranthambore Fort is home to four temples, resident peacocks and fabulous photo ops through weather worn archways. Seek out three Hindu temples and one temple to the ancient religion of Jainism via smooth steps, crumbling stone walls and fierce looking fortified doors.
Reptiles
Marsh crocodiles, monitor lizards, cobras and black tailed pythons can all be found within Ranthambore National Park but put terrified thoughts of Kaa and co to one side – you'll be exploring from the safety of a safari Jeep. Turtles, tortoise and Indian chameleons can also be seen, if you know where to look, but for many, it's the crocodiles of Padam Talao that provide the greatest reptilian rush.
Tigers
Under the protection of India's Project Tiger, the resident tigers of Ranthambore have been a success story. Machli, who lived to be the oldest tigress in the world, was a famous fixture around the park's lakes and jungle trails until her death in 2016. A recent increase in numbers puts current population estimates at over 60 which is great news for travellers hoping for a glimpse of Shere Khan.
More about Ranthambore National Park
Read about the best time to visit Ranthambore National Park as well as more information on when to travel around Rajasthan and the Golden Triangle circuit. We've compiled practical and honest advice from our tour suppliers and our responsible travellers, too, to ensure you're ready for Ranthambore.