With a complex political past, it is striking that two of Slovakia's public holidays commemorate the end of WWII fascism (8th May) and then Struggle for Freedom and Democracy Day on 17th November, which marks the beginning of the end of communist rule in 1989. Freedom is, therefore, fundamental in Slovakia, and there are few better places to feel that than in its High Tatras Mountains. Gerlachovský štít is the country's tallest peak (at 2,654m), and also the highest summit of this Carpathian Mountain range as a whole.

If we could choose this country's strapline, 'SlowVakia' would be it. With mountainous landscapes where cycling, hiking and cross country skiing are what make life worth living.

This Slovakia travel guide aims to help you indulge in this independence that is worthy of celebration, both culturally and naturally, here. Leading you up Tatras' cross country skiing tracks, rafting down the Dunajec gorge in Pieniny National Park or hiking across the Slovak Paradise National Park. Stopping at medieval, wooden churches, castles and Carpathian communities en route. Where conviviality is everywhere. Because complexity is so last century.
Slovakia is...
a land of mountains, meadows, medieval history and, with plenty of local breweries and wineries, never short on merriment
Slovakia isn't…
for beach lovers. It is landlocked, but open to the natural world in so many other wondrous ways.
Pieniny National Park
Fewer tourists make it up to the top of Slovakia to experience this national park in the Pieniny Mountain Range. The Dunajec river rips right through it, at the bottom of the Dunajec Gorge. For centuries, traditional wooden rafts ferried timber along it. Now they ferry the few tourists who come to experience the wild water: rafting on the river or biking along the banks.
Slovak Paradise National Park
It's not at all far from the lofty, rocky peaks of the High Tatras to the Slovak Paradise National Park, yet the park's fern-clad walkways through cool, moss-coated canyons seem a world away. This is a place for a good adventure: you can use via ferrata (cables and ladders driven into the rock to help climbers), bridges and ladders to follow the dramatic course of the rivers through the park.
Slovakian Wine
Outside of Tokaj dessert wine, Slovakian wine doesn't get a great deal of international recognition. But Slovakians really rate it. The most popular white grape variety is Veltlínske zelené – known as Grüner Veltliner elsewhere in the world, whilst your house red will normally be a Frankovka Modrá.
High Tatras
Slovakia's crown is often likened to a 'pocket' version of the Alps, since its stunning peaks are Alp-high but concentrated in an easily-navigable region. On top of the exciting mountain hiking, you also have cool underground systems, like the Belianska Cave, and opportunities to spot amazing big-ticket wildlife, like bears, lynx and Tatra chamois.
Danube
The beautiful blue Danube continues its Grand Tour of Europe with a stint where it forms the natural border between Slovakia and Hungary. Cruise it east from Vienna and you'll find Bratislava on its banks, but continue east and you'll reach wine regions where sweet dessert wines flourish, before the river takes a sharp turn south and plunges through Hungary.
Winter activities
Slovakia is next door to Austria, but in comparison its winter resorts come with a far more appealing price tag. From mid-December onwards the Tatras Mountains are deep in snow. It's the perfect season to slurp soups and then snowshoe through snow-coated spruce on a winter activity holiday.
Jasná
Slovakia's largest ski resort is found in the Low Tatras. Thanks to budget airline flights, it's a popular place for a cheap skiing holiday – and a boozy one at that, thanks to €2 pints and strong local liqueurs. The problem is that Jasná is very low altitude. At 2,000m it relies heavily on
artificial snow
: a €160 million investment in the mid-2010s means the whole resort is bombarded with the costly, water-wasting snow cannons, to the detriment of the natural environment.
Boozy weekends
There's a bit of a disconnect between Slovakian alcohol percentages and the Slovakian authorities' tolerance for drunkenness. Slovakians love a conversation over a pint with friends, but public drunkenness is widely disapproved of and can get you fined. What's more, drinking outdoors in Bratislava's Old Town is wholly prohibited. Don't spend your holiday in a hungover haze.
Central Europe Tours
Yes, Bratislava is only 55km from Vienna. Yes, it's right on the border with Austria and Hungary. But going on a tour that takes you in and out of Bratislava in record time and says you've 'done' Slovakia does the country (and you) a disservice. The lowlands of the southwest of the country give you no impression of the two thirds of the country that are couched in mountains: give yourself a little longer and get stuck into the Carpathians.
Our top trip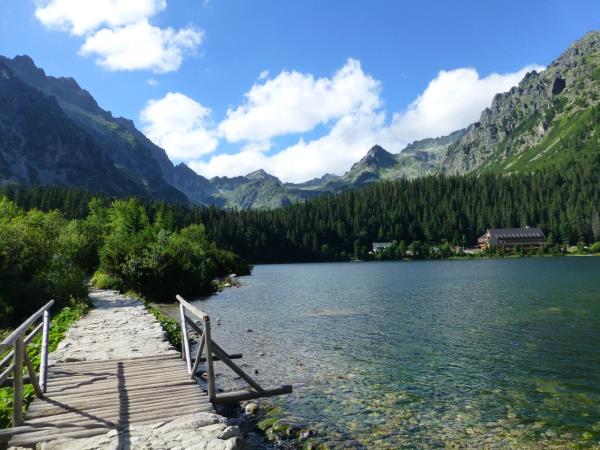 Tranquil nature getaway in stunning Tatra Mountains Slovakia
From
£1320
5 days
ex flights
Small group travel:
2024: 2 Sep
If you'd like to chat about Slovakia or need help finding a holiday to suit you we're very happy to help.

Food, shopping & people in Slovakia
Eating and drinking in Slovakia
Soup is a great way to start a Slovakian meal, and garlic soup is a delicious speciality. Next, try Bryndzové halušky, potato dumplings (think gnocchi) topped with soft, pungent ewe's cheese and cubes of bacon. You'll find dishes like this in traditional Slovakian restaurants and particularly in mountain huts. Also on the menu: stews, gruels – and goose, which is cooked until crispy. And at Christmas, Slovakian tradition dictates a Christmas carp.

As for drinks: beer is everywhere, but Slovakians are very proud of their wine, which grows around the Danube and Váh rivers. Get your hands on a dessert wine after dinner. These come from the celebrated Tokaj region, which Slovakia shares with Hungary. Slovakians have built up a high tolerance to their extremely strong local liqueurs: slivovica, made with plums, and gin-like borovička, made with juniper, so proceed with caution. They've even made alcoholic tea: in the mountains you might be offered herbal Tatratea, with the insistence that it will cure what ails you. Fans of undermining the Coca Cola conglomerate will want to order 'Kofola' instead, a Central European alternative to the soft drink giant.

Whilst Slovakian wine is becoming better-known, it hasn't hit most supermarkets yet, so buy a bottle whilst you're there.

People and Language
The Slovak language almost didn't survive Hungarian rule, but in the 17th and 18th century there was a movement to protect it. Slovaks are now very proud of their language; you won't see many signs in English outside of Bratislava. In the south you might see signs in both Slovakian and Hungarian but mostly it's Slovak or bust. Slovak is very close to, and understood by, Czech speakers, but this doesn't help you if you don't speak Czech.

In the 18th century, the outlaw Juraj Jánošík and his highwaymen robbed rich merchants. He was captured and brutally executed in 1713. His story, which quickly accrued a kind of legendary status, did much to solidify the Slovak idea of nationhood; this plucky underdog became the people's hero, their 'Robin Hood'. He's been the subject of many stories and films since and is often depicted wearing a Slovak highlander's hat, which has a distinctive upward-turned brim.

Dobrý deň: Good day

Dobrý večer: Good evening

Ďakujem: Thank you

Ahoj: Hi (informal – use this with people you know)
Gifts & shopping
Textile appreciators won't have failed to notice the gorgeous embroidery that adorns Slovakian folk costumes, and may want to take a piece home for themselves. The same geometric embroidery is applied to tea towels and other textiles for tourists. The Goral people of the Tatras Mountains make gorgeous crafts. A popular souvenir is a pair of kierpce. These soft leather moccasins are handmade, and come with graceful ankle lacings and delicate studding.
How much does it cost?
0.5 litre Domestic beer: £1.30

Soup: £3

Bryndzové halušky (potato dumplings): £5.20

Family ticket to AquaCity: £44

Slovakia has the most castles per capita of any country and seven UNESCO-listed sites. It might be one of the world's newer nations, but there's a lot of heritage here.

A brief history of Slovakia
Celts occupied the region now known as Slovakia from 400 BC. The Romans came later, occupying one side of the Danube, whilst the 'babaricum' were on the other (no prizes for guessing what that word means). Fun fact: Marcus Aurelius wrote the first of his famous
Meditations
in Slovakia's Hron River region whilst on a campaign.
By the 4th century, the Roman Empire was in decline and Germanic tribes took over. Attila the Hun came and wreaked general Hun havoc, then died and Germanic tribes took over again.
Read more