Best time to visit Slovakia

Winters can be long with snow hovering on the High Tatras as late as May or June sometimes. But January and February are pretty much guaranteed white, winter wonderlands.

Winter means you can follow tracks of different kinds, taking part in conservation holidays to monitor lynx, wolf and bear populations around February. Although temperatures hit the high 20°Cs in summer, hiking seasons aren't until late April or May, to guarantee snow free routes. The elevated Tatranska Magistrala Walking Trail doesn't open until mid-June and closes at the end of October.
When to visit Slovakia, month by month
January and February are cold months in Slovakia, even in the south of the country. In Bratislava there's an average daily high of 2°C, in the mountains it gets as low as - 20°C. From late January, the snow should be at its best, and is excellent for winter activity holidays. Easter is celebrated over a number of days in March or April. The most controversial tradition happens on Easter Monday, when women are doused with cold water and whipped to ensure their good health and fertility in the year ahead. Some women skip town for a few days to avoid it. The best time to visit the Danube region is from April to October. Spring comes later to the mountains. In the High Tatras, the first crocus flowers tremble in the chill winds and lots of trails aren't open until June. May is still celebrated with ancient May Day festivals on the first of the month. Smaller villages will erect May poles, often cut straight from the nearest forest, and adorn them with ribbons. On June 15th, all hiking trails open in the High Tatras (a few are open before this date). From mid-June to October is the best time to go hiking if you want to go up high. Summer is hot across Slovakia – especially across the southern lowlands, but don't forget to take lots of sun protection if you're hiking above the treeline in the mountains, where there's no shade to speak of. June, July and August might be warm, but they can also get high rainfall and summer storms – a weather event known as 'Medardova kvapka' brings days and days of rain. In July and August there are often folk festivals across the country. September is a lovely time to visit Slovakia. Up in the mountains, September is the month with the fewest storms and down in the valleys there are harvest festivals. The small but renowned Tokaj wine region has a wine festival in the last week of the month – now all you need is some dessert to go with its sweet dessert wine. October is the last month for summer activities – the last cycling trips along the Danube run in October, it's also the last month to hike in the High Tatras before the trails close for winter. The weather can be lovely, sunny and stable, with an average high in Bratislava of 15°C. In November the weather tends to take a turn for the worse. The average daily high in Bratislava drops abruptly to 7°C. Christmas markets set up shop in the capital and in Košice, accompanied by the sweet sounds of city choirs. December is the start of the winter activity season. From mid-December onwards you're more likely to have better snow.
Things to do in Slovakia...
Slovakia is one of Europe's greatest hiking secrets with nine national parks, all boasting mountains, lakes, karst limestone caves and rivers. High Tatras National Park is the oldest, with walking trails through landscapes where bears, wolves and lynx still roam in alpine meadows or on rocky peaks. The iconic Tatranska Magistrala Trail, 42km of Tatras treats, is only open June to October, but there are many other hiking havens to explore throughout the year. Go with a naturalist guide to make the most of wildlife spotting.
Although one of Europe's most mountainous countries, and with snow on high ground as late as May or June, Slovakia is still, thankfully, off the beaten track for skiing. However, as cross country skiing is part of the local culture, there are actually myriad trails with over 80km in the High Tatras, or webs of wild trails emanating from the medieval town of Levoca or Slovak Paradise National Park.
As well as the iconic Danube Cycle Path, seeing these luscious landscapes from a saddle is truly, and deliciously, Slow-vakia. Pedal through one medieval village after another on the Pieninská Cycling Route in the eponymous national park. Or take on some serious mountain biking in Slovak Paradise National Park - the sorts of trails where, at some points, you need to put your bike on your back and scramble to the next bit.
Things not to do in Slovakia...
Mess with the mountains. Although not as famous , or indeed notorious, as the Alps or Pyrenees, these are wild, elevated landscapes, and the High Tatras, for example, should only be tackled with expert mountain guides. Consequently, you are only allowed to climb the highest peak, Gerlachovský štít , on your own if you are a member of a national UIAA club. Other visitors have to take a certified mountain guide. Similarly, don't venture off marked trails, and be bear aware.
Push politics or history too much. Slovakia is still a 'young' country and, as it has been linked to Austria, Hungary and former Czechoslovakia in the not so distant past, nationality can still be an issue. Reading up before you go is advised. Similarly, pride in their Slovakian identity is bursting. Best way to celebrate that is by raising a glass of local beer and wine with a Slovak. There are plenty of local beers and wines to raise a glass and toast that.
Don't drink and drive, however, as Slovakia has a zero tolerance policy towards alcohol. Apart from the obvious dangers, penalties are high.
Our top trip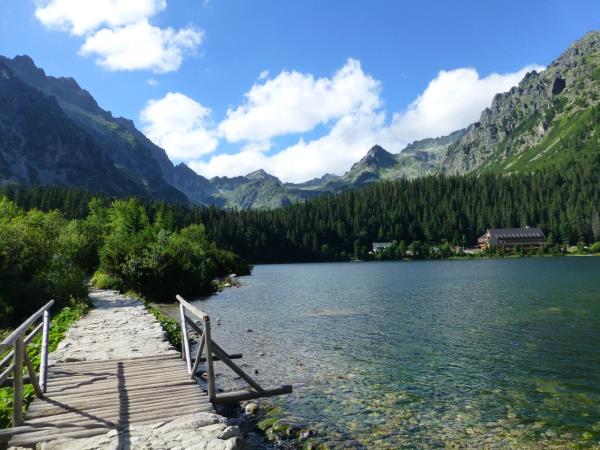 Tranquil nature getaway in stunning Tatra Mountains Slovakia
From
Ł1320
5 days
ex flights
Small group travel:
2024: 2 Sep
If you'd like to chat about Slovakia or need help finding a holiday to suit you we're very happy to help.

Festivals and events in Slovakia
Summer folk festivals
Slovakia's folk costumes are too beautiful to be left languishing at the back of wardrobes. In the summer months, there are a few folk festivals across the county, where you can see, hear and taste all things Slovak. Východná Folklore Festival takes place in the High Tatras in early July; performances are held in an open-air theatre in the shadow of the beautiful Kriváň Mountain. It gets tens of thousands of visitors – it's not just an event put on for tourists – and has been running since the 1950s.
Responsible Travel recommends
Petr Ivánek from our specialist Slovakia holiday company Slovakia Explorer, on the best time to hike in the High Tatras: "In terms of the weather, I'd say September is the best time for walking. The first two weeks of the month are good, then it gets a bit colder, but overall September is best. The reason is that there are no storms in September – or very rarely. July and August are beautiful, very warm, sometimes even hot – but the thing is that you get more storms. The weather can change quite quickly within a couple of hours."