Holidays in the Tatras Mountains
The highest mountain range in the Carpathians, the Tatras forms a natural wall between Slovakia and Poland. It's formed of three parts: the High Tatras, the Belianske Tatras and the Western Tatras. The High Tatras gets the most attention. "It isn't a huge area but that is the beauty of it. You don't have to travel long distances to see absolutely beautiful mountain surroundings," Petr Ivánek from our specialist Slovakia holiday company, Slovakia Explorer, explains the appeal. It might be small, but its mountains are monumental. Krivan is the most beautiful, its toothy peak a sort of unofficial symbol of the country, whilst Slovakia's highest peak, Gerlachovský štít (2,655m), can only be climbed with an expert guide.

Welcome to the 'littlest large mountains': the High Tatras is just 26km by 10km, but it punches far about its weight for adventurous holidays.

Don't let the scale of its scenery put you off. The High Tatras are very accessible too, with good public transport, cable cars and signposted trails. The city of Poprad is just twenty minutes from most mountain trails and easily reached by a scenic train ride from Bratislava (or direct flight). Spend your time hiking between mountain huts, eyes peeled for the rare Tatra chamois, and rest your muscles in thermal pools. The High Tatras can make a great, lesser-visited alternative to the Swiss or Austrian Alps. You'll get quieter trails, and Slovakia's mountain settlements benefit when you buy your lunch at a quaint mountain hut.
"Our guests have said quite a few times that Slovakia reminds them of Switzerland, but Slovakia is wilder," Petr says. "It's not only about the amazing mountain scenery. There are also a number of thermal pools and hot springs – this is great place to go to after a couple of days of hiking and especially in the winter season. Imagine being in the snow during the day and in the evening outdoors in a thermal pool. It's very nice, with water up to 38°C." Imagine indeed. But thermal pools and a passing Swiss resemblance aren't the only good things here. Read on for our High Tatras highlights.
Rysy
Rysy Mountain gets lots of climbers from Poland and Slovakia alike, but the Slovakia side is generally quieter. It's right on the border between the two countries and it's not very technical (difficult), so you won't have to scramble to summit it. The actual peak is in Poland, so when you climb from the Slovakian side, you'll cross the border to reach the top, and maybe have a nice chat with some proud Poles: they've just climbed their highest mountain.
Poprad
Poprad is the gateway to the High Tatras. This big city is less attractive than some of the mountain towns, but is brilliantly connected by plane, train and bus. AquaCity, its large aqua park, sounds incredibly gimmicky, but is a popular place to end a mountain trip, thanks to its inviting natural thermal pools and, best of all, its natural geothermal activity makes it immensely eco-friendly.
Highlanders
The Goral People of the Tatras region are the region's 'Highlanders'. They preserve traditional ways of life, and their craftsmanship, costume and villages of wooden houses adorned with lacy white patterns make them visually arresting. You might see the kroj, a traditional wedding garment covered with fantastic embroidery, and long, thin, decorative shepherd's axes mounted on the walls.
Lakes
Under the leggy Tatras peaks, the tranquil surfaces of the hundred or so high-altitude lakes ('pleso') look like dark portals into other worlds. Štrbské Pleso has a high-altitude ski resort and can get quite busy, Skalnaté Pleso has an observatory on its shore, whilst Veľké Hincovo Pleso, the biggest and deepest mountain lake, remains frozen for 250 days a year and is so clear you can see many metres below its surface.
Tatranská Lomnica
Tatranská Lomnica is a village and a high-altitude ski resort. It always gets great snow, making it a great place for a winter activity holiday. Above it is Lomnicky Peak. Wait until the sky is clear and then hop on the cable car to reach the top of Slovakia's third-highest peak. Time it right, and from the 'Roof of Slovakia' you'll get fantastic views.
High-altitude huts
Mountain Huts make the High Tatras beauty spots even more appealing. Made from local wood, they often contain traditional restaurants (koliba), perhaps a sauna and definitely a few like-minded travellers with whom you can chat over a cup of herbal mountain tea. They're welcoming and inexpensive places to stay, and are unusually stocked by Sherpa, who carry their provisions up the trails from the towns.

A viral video of VeLké Hincovo lake showed ice so clear that walkers look as though they were levitating. Congelation ice, also known as black ice, causes the effect.

Our top Slovakia Holiday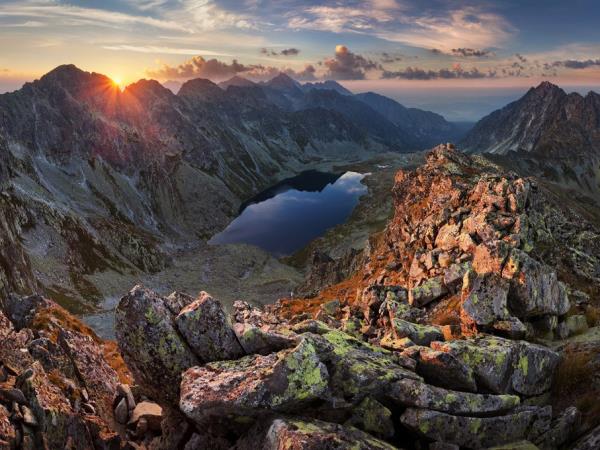 Active Hiking Holiday in stunning Tatra Mountains Slovakia
From
£675
5 days
ex flights
Small group travel:
2023: 4 Sep
2024: 17 Jun, 2 Sep
If you'd like to chat about Slovakia or need help finding a holiday to suit you we're very happy to help.

What do holidays in the Tatras entail?
Hiking
Self guided hiking comes highly recommended in the High Tatras. Slovakian hiking trails are really well marked, not only with distances and journey times, but also colours to distinguish difficult routes from easy. You could spend a really pleasant eight days hiking from a central base, using the easy public transport system (trams, cable cars, trains, buses) to get to the trail heads each morning. Alternatively, hike hut to hut for more of a challenge, and climb Rysy, whose summit is across the border, making it Poland's highest peak. The period for hiking in the High Tatras is between mid-June and the end of October, when snow starts to fall.
Winter activities
The lakes ice over, mountain hares leave deep tracks in the snow and the trees shiver. Have a small group winter activity holiday in Slovakia and enjoy the deep freeze. Stay at Slovakia's highest ski resort, Tatranská Lomnica, or Smokovec ski resort and from here depart on daily excursions into a winter wonderland: you can snowshoe, ski, snowboard, dogsled, trek to frozen 'ice falls', or cross-country ski across frozen lakes. Thermal pools will thaw out any frozen toes afterwards. There are separate small group family trips too, for kids over five years old. Your kids will love it when every day of your eight-day trip is a snow day.
Summer activities
The Tatras make a great multi-activity adventure hub because everything is so nearby. Thirty minutes' drive from the High Tatras region is the Slovak Paradise Natural Park. The name is no understatement: this is one of the most richly biodiverse areas of the country, each square metre of it an Eden for flowering plants. Its river canyons are navigated through an adventurous series of via ferrata (cables mounted to the rock to help climbers), bridges and walkways – you could come for a four day trip and see the park, or a longer eight-day trip and see the wider region, too. If you like your canyons even bigger, an hour north of Poprad you'll find Pieniny National Park, where the long Dunajec Gorge is a great place for a Huck Finn-style rafting adventure.