Slovakia is like an engraving from a Hans Christian Andersen tale – all turreted castles, snow-dipped mountains, gingerbread houses and wolf forests. So no wonder these vistas are the realm of the family adventure holiday. Dog sledding and snowshoeing in snowy winters; cycling and wolf tracking in summer. Family holidays to Slovakia get you deep into the mountainous landscapes that carve the country.

Bafflingly, Slovakia is wholly under-visited – which is great news for you and the sprogs. Even Bratislava is a roomy walk in the park compared to sister capital cities like Prague.

Hop on a small group winter adventure, where you'll pack in skiing, snowshoeing, dog sledding and sleigh rides. Or take a tailor made trip that factors in plenty of free time for alpine wandering or steaming in the thermal baths. As a rule, children should be at least six years old for summer activity holidays, or eight-plus for winter activities. Cycling trips are slightly different; road sense tends to kick in at around 12. Alternatively, go tailor made for a bespoke holiday designed for the ages (and energy levels) of your family.
Follow the (activity) leader
When it comes to family activity holidays, Slovakia is the leader of the pack. Weeklong organised trips explore the flower meadows and toothy peaks of Tatra National Park, the ragged border between Slovakia and Poland and the prowling ground of bears, lynx, wolves and wild cats. Small group holidays are best, although you can also opt for tailor made tours. You could even have a go at tracking the elusive beasts with a conservationist on a wildlife holiday in the Beskidy Mountains (minimum age usually 16).

Family holiday specialists know what they're on about, so you can expect little cheats like chair lifts to your mountaintop hike and strategic cake breaks.

Other summer activities include hiking the alpine paths around Skalnate Pleso (1,751m). This mountaintop lake juggles a hilltop observatory and restaurant (coffee and cake – the carrot on the stick). Go on a guided trip to siphon the knowledge of your local guide; they'll reveal the best paths that peep down at the villages below. Appetite for spectacular views satisfied, you can divert any tired tantrums with the promise of a funicular ride back to your hotel transfer.
There's a network of family-friendly cycling trails to tackle, too. An organised summer activity holiday will match you with trails that suit your family, such as the easy downhill trail through the heart of the Levoca Mountains. You'll end up around Cerveny Klastor Monastery. This is also where the Dunajec River flows. Crank things up a little with a rafting tour through Pieniny National Park. You'll sail through one of the longest gorges in Europe here – 23km of forested mountains that wouldn't look out of place in the Rockies.
Slovakia family holidays are a different story in winter, when snow piles up between December and February. After all, this is the land of the High Tatra Mountains, where skiing, dog sledding and sleigh rides get you diving deep into the wintry wilderness.

Most small group tours will base your family in a mountain village like Tatranska Lomnica for a week. From there, you've got an array of winter sports at your fingertips. Ski runs range from wide bunny hills to a 6km downhill slope for the pros. Need to brush up on your bonks? Perfect your posture? Organised tours will take arranging skiing lessons out of your hands.
There's one guaranteed way to get a (potentially genuinely frozen) grin on the kids' faces: huskies. The high snow meadows of Velka Fatra Natonal Park are laid out for dog sledding. Your guide will leave you in the capable hands of professional mushers who'll introduce the dog pack and show you and the family the ropes. Holiday highlight: sorted.

Guided showshoeing hikes are a slow-mo way of exploring the white wilderness beyond the downhill runs.

Of course, the best winter holidays also offer a defrost option. Slovakians have a near-Nordic love of thermal pools and saunas; your guide will be able to point out the best sauna in the village. Small group holidays often include a free day or two for kicking back and taking in the mountain air with a snifter of sweet Slovak Tokaj.
Spis Castle
If it's fairytale grandeur you're after, Spis serves up inner palaces and panoramic towers galore. It's one of the biggest castles in Central Europe, draped over a hill above Spisske Podhradie. Organised summer holidays to Slovakia often come with a guided tour covering its 900-year history. The swashbuckling stories will keep the kids' interest, while you get busy admiring the 360-degree views.
Levoca
Levoca is another must-see. Here, tour guides put you in touch with a local historian, who can give you the low down on the medieval town that's always taken full advantage of sitting right on the Via Magna trade route. With trade came riches, seen in the towering 14th century Basilica of St James and grand arcades of the Old Town Hall.
Zdiar
Cycling and hiking holidays often pass through typical Goral mountain villages like Zdiar. It manages to balance catering for the outdoorsy tourist crowd with hanging onto traditions like crafting log cabins and embroidering delicate tablecloths.
Bratislava
If you've got a family of wannabe Sagans, then consider a weeklong self guided cycling holiday (minimum age 12). They often follow the route of the Danube as it meanders through several countries, rolling through Bratislava on the way. From this angle, you'll arrive at Slovakia's capital as the traders once did. It's well worth stopping for a breather here. The hodgepodge of architecture – and sweet shops – in the old town never fails to inspire wide eyes. And if you get turned around in the zigzag streets, you'll have an indispensible pack of maps and local tips that'll get you back on track. Best of all, your luggage will be waiting for you at your next hotel.

The kids will get a kick out of travelling by sleeper train – a holiday yarn that'll get cracked out around the dinner table for years to come.

Don't let a small thing like country borders stop you from exploring more of Central Europe. Some family holidays to Slovakia segue into neighbouring countries like Austria, Poland and the Czech Republic, suddenly putting pretty cities like Prague and Vienna in reach. Cycling holidays include Slovakia as part of a larger trip, where you and the family can take a week out to wheel from Vienna to Budapest, rolling through Bratislava on the way.
Small group & tailor made holidays
Small group or tailor made tours are the best type of holiday for families travelling to Slovakia. Because who doesn't want to explore the Tatra Mountains with a local expert leading the way, showing you the secrets to reading bear prints and teaching you how to thank people with a dobrý deň . (It's DOHbree denyeh, if you're wondering.)
Tour leaders & guides
Guides are always ready to adapt a trip to your brood, especially if you're travelling on a tailor made tour. Fancy a family ski lesson? No problem. Want to know which restaurant serves the best cheese and bacon potato dumplings in town? Easy. Small group tours, meanwhile, make creating fast friendships easy; you'll be travelling with likeminded folk.
Eating & sleeping
It all depends on which holiday you choose, but accommodation will generally be a mix of family-run hotels and mountain lodges. We work with Slovakian tour operators who have well and truly mastered the art of finding the friendliest of family run hotels. They're also the ones who put you up in places like the unbearably charming lakeside lodge at Zelene Pleso.
There are loads of plus sides to staying in small family hotels – excellent homemade food being right up top. You'll come across traditional Slovakian recipes in living room-sized restaurants and homecooked dinners in mountain huts (sweet perky pasta, anyone?). Slovakians like their al fresco dining, too, so your tour guide might even arrange a barbecue – come snow or sun.
Getting around
On organised tours most of your transport is included. So you'll get picked up at the end your mountain walk and dropped off at your hotel. And you can just chuck your bags in the back of the van when shuttling from town to town. Border hopping to Poland or the Czech Republic? Your tour operator will handle all the train bookings.
When to go
Of course, family holidays to Slovakia will always be timed for school breaks. Plan for July or August for summer trips and the Christmas holiday or February half term for winter activity holidays. All you have to consider is whether you'd rather be snowshoeing through fresh powder or hiking through wildflower meadows.
Our top trip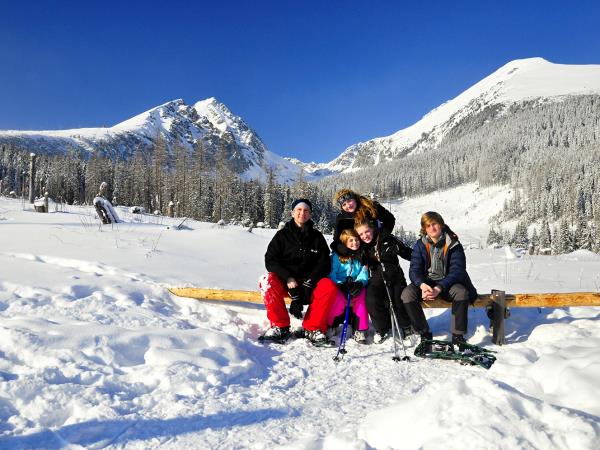 An action-packed family winter holiday in the High Tatras.
From
€1569

to

€1599
8 days
ex flights
Small group travel:
2023: 27 Dec
2024: 11 Feb, 18 Feb
If you'd like to chat about Slovakia or need help finding a holiday to suit you we're very happy to help.

Holiday advice for families in Slovakia
Petr Ivanek, from our friends at Slovakia Explorer, shares tips on travelling with the family in Slovakia.
A natural beauty
"Nine national parks with beautiful flora and fauna provide an unbelievable home to predators such as lynx, bears, wolves and seven species of eagle that still live freely in their natural environment. You will also find stunning mountain villages in the middle of nowhere where the time has stopped."
Memories that last
"When I was about 10 years old, we had a holiday in the heart of Slovakia, staying in a remote village with my parents, surrounded by mountains. It was an amazing week. I still remember grilling on an open fire almost every night. As a boy, I was totally thrilled. It's at the very top of my favourite memories from childhood as far as travelling is concerned."