Two things to know about Somaliland: itís not Somalia and it doesnít, officially, exist. While the larger Somalia has been a hot mess of violence and terrorism for the last two decades, Somaliland has been going about its business as an ordered and lawful society, keen to be acknowledged on the world stage. The fact that the world persists in lumping it in with Somalia and wonít recognise it as an independent state does nothing to hamper the spirit of its people, who are famously friendly, exuberant and keen to welcome visitors.

Since the civil war with Somalia, the Republic of Somaliland has enjoyed 20 years of de facto independence and has its own currency and government.

Tourism still barely exists here Ė more people travel to Antarctica each year than to Somaliland Ė but anyone adventurous enough to cross its borders will discover its nomadic heritage and long history of trade, its exciting modern capital Hargeisa, the ancient port of Berbera, desert communities, empty beaches, beautifully preserved rock art and a surprising amount of wildlife. Pretty impressive going for a country which isnít even a country.
Somaliland isÖ
full of delights and surprises, from its exquisite rock art to its hospitable people.
Somaliland isnítÖ
Somalia. Itís a self-declared independent state, not yet recognised by the rest of the world.
Somaliland map & highlights
Thereís enough to enjoy in this unofficial country for a whole week, with the capital Hargeisa a good base for excursions out to the west through Somalilandís fertile agricultural region to Borama, or to the northeast, to the coast at Berbera, the rock art at Las Geel and the cool, green mountains around Sheikh. With no tourism infrastructure, youíll need to join a small group or tailor made tour, with an experienced driver and a four wheel drive capable of reaching remote sites. Longer trips of two weeks that visit Ethiopia or Djibouti might also include a flight between Addis Ababa and Hargeisa.
Our top Somaliland Holiday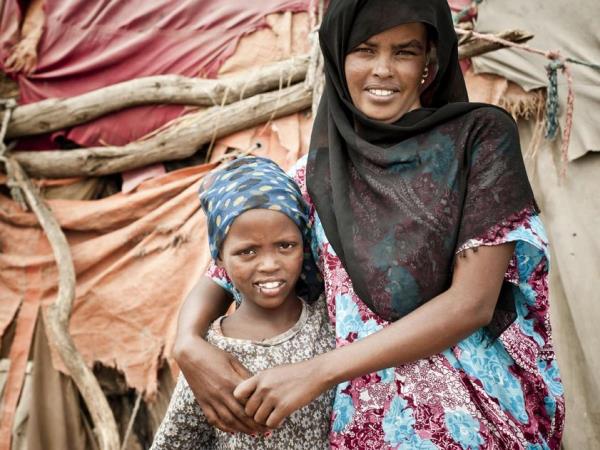 Group tour exploring the undiscovered delights of Somaliland
From
£1999

to

£2199
7 days
ex flights
Small group travel:
2023: 11 Nov
2024: 9 Mar, 9 Nov
If you'd like to chat about Somaliland or need help finding a holiday to suit you we're very happy to help.

1. Berbera
Coastal Berbera was one of the Somali city states that formed a lucrative trade network connecting merchants from Greece, Phoenicia, Persia and the Roman Empire. Today, itís on the strategic oil route and has a deep sea port. Its old quarter, Darole, has Ottoman and British era buildings and atmospheric streets, while beachside hotels provide a base for swimming and snorkelling.
2. Borama
To the west of the capital Hargeisa, Borama is an important centre for education and home to the historic Amoud University, the first post civil war institution of higher learning in Somaliland, founded in 1998. To reach Borama, pass through the breadbasket of Somaliland, around the towns of Arabsiyo and Gabiley, where a huge range of crops, fruit and veg is grown.
3. Dhagah Khoure
Another fascinating rock art site, though not as colourful or complex as Las Geel, Dhagah Khoure lies 45km northwest of the capital, off the road to Borama. There are several painted rock shelters, with images dating back 5,000 years of cows, giraffe, sheep and humans holding bows. The eerie, striking landscape around is also worth seeing and youíll pass small semi-nomadic communities on the way here.
4. Hargeisa
Somalilandís capital city is home to many markets Ė including the gold, livestock and khat markets Ė where you can meet friendly traders and the moneychangers who sit on the street with huge piles of Somaliland shillings. The memorial to the victims of Somaliaís bombing of Hargeisa during the civil war in the 1980s is a must-see, featuring a crashed Somali air force MiG 17 fighter.
5. Las Geel
The caves at Las Geel are one of Africaís most important rock art sites and, thanks to this region being a no-go zone for so long, remain immaculately preserved. Between 5,000 and 7,000 years old, these colourful images of cows with lyre-shaped horns and patterned mats on their necks, plus humans and dogs, depict the early days of livestock domestication and the human reverence for these animals.
6. Sheikh
The snaking Berbera to Burao road winds up into the cool Sheikh mountains, revealing a green landscape where goat herders live and offering long views of the dry plains below. In the town of Sheikh you can visit the ruins of Ferdusa, a 16th century city, or just enjoy a break from the lowland heat. The many schools here give the town a dynamic feel.
More about Somaliland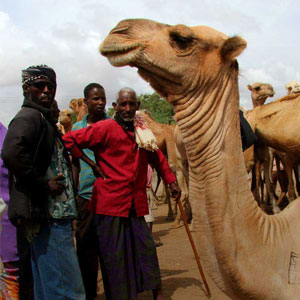 A little too hot to handle during the summer months, the best time to visit Somaliland is from October to March.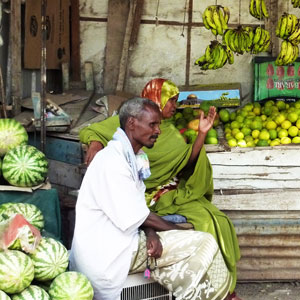 If youíve made it as far as Somaliland, then adding on a tour to Djibouti makes sense.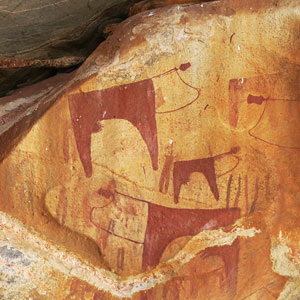 Hidden in Somalilandís semi-desert, Laas Geel contains some of the best-preserved rock art in Africa.