It's the little touches that set South Korea apart from more eagerly anticipated Asian alternatives and as you check out our South Korea travel guide you'll discover a country offering much more than simply a "budget Japan". Occupation, war and more neighbourly disputes than Channel 5 would know what to do with, South Korea has had its fair share of turmoil but therein lies its character as this is a nation that's been knocked down and got back up again to create a contemporary, independent sovereign state bursting with civic pride.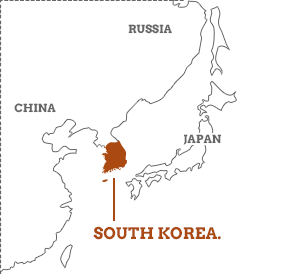 Leave Gangnam Style and the North to politicians as you seek out a side to South Korea that's rarely glimpsed by a global audience.

Set your sights on the bright lights of Seoul; join Buddhist monks for early morning prostrations; fly to the volcanic island of Jeju; stroll under cherry blossom in Seoraksan National Park; whatever you do, find the space to let South Korea reveal herself in her own time and pay no attention to those pushing for speedier resolutions.
South Korea is...
the epitome of the motto: Keep Calm and Carry On.
South Korea isn't...
Japan, although it does make for a much more affordable alternative.
SOUTH KOREA MAP & HIGHLIGHTS
The flight from Seoul to Osaka, in Japan, is under two hours which gives you more than enough time to sup up some sake before contemplating comparisons. South Korea is well worth a couple of weeks in its own right with the DMZ (demilitarized zone) around Panmunjom in the north and the imported beaches of Busan in the southeast, 350km apart. Flights from Busan to the volcanic island of Jeju take less than an hour and it's worth visiting both if you can. With Gangneung and the Seorak Mountains on the east coast and Gayasan National Park and Andong Hahoe Village just four hours inland, South Korea is ideal for travellers who don't like to spend too much time on the road.
1. Gangneung
Time your tour to coincide with cherry blossom season – April to June – in Gangneung as this is a really beautiful, natural setting as well as one of South Korea's centres for cuisine, cooked and cured the old-fashioned way. Gangneung also boasts the "mirror clear" Gyeongpo Lake and Gyeongpo Beach, both of which are important places to watch the sunrise as part of traditional Korean culture.
2. Hahoe Folk Village
Featuring examples of tiled and thatched architecture from the Joseon Dynasty as well as inhabitants living in much the same way as their forefathers, under the guidance of Confucius, Hahoe Folk Village is an important piece of the Korean cultural jigsaw and rightly placed under UNESCO's protection. Hahoe is well worth a visit if only to enjoy the peace and quiet of a sleepy rural setting.
3. Jeju Island
A short flight from Busan's beaches and hot springs whisks you to Jeju Island and a chance to visit the beautiful bonsais within the Spirited Garden as well as a whole host of wonderful waterfalls, lava tubes and Hallasan, South Korea's tallest mountain and active shield volcano. Exploring Jeju under your own steam on a tailor made holiday, or as part of an organised small group tour, merits at least a night off the mainland.
4. Panmunjom
It's impossible to take a tour of South Korea without acknowledging its noisy neighbours and nowhere is it more appropriate to discuss the North/South divide other than the former village of Panmunjom that rests just north of the border. Meet US army personnel, visit the North Korea Peace Museum and find out more about the blue barracks under one of the tallest flag poles on the planet.
5. Seoraksan National Park
Home to one of South Korea's tallest mountains, Seoraksan (1,700m), and numerous rock formations and their corresponding legendary tales, Seoraksan National Park exemplifies the natural beauty of the east coast where a variety of hiking trails lead to waterfalls, temples and a gigantic statue of Buddha. A cheeky cable car to the summit alleviates any extra effort, but where's the fun in that?
6. Seoul
Start at Seoul's oldest food market, Gwangjang, where bindaetteok (mung bean pancake) and makgeolli (sweet rice wine) tantalise the tastebuds. Seoul simmers 24/7 with traditional tea houses and pagoda-filled parks vying for attention. Office towers reflected against the Hun River and must see highlights include Tapgol Park, Gyeongbokgung Palace and the Cheonggyecheon Canal.
If you'd like to chat about South Korea or need help finding a holiday to suit you we're very happy to help.

More South Korea articles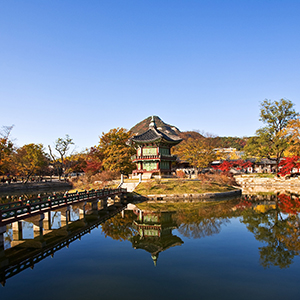 Learn the best time to visit South Korea in terms of temperature, rainfall, and cultural events, here.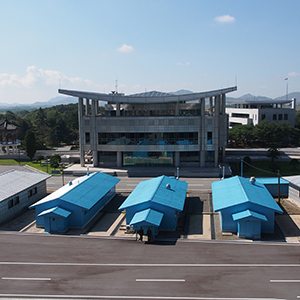 A sombre but fascinating must-visit for history buffs on any South Korea holiday, Panmunjom is a living relic of the Cold War.