Panmunjom & the DMZ, Korea
Located in Yanggu County, just to the northeast of Seoul, Panmunjom and the Korean Demilitarised Zone (DMZ) straddle one of the tensest and most heavily militarised borders in the world. That's because the Korean War has technically never ended. The 1953 Korean Armistice Agreement which was signed in the village of Panmunjom ended hostilities, but a true peace treaty has never been signed. Both South and North Korea actually wanted to continue fighting, but their principal backers – the United States for the south, the Soviet Union and China for the north – were insistent. To date, South Korea has still not signed up to the armistice agreement. Along with Checkpoint Charlie in Berlin then, Panmunjom is one of the last remaining vestiges of the Cold War, and a fascinating point of interest for history buffs when visiting South Korea.
The DMZ is a buffer zone, a 4km-wide strip of land separating North Korea and South Korea that was established in the terms of the armistice agreement. It is here, in the blue buildings of the Joint Security Area, that meetings between the two Koreas took place between 1953 and 2018. Guards from both sides were unarmed, but trained in deadly martial arts. Today the DMZ serves mainly as a slightly foreboding tourist attraction where you can look across into North Korea – to enter it you'll need to sign a waiver accepting that you're aware you are entering a hostile area, and that enemy action could result in injury or death.

Over the decades there have been numerous incidents between the two sides that have threatened to break the fragile peace, including defections. But in 2018, peace talks appeared to show progress, with the leaders of South Korea (Moon Jae-in) and North Korea (Kim Jong-un) briefly crossing over the Military Demarcation Line into each other's countries, hand-in-hand. Since then, guard posts, weaponry and thousands of landmines have been removed from the area. A final peace treaty, and even full reunification, is the dream for many, and will likely take years to achieve if it's even possible. But if actions around Panmunjom, 'the Truce Village' are any indication, hope is growing on both sides.
The village that disappeared
The original farming community of Panmunjom no longer exists, having been virtually destroyed during the Korean War, but the name Panmunjom is now often used when referring to the Joint Security Area. The pavilion where the armistice was signed is still standing however, and is currently occupied by the North Korea Peace Museum on the northern side of the border. It can be visited on organised tours of the country (good luck entering North Korea independently) and as you might expect, gives an entirely different point of view as to who started the conflict, and who came off best.
Our top South Korea Holiday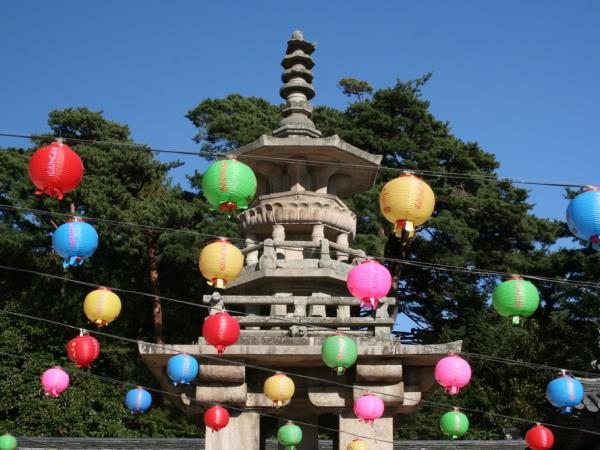 Classic highlights group tour to South Korea
From
£1915

to

£2045
11 days
ex flights
Small group travel:
2022: 22 Aug, 12 Sep, 19 Sep, 10 Oct, 24 Oct, 7 Nov, 21 Nov, 5 Dec, 12 Dec
2023: 2 Jan, 9 Jan, 6 Feb, 13 Feb, 6 Mar, 20 Mar, 3 Apr, 17 Apr, 8 May, 15 May, 5 Jun, 19 Jun, 3 Jul, 17 Jul, 7 Aug, 21 Aug, 4 Sep, 11 Sep, 9 Oct, 23 Oct, 6 Nov, 20 Nov, 4 Dec, 11 Dec
If you'd like to chat about South Korea or need help finding a holiday to suit you we're very happy to help.

Yanggu Unification Hall
Built to encourage reunification and provide a market for North Korean agricultural products, the Yanggu Unification Hall contains many fascinating household goods from and photographs of life on the other side of the border. Visits here will usually include the Yanggu War Memorial Museum, with its large exhibition hall charting the many significant battles fought in the region, including the battle of Heartbreak Ridge.

A short distance from the hall is the entrance to an 'infiltration tunnel' that was discovered in 1990; dug by the North Korean Army and a kilometre in length, the tunnel is wide enough to have enabled a surprise attack on the south by potentially thousands of troops carrying light weaponry. Of four such tunnels found so far, this is the only one where visitors can take a tour by a mini electric train to get a sense of the amount of work that must have been involved in digging it. Other landmarks in the area include the Eulji Observatory, the northernmost in South Korea, and the Bridge of No Return, which was once used for prisoner exchanges.
More about South Korea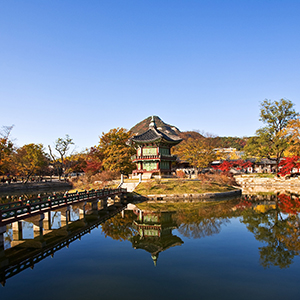 If you want to know the best time to visit South Korea in terms of temperature and rainfall, cultural events or seasonal festivals then right here is where you get to place that first pencil mark on your calendar.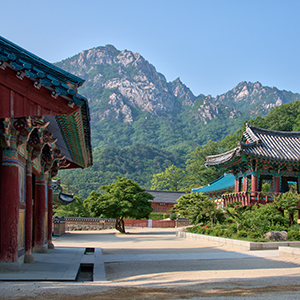 Our South Korea travel guide is packed full of highlights to help you make the most of your time including a rather handy map that points out our top recommendations from the cultural contrasts of Seoul to South Korea's tallest peak, Hallasan, on Jeju Island.