Stockholm travel guide
---
2 MINUTE SUMMARY
Location, location, location. A mantra for estate agents, but over in Sweden, it's the reason the capital Stockholm is so beautiful, so magical, so worth a visit. Dating from 1000 AD when the Vikings were the locals, the city spans 14 islands where the Baltic meets Lake Mälaren. There is water everywhere. Stockholm is only a third developed, with another third green space and the remaining third water, so it never feels polluted or overcrowded. But that's just the start. Southern Sweden continues this patchwork of land and water, with lakes and the Baltic lapping at islands, forests and fields, all right on the capital's doorstep. Once you've explored the city and its 70+ museums, galleries and Ecopark, try another Swedish cultural must-do, allemansrätten – the right to roam. Jump on a boat and you're transported to its archipelago or quiet, rural Sörmland. As ABBA might have put it – Gimme! Gimme! Gimme!

Our Stockholm guide has more information (and no more bad ABBA gags – promise).
Stockholm is...
the largest city in Scandinavia,
fizzing with cool cultural and architectural treats.
Stockholm isn't...
just for city breaks.
Gorgeous Swedish countryside sits right on its borders.
It would be rude not to take a look...

Hello.
If you'd like to chat about Stockholm or need help finding a holiday to suit you we're very happy to help.
Rosy & team.
01273 823 700
Stockholm map & highlights
---
MAKE THE MOST OF YOUR TIME
Swedes relish the outdoors life, and those living in Stockholm are spoiled for choice when it comes to making the most of the country's culturally enshrined right to roam. The capital's huge Ecopark can be explored on foot or bike, while a short bus or boat ride takes you into the countryside that borders the city on all sides. To the southwest, undulating Sörmland with its many lakes and manor houses is a great hiking, biking and kayaking location, and despite starting just a few minutes from the capital, Stockholm Archipelago of unspoiled islands delivers natural beauty and deserted beaches on a day trip.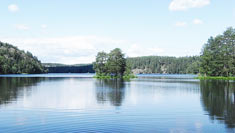 Marviken lake system & Lake Klämmingen
Marviken's lakes are the product of violent geological history, formed when a mountain split in two, and bordered by 50m high cliffs in places. Explore their shores by bike or on foot, or canoe through, then hop over to Lake Klämmingen, which has lovely bathing spots, quiet bays and easy kayaking. From the top of Klämmingen, it's easy to reach Mariefred and the boat back to Stockholm.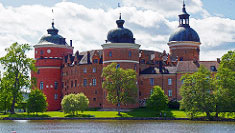 Mariefred
This pretty, vibrant village is full of colourful, historic buildings, including the impressive and fairytale-like Gripsholm Castle. From Stockholm, take the steamboat over Lake Mälaren then hop off to walk, cycle or canoe your way through the countryside. Take in a culinary treat, too: Taxinge Manor, famous for its delicious cakes arranged in sugary abundance.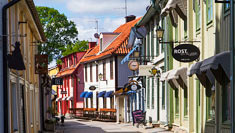 Sigtuna
To the north of Stockholm, small but perfectly picturesque Sigtuna is full of castles, churches and pretty buildings. It's famous throughout Sweden for being the country's very first town, founded in 970 by King Erik the Victorious. Its narrow streets are lined with open-air cafes in summer, while its colourful wooden houses and views over Lake Mälaren are the perfect backdrop to its Christmas market.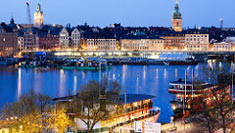 Stockholm
Beautiful Stockholm could be classed as the capital of Scandinavia. It's bursting with gorgeous waterside buildings, excellent museums (Vasa Museum and the ABBA Museum offering maritime history and pop culture respectively), and more cool cafes and shops than you can shake a meatball at. It's also home to the Ecopark, a huge green space, which brings the outdoors to the heart of the city.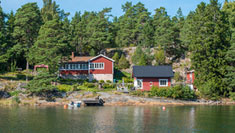 Stockholm Archipelago
An archipelago of 24,000 islands lies on Stockholm's doorstep, with ferries and bridges connecting them. Pretty Ornö is the largest, Utö is popular and pristine, while remote Fjärdlång's highest point gives spectacular views. From here, it's an impressive cruise back to Stockholm, watching the remote outer islands giving way to inhabited ones, with the homes of the rich and famous lining the waterfront.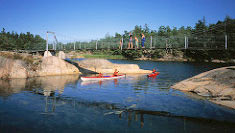 Stendörren Nature Reserve
This pretty spot on the Sörmland archipelago is incredibly peaceful. Surrounded by varied countryside – evergreen forests, meadows and lakes – and with the impressive 17th-century Nynäs Manor House nearby, it's a great place to hike. Cross the small bare rock islands using an intriguing system of suspension bridges, then whip up a barbecue on one of the built-in grills dotted around.