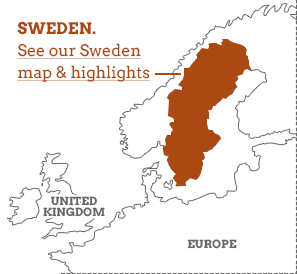 When you talk of 'Swedish nature', distinguish between people and land. Swedes live up to their archetype: friendly, smart, egalitarian. But their landscape can be far more untamed and prone to drama – deserted forests stalked by wolves, a centre where cottages share ancient woods with bears, shores where surreal rock formations mix with standing stones and medieval ruins. In the north, the Sami provide a window into an ancient Arctic culture enjoying a resurgence through distinctive arts.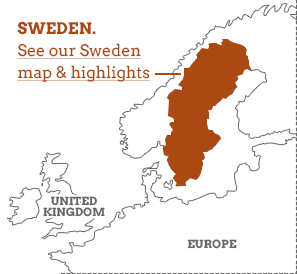 Swedes are warmly civilised folk – in a country where wild north, deserted islands and dramatic coast are a perfect complement.

Despite their urbane reputation, nature is key to the Swedish sense of self via the principle of Allemansrätt – the right to roam freely around the land. Join locals delving island archipelagos, skiing snowy taiga, foraging woods to rustle up Swedish delights. Finding a good balance is part of Swedish nature – and our Sweden travel guide.
Sweden is...
an enchanting mix of forested wilderness, fantastic shores and rich history.
Sweden isn't...
ABBA, IKEA, Bjorn Borg and dull Scandi stolidity.
What we rate & what we don't
Wildlife
The stars of Sweden's bestiary are northern predators like bears, Arctic lynx and wolf - stalking elk, reindeer and Arctic hare. But it's a twitcher's idyll too, from Lapland to Oland. Migratory visitors include crane, eider and goldcrest, while Swedish skies are patrolled by raptors like Gyr falcon, osprey and White-tailed Eagle. Seals, meanwhile, disport themselves along gorgeous rocky shores.
Stockholm archipelago
Officially, around 24,000 islands lie within this unique archipelago – a mecca for kayaking, hiking and swimming spreading 80km out from the capital. Highlights include Stendörren Nature Reserve, gorgeous Uto with its bird-filled woods, seductive beaches and glorious cycle trails, plus historic spots like 17th century Trosa, the Tullgarn Palace and fortress Vaxholm. Traditional floating bathhouses beckon for cool dips.
Ancient history
Alongside Viking mementoes and ravishing medieval towns like Lund, Falkerberg and Visby, Sweden has a host of distinctive ancient sites. Ales Stenar is a Nordic Stonehenge on a sweeping southern coastal headland, near an imposing Bronze Age burial site at Kivik. Bohuslan's Tanum Plain, meanwhile, is a UNESCO-listed natural gallery for eye-popping 3,000-year-old rock carvings – many erotic!
Villages
Sweden does traditional villages as entrancing as the countryside they nestle in. Think red and yellow cottages, cobbled lanes, fishing huts perched by bouldery shores. Eksjo is a symphony in wood, Trosa a historic harbour idyll, Sigtuna a ravishing timewarp dotted with holy ruins. Ornskoldsvik is just one fishing beauty along the atmospheric Hoga Kusten ('High Coast').
Wilderness
Northern Sweden claims Europe's most remote point, amid lonely mountains and taiga explorable on foot, husky sled or skis. But other spots beckon. Magical archipelagos frame each coast: historic Ostgota in the east, sandy southern Oland, woody Lulea by the west. Bergslagen and Halsingland, meanwhile, offer bear, wolf and elk in the heart of Sweden, just 2-3 hours from Stockholm.
Swedish food
Sweden's larder is renowned for the brilliantly fishy: multiple ways with herring; dazzling crustacea; succulent oysters and mussels; freshwater treats like pike perch; superb caviar - the red Kalix is served at Nobel banquets. Wild herbs and a panoply of berries are foraging favourites, flavouring everything from mains to crispbreads. Add novel meats like moose and reindeer, superb cheeses and potent Swedish aquavits.
Northern Lights
Between October and March, Sweden's vast, sparsely populated northern interior provides optimal conditions to view the aurora light show. Unlike Atlantic Ocean spots like Iceland, the weather is generally clearer too. One of the best places is always Swedish Lapland in the far north, where the snowy expanses and dark forests provide a deeply atmospheric backdrop for the natural lightshow.
Sami culture
In Swedish Lapland (aka Sapmi), delve into traditional culture at working reindeer farms and vibrant festivals in the Sami capital Jokkmokk. Try indigenous delicacies like elk or reindeer sauced with cloudberry, mopping up the juices with gahkko bread. For deeper engagement, learn to track animals on skis, make wood and textile crafts, or work with ice to build snow homes.
Central Stockholm
Stockholm's forested surrounds and vast archipelago are a multifaceted natural jewel, but much of the city centre is let down by bland corporate architecture, tourist hordes clogging its 57 bridges, traffic swirl and a certain capital city smugness. Many prefer the laidback creative buzz of west coast Gothenburg, the Bohuslan gateway with a fine gourmet scene and industrial can-do edge.
Ice hotel
When first built in 1989, the Ice Hotel near Kiruna was truly cool – a startling igloo palace unlike anything else on Earth, melting away each spring then rebuilt with new twists each winter. 25 years on, it remains a glittery oddity - but distinctive rivals in Norway, Canada, Finland, Japan, Romania and Switzerland now blunt its cachet.
IKEA
IKEA does pleasant-enough pale wood furniture but its giant stores feel like part of a corporate cult that traps you on an inescapable circuit inside a blandly tasteful vision of Scandi design. It's far removed from the mid-century modern dynamic forged in the 1950s and 60s, and continued by contemporary Swedish names like Kasthall and Bjorn Dahlstrom.
Restaurant prices
While not as eye-wateringly expensive as Norway, eating out in Sweden can be tough on your wallet. Always check prices before sitting down in a restaurant, and factor in often high wine costs. For bargain daytime scoffing, avail yourself of widespread dagens lunch (lunch of the day) deals, generally offering a salad, main and drink for a bargain price.
Eating & drinking in Sweden
Fika is more than 'coffee break' – it's an institution involving great caffeine, delicious pastries and socialising.

Crayfish star in messy outdoor feasts (kraftskivor) every August, washed down with beer or aquavit – lip-smacking herby schnapps.


Herring (sill) is a distinctive delight in Swedish hands – forget prejudices, just try it multiple ways!


Debates on the best Rakmacka (shrimp sandwich) exercise foodie Swedes – though Gothenburg is agreed to have the top contenders.

The popular green-hued cake Prinsesstarta is named after three 1930s Swedish princesses who loved it as much as their compatriots.

Our top trip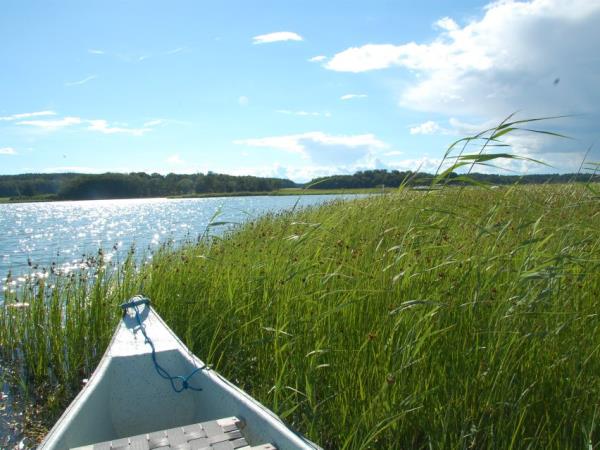 Multi-activity tour in Stockholm's picturesque countryside
From
SKr10795

to

SKr11145
7 days
ex flights
Small group travel:
2024: 19 May, 26 May, 31 May, 7 Jun, 14 Jun, 21 Jun, 28 Jun, 5 Jul, 9 Jul, 16 Jul, 23 Jul, 30 Jul, 6 Aug, 9 Aug, 16 Aug, 23 Aug, 30 Aug, 8 Sep, 15 Sep, 22 Sep
If you'd like to chat about Sweden or need help finding a holiday to suit you we're very happy to help.

People & language
If Swedish sounded difficult in the films of Ingmar Bergman or TV series like Wallander and The Bridge, don't panic - English is widely spoken. But a few Swedish words are always good.

Hej ('hay') is hello, Hej da ('hay daw') is goodbye.

Tack ('tak') is both please and thanks.

Talar du engelska? (taa-lar doo eng-el-ska) is 'Do you speak English?'

It is common to remove shoes indoors, so try to wear nice socks!

Nude swimming is widespread - take a cue from the locals and relax.
Gifts & shopping
Handmade wooden Dala horses are a pretty traditional souvenir. They come in various sizes, with small ones starting around £10.

Swedish glass is justly renowned, with Kosta Boda perhaps the most famous name. It isn't cheap - but a bowl or vase will add gorgeous Scandi style to any home.

Hand-tufted moss rugs from Urnatur are a beautiful and unusual memento.

A bottle of local aquavit/akvavit will provide a potent cockle-warming reminder of Sweden – the most famous brand is OP Anderson.

Lagom is a concept dear to Swedes – roughly, 'not too much or too little, just the right amount'.

How much does it cost?
Main course in budget restaurant: £9
One-way sleeper train ticket Stockholm to Kiruna: £55
Stockholm archipelago island hopping ferry pass: £37 (five days)
A brief history of Sweden
For a country whose global image is so peaceable, Sweden's modern history has had some dark moments. The street murders of respected Prime Minister Olof Palme in 1986 and Foreign Minister Anna Lindh in 2003 shocked a country priding itself on calmness and tolerance. Its famed neutrality in WW2 also threw up issues as Sweden steered a course between Nazi Germany, Russia and the western Allies. So on one hand, Sweden took in refugees and downed Allied airmen, while saving thousands of Jews from the death camps by sheltering them under the Swedish flag inside "neutral houses" in places like Hungary. On the other, it allowed German forces free passage through its territory to invade Denmark and Norway, and sold key materials to the Nazis until 1944. Best perhaps to acknowledge such acts as real politik spurred by a desire to survive unscathed.
Read more