Travelling in Sweden with kids

Sweden ensures kids get to feel as much part of things as everyone else.

Travelling in Sweden with kids works. English is widely spoken and welcoming angles abound, from great kids' activities in museums to affordable local nosh like meatballs or lingonberry pancakes to tempt even fussy eaters. Explore nature at whatever level suits, whether wild camping in northern wilderness or kayaking, hiking or cycling through Sweden's various dazzling archipelagos. There are brilliant opportunities to engage with all things Nordic: meet Sami reindeer herders and learn to build ice houses; stalk wolves and call for moose; be dazzled by winter aurora; or go on a summer lobster safari to catch your own delicious dinner.
Our Sweden family Holidays
Activities for families in Sweden
Nature craft
Sweden's wilderness can provide an unforgettable opportunity for kids to discover their inner wild child, learning outdoor skills that will make them feel like Bear Grylls: learn to make a fire and forage; track iconic predators on foot or ski; practice calling for elk; or building an ice shelter.
Unique Christmas experiences
Spending a family Christmas deep in the wilds of Swedish Lapland is an experience you'll be revelling in at get-togethers for years to come. Just for one year escape your usual traditions and stresses by secluding yourselves away in a remote corner of Swedish Lapland. Here sliced reindeer replaces the turkey, the Northern Lights dancing across the sky are your baubles and tinsel, and instead of charades, why not gather on a frozen lake to learn the art of ice fishing?
Feeding the adrenaline bug
While they won't be allowed to take the controls themselves, kids and especially teenagers will love the thrill of exploring snowy landscapes either by snowmobile using horsepower, or sled using dog-power. Husky-pulled sleds surge through frozen forests, across vast expanses of white, and can reach pretty high speeds. Parents can take a turn at the reins while the kids huddle up on a trailer behind to enjoy the ride.
Our top Sweden family Holiday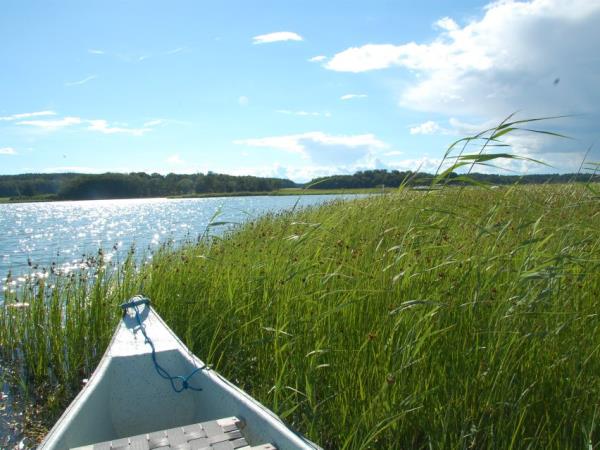 Multi-activity tour in Stockholm's picturesque countryside
From
SKr10500
7 days
ex flights
Small group travel:
2023: 12 May, 19 May, 26 May, 27 May, 2 Jun, 9 Jun, 16 Jun, 30 Jun, 4 Jul, 11 Jul, 18 Jul, 1 Aug, 8 Aug, 11 Aug, 18 Aug, 1 Sep, 8 Sep, 15 Sep, 22 Sep
If you'd like to chat about Sweden or need help finding a holiday to suit you we're very happy to help.

Tips on travelling with kids
Carmen Hamdi from our supplier Nordic Trails moved to Sweden with her family from the UK. She explains why travelling in Sweden with kids is a stress-free experience:
"Even in the busiest summer season, Sweden is relatively quiet and less stressed than much of Europe, with little queuing and plenty of space and freedom for children. The society is very child-friendly and safe. And if you are cycling, roads are rarely busy."
Marcus Eldh from our supplier Wild Sweden says wildlife tours are a brilliant to way to make the most of travelling in Sweden with kids: "Our tours are great for families. We always focus on getting participants to learn new things, like making a fire, how to track wolves, call for moose. We want guests to feel they got new insights how things work in Nordic nature. Like "Wow, I had no idea! That's so cool!" Beaver and moose tours have an 8-year-old recommended age limit, but Wolf and Bear is from 15 and up."