Kayaking holidays in Sweden
The Saint Anna archipelago, part of the wider Östgöta archipelago on Sweden's Baltic eastern coast, is a maze of some 6,000 islands and islets, the majority of them tiny and uninhabited. Roughly hewn by the Ice Age, and home to extraordinary levels of biodiversity, especially birdlife such as se eagles and oystercatchers, the archipelago is governed by the 'Right to Public Access' giving responsible and respectful visitors the freedom to make their way around, wild camping wherever they wish.
This is an idyllic stage for kayaking, with a fantastic sense of freedom and the evocative aromas of seaweed and saltwater on the air. Grey seals appear periodically, bobbing their heads above the water between fishing dives. You'll paddle along at a relaxed pace – these trips are as suitable for novices as they are for more experienced kayakers – accompanied by the sounds of waves crashing into rocks, birds calling, and beyond that... absolutely nothing. It's a nature lover's paradise.
Depending on your route you might take in stunning views over the archipelago from Kupa Klint, perhaps visit the old school and seal processing plant on Harstena, admire traditional old summer homes, and trek to the hidden lake on Ytterö. While kayaking in Sweden certainly involves a degree of physical fitness, it's rarely a vigorously challenging effort. Here it's all about immersion in the landscape, the culture, the history, with the exercise more of a pleasant by-product.
Practicalities
Sweden kayaking holidays are either small group tours, where you'll be led by a professional local guide, or tailor made itineraries, perhaps best-suited to more experienced kayakers, where you select your own route with as much support from base as needed. On small group tours, you plot directions as a team and prepare meals on gas stoves, largely avoiding open fires. All equipment, including high-quality tents, cooking utensils and food, are provided and carried with you between campsites.
In both instances trips operate between June and September, to catch the best of the weather. They typically last four to five days, and though showers aren't available until you get back to base, the brackish seawater has a very cleansing and invigorating effect to it.
This is a remote and isolated location, so local boat taxi services are used to resolve any issues such as broken equipment or health problems. Whether on a small group or tailor made tour you will remain in regular contact with the team on land to keep abreast of weather developments.
Kayaking & cooking holidays
For a true taste of the Great Outdoors, you can opt for a culinary kayaking expedition in the Saint Anna archipelago. As well as a guide accompanying you, there will also be a 'wilderness chef' waiting at every campsite to take you on an odyssey through traditional and modern Swedish cuisine. Using waffle irons and Dutch ovens, catch of the day or island-sourced meats delivered by local fishermen, and foraged ingredients such as edible greens, herbs, mushrooms and berries, you will prepare mouthwatering meals that will leave other campers in awe.
Picture yourself pulling your kayak up onto the beach, wearily erecting your tent, then settling down to watch the sunset with a plate of something like this: flatbread wrap with wild boar and juniper mayonnaise; slow-cooked venison stew with lingonberries and picked cucumber; smoked whitefish with chive and mustard cream, or slow-roasted lamb marinated in barberries, wild oregano and ground-ivy. This tends to be a meat heavy diet, so not one for vegetarians or vegans. For dessert, cloudberries with wild cardamom, regional cheeses with rosehip marmalade and sourdough, Dutch oven-made apple pie served with custard.
And then for breakfast the next morning, coffee with pan-fried bread, and a hearty bowl of muesli with fresh blueberries and hazelnuts.
Our top Sweden Holiday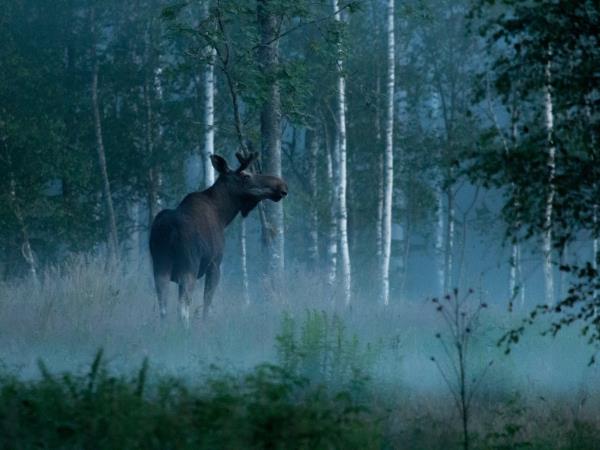 Wildlife holiday in Sweden with full focus on large mammals.
From
€1750
5 days
ex flights
Small group travel:
2023: 31 Jul, 7 Aug, 21 Aug, 28 Aug, 4 Sep
If you'd like to chat about Sweden or need help finding a holiday to suit you we're very happy to help.

Self guided kayaking holidays
in Sweden
Self guided kayaking holidays in Sweden
The alternative to joining a small group kayaking trip in Sweden is to take a self guided, tailor made tour where you choose your own route, supported by the team at base as much as necessary, and subject to prevailing weather conditions.
Again, you will have all the equipment you need as well as a guidebook and a supply of groceries waiting for you at your point of departure. You might pause for a night on Missjö, where there is a small but welcoming pub, or wander Harstena with its charming village that seems almost frozen in time. You can paddle out to the outer rim of the archipelago and the Häradsskär lighthouse where the water gets more tempestuous, and then reward yourself on Håskö, with a wood-fired sauna situated right on the sea and a platter of smoked fish to follow.