Sweden wildlife holidays guide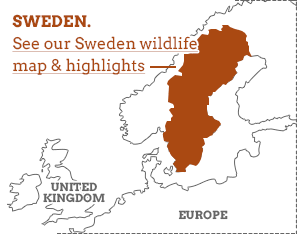 Sweden is blessed with huge amounts of wild space: 29 national parks, 95,700 lakes and 4,000 nature reserves. No surprise, then, that it has lots of wildlife, too. This is the land of wolves, bears, and beavers, elusive lynx and massive moose. Wildlife holidays drop you deep into the wilderness, to track and spot these creatures, on foot, or by canoe and small boat.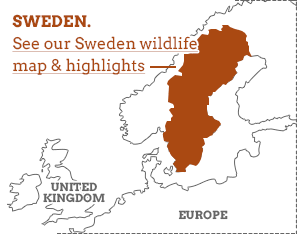 You'll get your animal fix in Sweden, sure, but a wildlife holiday here is also the chance to disappear into the wilderness, breath fresh air, wild swim, spot the Northern Lights, forage for berries…

Pure nature is the main attraction here and for that, you don't need an entrance ticket, you need a local guide. She or he will take you to find beaver dams, spot moose feeding in quiet valleys and listen for wolves howling at night. When not meeting the wildlife, you'll be communing with nature, wild swimming and hiking, foraging for berries and sipping hot chocolate beneath the Northern Lights, reassured by the knowledge that your break supports wildlife conservation and creates economic opportunities for local people in rural Sweden. Find out more in our Sweden wildlife holidays guide.
Our Sweden wildlife Holidays
Is a Sweden wildlife holiday for you?
Go on a Sweden wildlife holiday if…
… you want to get back to nature. This is about the experience of living in the wilderness, breathing fresh air, wild swimming, fishing, hiking, canoeing and cooking over an open fire, in parts of Sweden that most visitors never see.
… you love fresh, healthy food. The food is locally produced, using sustainable wild hunted meat like boar and moose, wild chantarelles and lingonberries. You can forage for mushrooms and berries in the woods and in Lapland taste Sámi favourites, including Arctic char, gáhkku (a type of flatbread) and souvas (reindeer).
… you'd like to engage with local people as well as wildlife. On a responsible wildlife trip, local people are not a nice little sideshow, but one of the highlights. Meet passionate local wildlife guides, stay in friendly accommodation and eat in welcoming restaurants, with time to get to know your hosts. In Lapland, learn more about Sámi culture and meet a reindeer herding family.
… you don't have long. Short breaks of just four or five days to spot Sweden's wildlife immerse you in nature without eating into your annual leave.
Don't  go on a Sweden wildlife holiday if…
… you're all about boutique hotels. The point is to be close to nature and wildlife, not cossetted away in five star luxury. A family run, lakeside guesthouse; tented camps in the wilds of Lapland; an ecolodge with candles and camp fires instead of electricity; and even back-to-basics camping in the woods listening for wolves – these are where you'll sleep. … you want Santa and ice hotels. Winter wildlife holidays to Swedish Lapland skip the festive tourist attractions and lead you into the wilderness to enjoy pristine nature, go dog sledding and see moose and reindeer under the Northern Lights. … you demand WiFi 24/7. Wildlife holidays are lo-tech experiences. Come to be immersed in the landscape, not Instagram. Short family breaks of four days provide a neat, nature-rich digi detox. … you want to see a wolf and you want to see it now! Wildlife doesn't show up on demand, but tracking Sweden's wild creatures, and learning about their habitats and habits from naturalist guides, is as much part of the experience as eyeballing one.
Our top Sweden wildlife Holiday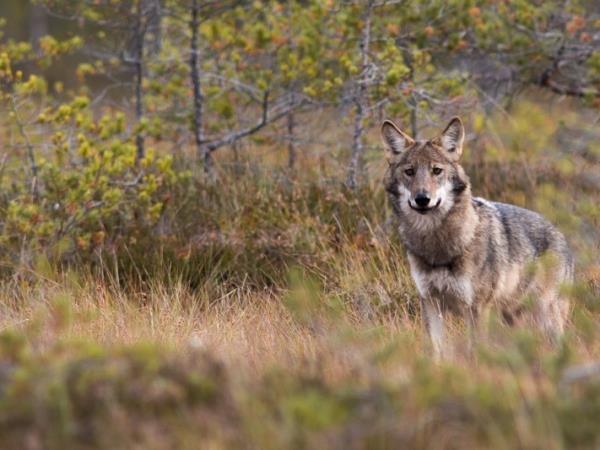 Wildlife holiday in Sweden with full focus on large mammals.
From
€1750
5 days
ex flights
Small group travel:
2023: 10 Jul, 31 Jul, 7 Aug, 21 Aug, 28 Aug, 4 Sep
If you'd like to chat about Sweden wildlife or need help finding a holiday to suit you we're very happy to help.

Best time to go on a Sweden
wildlife holiday

Summer's the best time to see wildlife in Sweden, with mild temperatures and long, light days, but don't rule out Lapland in winter, for moose spotting and Northern Lights.

June, July, August and early September are the best time to go on a Sweden wildlife holiday, visiting the lakes and forests northwest of Stockholm, to see moose, beavers, bears and owls. Expect temperatures in the low 20°Cs and long, light days. If you hope to see the super elusive lynx, travel in March. This is mating season and the only time of year when they call to one another, which makes tracking them slightly easier. Winter holidays to Lapland will bring you close to moose and reindeer, plus the Aurora, but wrap up – it can hit -30°C at night and hovers around -10°C to -20°C by day.
More about Sweden wildlife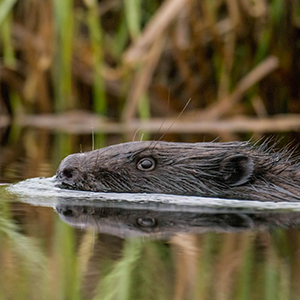 Discover the best places to see moose, beavers and wolves on our Sweden wildlife map and highlights page, from the forests conveniently close to the capital Stockholm to the wilds of Lapland.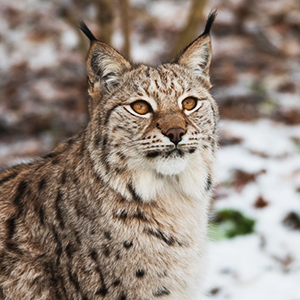 Sweden has its quota of familiar European wildlife – the deer, foxes and squirrels that we see on our own doorsteps – but its huge areas of wilderness are host to some larger, more exotic creatures, too.