Walking holidays in the Swiss Alps
Switzerland is just fantasy land for walkers. This must be one of the world's most iconic landscapes: snow-crested mountains reaching for the sky, while below green alpine meadows are scattered with swathes of wildflowers, and little clusters of wooden houses echo to the clank of cowbells. Patches of edelweiss decorate rocky escarpments and snow-fed waterfalls plunge down sheer rock walls into deep glacier-carved gorges, and herds of ibex scatter as you walk the paths between mountain refuges. One could quite easily be transfixed by scenery like this, so we recommend setting an alarm whenever you pause for lunch.

You will naturally be walking at elevation, and over the course of a day might be ascending or descending over 1000m, so altitude sickness is a risk, but we're not talking Himalayan peaks here. If you're quite energetic, you should have little difficulty in adapting rapidly to walking in the Swiss Alps. And of course as most of these are small group trips you have plenty of cheerleaders encouraging you on, and a guide ensuring that everyone is comfortable with the pace being set.
Our Switzerland walking Holidays
The Eiger, Mont Blanc, Jungfrau, the Matterhorn – names etched in mountaineering history, and forming part of a dramatic tapestry threaded with deep valleys. You might walk sections of the
classic Mont Blanc circuit
, which usually takes two weeks, over the course of just one, based in Chamonix and roaming the Aiguille Rouge National Park and Carlaveyron Natural Reserve. Or you might explore the idyllic Bernese Highlands with different treks each day, watching as eagles float on swirls of air between mountain peaks and admiring the magnificent Blue Lake as you pass the Kander Valley. And if you're up for a challenge, there is the
long distance trail from Mont Blanc to the Matterhorn
, 100km linking French and Swiss valleys, glacial lakes and forest, staying in permanent campsites and remote alpine refuges along the way.
We recommend keeping the seven principles of the
Leave No Trace philosophy
in mind whenever taking a walking holiday – especially the importance of sticking to marked trails and walking in the centre of the trail, to minimise damage to nearby vegetation which can be sensitive.
Most of your holiday will be spent on the trail, but when not walking you might catch a ride on a cable car to a mountain summit for a spectacular view, take a row boat out on the lake, practice your photography on landscapes bursting with rural charm, wild deer and perhaps if you're really adventurous, try a tandem paragliding flight. And watch out for big footprints – you never know when you might bump into a
barbegazi
. These gnomes of Swizz folklore have frozen beards, ride avalanches with feet the length of skis, and are rumoured to help out hikers and mountaineers in need.
What do walking holidays in the Swiss Alps entail?
Most walking holidays in the Swiss Alps are centre-based, with accommodations in traditional, family-run properties that may have a wellness suite available for you to soak tired limbs in the afternoons, followed by servings of delicious Swiss cuisine. This style of travel is a world apart from the experience you'd get staying in a large, faceless hotel chain, allowing you to get to know your hosts a little and learn about their lives, and also have the confidence that your holiday is directly benefitting the local community.

If you prefer a point-to-point route however, the walk from Mont Blanc to the Matterhorn is an epic two-week trek, averaging around nine hours each day and suitable for experienced walkers, in good physical conditions. You'll need to pack light too, as you will be camping for much of the way.

You can choose from either tailor made, self guided trips with comprehensive maps and route notes provided, or guided small group tours (up to 16 participants). Most are a week in duration, often including a rest day in the itinerary which you can spend rowing on lakes, sightseeing by cable car, or wandering those lovely 'chocolate-box' towns.
Our top Switzerland walking Holiday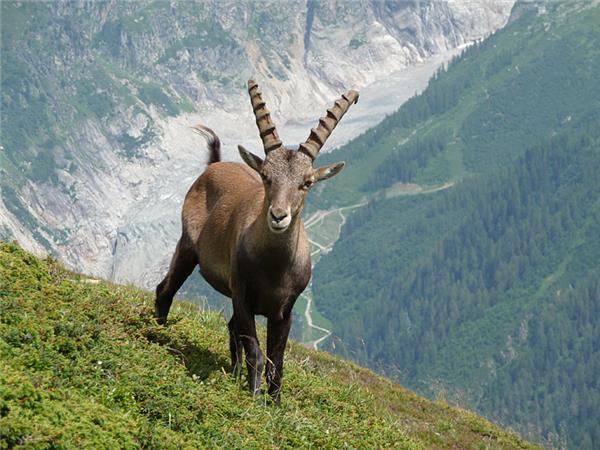 The best of the Tour du Mont Blanc
From
£1749

to

£1999
8 days
inc UK flights
Small group travel:
2023: 8 Jul, 15 Jul, 22 Jul, 29 Jul, 5 Aug, 12 Aug, 9 Sep, 16 Sep, 23 Sep, 30 Sep, 7 Oct
2024: 18 May, 25 May, 1 Jun, 8 Jun, 15 Jun, 22 Jun, 29 Jun, 6 Jul, 13 Jul, 20 Jul, 27 Jul, 3 Aug, 10 Aug, 17 Aug, 24 Aug, 31 Aug, 7 Sep, 14 Sep, 21 Sep, 28 Sep, 5 Oct
If you'd like to chat about Switzerland walking or need help finding a holiday to suit you we're very happy to help.

How fit do I need to be?
Expect to be walking for between four and eight hours a day on centre-based trips, with some fairly steep ascents and descents involved too. While these holidays should be suitable for anyone with a good degree of physical fitness – walks are graded moderate and are not technically difficult – it certainly won't hurt to get a bit of hillwalking practice in before departure. You are likely to encounter narrow paths and loose terrain in places. A relaxed pace is assumed, with plenty of rests. Families with active teens may also find this an appealing option, with a minimum age of 16 on some trips.

No specialist equipment is needed, but good-quality walking shoes and boots with ankle support (rather than running trainers) are highly recommended, and packing a set of poles to help with downhills may be a decision you come to appreciate. Public transport passes are provided on itineraries where you need them, or you may be transferred to the trailhead by the operator, and of course on self guided trips you will have 24-hour support available.
Best time to go
Swiss Alps walking holidays typically operate between May and October when you will enjoy the most pleasant weather. Popular trails will naturally be busier in the peak season months of July and August, when you can anticipate daytime temperatures around 26°C so you may want to consider either side – spring is especially lovely with the flowers in bloom.

With itineraries usually getting underway in either Geneva or Kandersteg, arriving overland is an easy option. The train from London takes around eight hours, and not only will see your carbon footprint massively reduced, but is a much more enjoyable, and scenic, journey.
More about Switzerland walking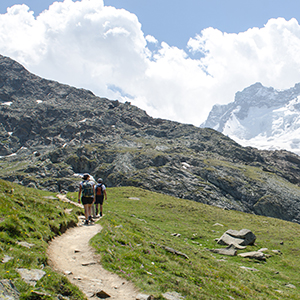 Walking in Switzerland will take you through Alpine meadows, into hidden valleys and over high-mountain passes in the shadow of Europe's highest mountain. You'll pass glacial lakes, thundering waterfalls and iconic peaks, and with trails all easily accessed from chocolate box villages on foot, or by road, rail or cable car.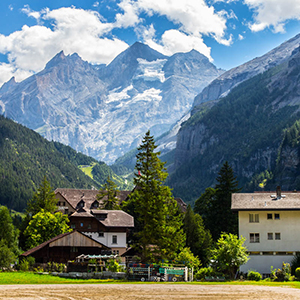 From the challenging Tour du Mont Blanc, encircling Europe's highest mountain through Switzerland, France and Italy, to day hikes through the hidden, waterfall-filled Gasterntal Valley, our travel guide shines a spotlight on our favourite places to go walking in Switzerland. Read on for expert tips plus advice from our travellers.