Switzerland walking holidays guide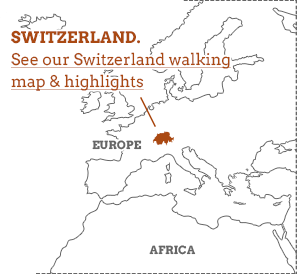 Lift the lid on Switzerland's chocolate box-pretty Alpine landscapes and the walking treats inside are as varied as the mountains themselves. The sublime Bernese-Oberland reveals Alpine flower meadows perfect for gentle, picnic-filled mountain days with near-constant views of the Jungfrau, Eiger and Monch – three hulking giants of the Swiss Alps. Trails around Mont Blanc Massif will take you over challenging, high altitude passes that will excite even the most adventurous hiker.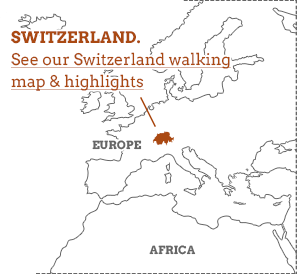 Enjoy a side-helping of cow bells, flower-filled alpine meadows, fondue and fantastic mountain scenery. Albeit with the possibility of all four seasons happening in one day.

Guided walking tours pick out the most glorious of Alpine hikes, through steep-sided valleys to iridescent glacial lakes, and usually include one or two free days for more independent meanderings. Self guided walks give flexibility on length and difficulty, with well marked, well trodden trails linked to pretty mountain villages by road, rail and cable car. And as for that mountain sunshine; well, as Heidi's Grandfather explains "When he says good-night to the mountains he throws his most beautiful colours over them, so that they may not forget him before he comes again the next day." Find out more in our Switzerland walking holidays guide.
Our Switzerland walking Holidays
What does a walking holiday in Switzerland entail?
Guided or self guided?
Guided walking holidays in Switzerland see you join a small group of likeminded hikers, usually between six and 12 people, led by an experienced mountain guide. Small groups are excellent for solo travellers, if you prefer not to have to worry about finding your own way or if you enjoy an insight into local culture, legend and history along the way.

Switzerland is also an excellent destination for self guided holidays. Walking trails are easily accessed, and waymarked, from reliable public transport – including trains, buses and gondolas. The Swiss Travel Pass is an economic way to get you on trains, on cable cars, up to mountain viewpoints and into museums. Your tour operator will arrange your accommodation and transport, and provide you with detailed route ideas and maps.
How much walking will I be doing?
Dependent on the trip you choose, you'll usually be walking for around four to six hours each day, with a rest day built into the itinerary, on moderately difficult routes. On self guided trips this can be tailored to suit you, with options to add in more downtime for sightseeing by cable car, for example, rather than on foot. Holidays following the Mont Blanc circuit offer more challenging hiking terrain. Whatever trip you choose, it'll help if you have some walking experience behind you. And while you don't need to be superhuman to tackle many of Switzerland's trails, you'll certainly enjoy the holiday more if you get some day walks in at home before you go.
Accommodation & food
More gentle walking holidays in Switzerland will see you based in one mountain village for the duration of your trip. Places like Kandersteg in the Bernese Oberland, for example, offer easy access to walking trails on your doorstep, as well as cable cars to the higher alpine meadows. Typically, you'll be in a locally-owned guesthouse where comforting, mountain cuisine – fondue, raclette, rosti and more – will satisfy even the heartiest of walkers' appetites.

On other walking holidays you'll walk from village to village, staying at local guesthouses, chalets or even mountain refuges or campsites. On these trips you'll carry a day pack with your water, waterproof, sunhat and snacks; the rest of your luggage will usually be transferred from hotel to hotel for you.
Our top Switzerland walking Holiday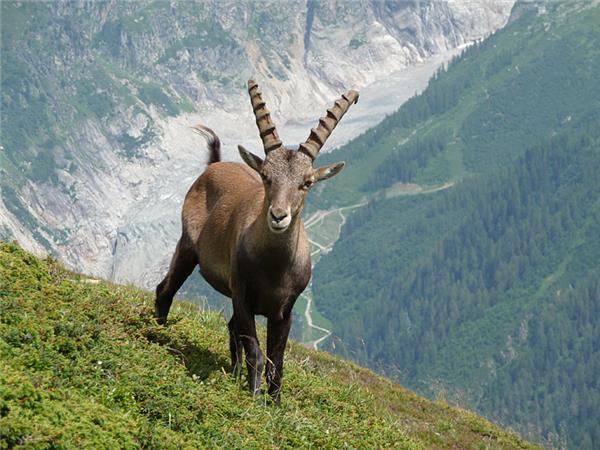 The best of the Tour du Mont Blanc
From
£1749

to

£1849
8 days
inc UK flights
Small group travel:
2023: 20 May, 27 May, 3 Jun, 10 Jun, 17 Jun, 1 Jul, 8 Jul, 15 Jul, 22 Jul, 29 Jul, 5 Aug, 12 Aug, 19 Aug, 26 Aug, 2 Sep, 9 Sep, 16 Sep, 23 Sep, 30 Sep, 7 Oct
If you'd like to chat about Switzerland walking or need help finding a holiday to suit you we're very happy to help.

Is a walking holiday in
Switzerland for you?
Go walking in Switzerland if...
… you're fascinated by wildflowers. In late June the high Alpine meadows are carpeted in bloom. This region feature Europe's widest range of flowers, with edelweiss, primrose, cowslip, bell flowers, golden hawk's beard and over 25 varieties of orchid.
… you loved reading 'Heidi'. Switzerland's most famous literary export paints a postcard-perfect picture of the Alps that is unerringly close to reality, with cow bells, grazing goats, pretty chalets and Alpine meadows.
… you enjoy punctuality. The Swiss are legendary watch-makers for a reason – the trains, buses and cable cars here are spotlessly clean, convenient and run like clockwork.
… you want to check out from digital life. Switzerland is as high-tech as they come, but the mountains offer the chance for a real respite from the on-screen world.
Don't go walking in Switzerland if…
… you don't have a head for heights. Most walking holidays involve a few cable car or gondola rides, and often they are the best, or only, way to access more remote trails. … you don't have a reasonable level of fitness. Most trails are of moderate difficulty and you'll usually walk four to six hours each day, so prior walking experience will add to your enjoyment. … you want guaranteed sunshine. One moment you'll be enveloped in cloud, the next marvelling at an endless view in glorious sunshine, so pack for all four seasons in a day. … languages baffle you. There are four national languages to contend with in Switzerland, the most widely spoken being German, French and Italian. Romansch is spoken in the canton of Graubünden.
Best time to go walking in Switzerland

Even on a daily basis Switzerland's mountain weather is notoriously hard to predict, so best be prepared for all four seasons in one day, even in the height of summer.

Walking in Switzerland is held under the thrall of its unpredictable weather. Spring to autumn offer relatively mild, pleasant temperatures even in mid summer, and the best chance for glorious mountain sunshine. If you're not afraid of the cold, winter walking and snow shoeing are both possible from November to March. Wildflowers spring up in Alpine meadows once the snow starts to melt, with June offering the most resplendent blooms, while July and August are perfect to enjoy a post-walk swim in one of Switzerland's picture-perfect lakes. September to early October see crystal clear mountain air and magnificent autumn colours below the tree line.
More about Switzerland walking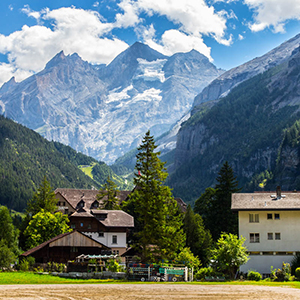 From the challenging Tour du Mont Blanc, encircling Europe's highest mountain through Switzerland, France and Italy, to day hikes through the hidden, waterfall-filled Gasterntal Valley, our travel guide shines a spotlight on our favourite places to go walking in Switzerland. Read on for expert tips plus advice from our travellers.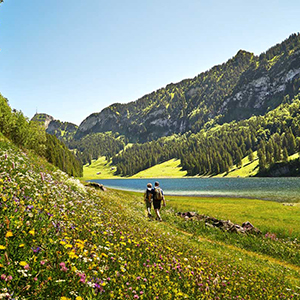 Walking holidays in the Swiss Alps immerse you in one of the world's most iconic and beautiful natural landscapes: where green meadows flecked with wildflowers are overlooked by mountain peaks.