Best places to go walking in Switzerland
With the Alps encompassing over 60 percent of the country, Switzerland's walking highlights are too numerous to list. From the rugged Fenetre d'Arpette or challenging Gemmi Pass, to the gentle strolls through the Lauterbrunnen Valley, walking in Switzerland will take you past glacial lakes, thundering waterfalls and flower-filled meadows. You'll explore chocolate box villages like Grindelwald, Murren, Kandersteg and Champex, all with walking trails on their doorstep. Rest days can take you to via train to the Jungfraujoch, or to the Bond villain lair (a restaurant in real life) at the top of the Schilthorn. Some of our favourite spots, however, are on our interactive map below.
1. Alpine lakes
Switzerland's lakes are the sapphires in any walking tour's crown and some of the best are found in Bernese-Oberland. Follow a gentle trail along the upper Kandertal Valley from Kandersteg to reach the inconceivably clear waters of Blausee, steeped in local legend. Or step aboard a gondola and walk to Oeschinensee, considered to be one of the most beautiful Alpine lakes in the country.
2. The Gasterntal Valley
Hewn out of the mountains by a glacier some 10,000 years ago, this steep sided, gorge-like valley hides dozens of snow-fed waterfalls. Sheer, towering cliffs rise up either side as you explore the valley floor – it's easy to see why this is known as Switzerland's 'hidden' valley – and walks here are quiet and peaceful, yet dramatic. Even the journey in is a thrill – the road cut precariously out of the exposed rock walls.
3. Kandersteg
One of the Bernese-Oberland region's prettiest mountain villages, Kandersteg's wooden chalets offer a cosy welcome, and for walkers, easy access to one of the most spectacular corners of the Alps. An excellent base for walking holidays, moderately challenging trails lead in all directions from here, via the Kandertal Valley and Gemmi Pass among others. Or take the cable car up Allmenalp or Sunnbuel for magnificent rural walks.
4. The Mont Blanc Massif
While many of its 170km lead through in France, the iconic Tour du Mont Blanc – one of the world's classic trekking routes – dips its toes into Switzerland's Alpine glories. Swiss highlights include the Fenêtre d'Arpette, perhaps the wildest of all the Mont Blanc Massif passes, or its alternative, the beautiful Bovine Route from Col de la Forclaz to Champex du Lac.
5. Zermatt
Zermatt's spectacular views of the Matterhorn, and its serene setting are unspoiled by combustion engines – these have been banned – leaving blissful silence ringing around the valley. This trendy (in the winter) ski town is an excellent base for summer walking, with lifts giving easy access to high altitude mountain trails, and the 45-minute ride up to Europe's highest cable car station proffers some summer snow as well.
Our Switzerland walking Holidays
If you'd like to chat about Switzerland walking or need help finding a holiday to suit you we're very happy to help.

Switzerland walking holidays advice
Gear advice
Chloe Knott is Mont Blanc and all-round alpine expert at Exodus, our leading supplier in the area:
"Wear boots with ankle support and, if you have bad knees, take walking poles. I am definitely a two-pole girl. I wouldn't do a trek without them now. I have seen so many people with knackered knees that I think it is better to use them now and then not have knackered knees later."
Getting ready for your walking holiday
"Always read the trip notes that accompany your trip, as they will give good guidance on how fit you need to be. We find that women tend to underestimate, and men overestimate their abilities. If you are doing a moderate walking trip, you want to be doing a good five-hour walk every weekend on varied terrain. And do this every weekend for about three months before your trip, upping the amount of walking you do each weekend."
Where to walk in Switzerland
Tina James from our supplier, Headwater, shares her advice and personal experiences related to Switzerland: "The Jungfrau region is great all year round with cycling and walking trails turning to cross country ski tracks during the winter season. It's just the perfect place to explore from one village to the next, and you'll feel like you're making your own discoveries as you stumble across out of the way restaurants or farms that produce and sell their own fresh goats' cheese."
And a tip from our holiday reviews
"Walk to the Monchhutte if you go to the Jungfraujoch. It's a great hike, with views of the beginning of the glacier, and you can have hot soup when you get there! Buy a Swiss Card and get reduced travel costs. Switzerland is expensive and this card makes visits to Jungfraujoch, Kleine Scheidegg and Schiltorn much more affordable… We found Nordic walking sticks useful, for the long descents in particular (we're fit but in our 50s)." – Lynda Bailey
More about Switzerland walking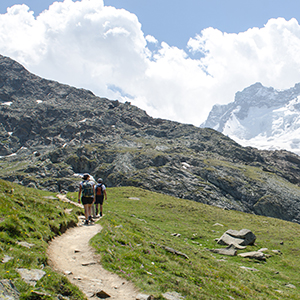 Walking in Switzerland will take you through Alpine meadows, into hidden valleys and over high-mountain passes in the shadow of Europe's highest mountain. You'll pass glacial lakes, thundering waterfalls and iconic peaks, and with trails all easily accessed from chocolate box villages on foot, or by road, rail or cable car.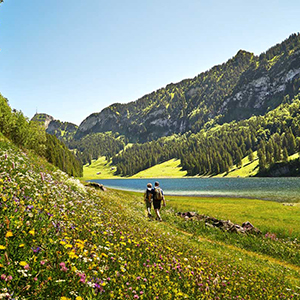 Walking holidays in the Swiss Alps immerse you in one of the world's most iconic and beautiful natural landscapes: where green meadows flecked with wildflowers are overlooked by mountain peaks.