Best time for a family to go to Thailand

Head to Thailand between November and February, when it's drier and milder and there's a better chance of catching one of the country's vibrant festivals.

The best time for a family holiday to Thailand is over Christmas, when it's warm but not scorching, there's little rain and hiking in the north is at its best. Unfortunately, this is also one of the busiest periods with prices high and hotels booked up far in advance. If you can hack the long haul flight for just a week away, then February half term offers similar weather and better value accommodation. Come March and April, temperatures soar, so head for the hills or the southern beaches at Easter. July-August is the rainy season, when more remote areas might become inaccessible, though there are some regional variations, so you should find be able to find a sunny beach somewhere.
Our top activities for families in Thailand
Things to do on a family holiday in Thailand
Thailand's coast is the county's major draw, so you'd be doing a disservice if you didn't spend some time on the beach – and a few days of seaside relaxing is the perfect way to unwind after an action-packed family tour. For the most part, beaches are sandy and waters calm, so they're perfect for toddlers and small children, while older kids can check out the rich marine life on snorkelling or diving tours.
We've established that Thailand's beaches are epic, but the country has so much more to offer and family adventure holidays have got all the makings of an unforgettable trip. Outdoorsy families will be hard pushed not to have fun, particularly in the country's north, where jungle trekking, biking, caving, tubing and volunteering with elephants can all be on the agenda.
Thai food is varied, colourful, delicious and surprisingly child friendly. You might not want to shock their taste buds with a highly spiced kaeng pa (jungle curry), but most kids will happily wolf down a serving of pad thai, spring rolls or grilled chicken and sticky rice, and they'll love the drama of visiting a hawker stand. What's more, many operators can incorporate family cooking lessons into a tour, so you and your kids can visit local markets together before whipping up something tasty with the help of a local cook.
Things not  to do on a family holiday in Thailand
Miss out on spending time with local people. Thailand's traditional hill tribes, including the Karen and the Hmong, speak a multitude of languages and wear colourful dress. It's an unforgettable cultural experience for older children to stay with a local hill tribe family, helping with their conservation activities and enjoying the gorgeous mountain scenery they have called home for centuries. Conditions will be basic but provide invaluable insight into a disappearing way of life.
When visiting Thailand, don't shut yourself away at a beach resort. Sure, the cocktails, spa treatments and kids club can seem pretty appealing, but when you're in a country as diverse and dynamic as this it would be practically criminal not to explore further. Head for the jungle, mountains and culturally rich cities, sleep in village homestays and learn more about the history. And if you do stay at the beach, opt for a locally owned hotel or guesthouse, so you can be sure that your cash goes into the local economy.
It may seem like a must-do activity for kids but please don't ride an elephant while you're in Thailand. They're still wild animals and need to be "broken" to take tourists on rides or perform in shows. Try and volunteer with them instead. You could, for example, visit or volunteer at the Elephant Nature Park in northern Thailand. This sanctuary acts as a 'retirement home' for rescued elephants and is considered a pioneer in the treatment of captive elephants.
Advice for families going to Thailand
What makes Thailand so family friendly
Amy Poulton, from our supplier Wayfairer Travel:
"Thai people love children so if you're travelling with your little ones you can expect to receive lots of attention from locals. Thailand is a great destination for families because there is so much to see and do, from meeting elephants at an elephant sanctuary and jungle trekking exploration in the north, to exciting tuk-tuk sightseeing tours in big cities. Hotels are very accommodating for families and many have their own activity schedule specifically for children, especially in beach resort locations. It's also common to have children stay for free or for an extra bed to be added to a room at a small cost. Some hotels even have promotions, where if you book a second room just for your children, there is a big discount."
Lesley Schofield, from our supplier All Points East:
"Thailand is great for families, especially when you get a bit off the beaten track and away from the main tourist destinations. It has exceptionally friendly people; wonderful food; variety of activities from canoeing and kayaking, jungle hikes, snorkelling; good weather; a very difficult culture to our own; good food hygiene if you stick to local food; good safety standards with activities."
Best activities for younger children
Amy Poulton from Wayfairer Travel:
"In the activity-centered areas of the north, such as Chiang Mai, younger children can visit elephants at elephant sanctuaries such as the Elephant Nature Park, which welcomes children over two years old. They could also try bamboo rafting, a more laidback version of white water rafting, or take part in a cooking class."

Lesley Schofield, from All Points East:
"Activities that are great for young kids include staying on one of the less visited jungle clad islands with turquoise waters and palm fringed sandy beaches; or staying in a jungle tree house at Khao Sok and going canoeing or tubing on the river, hiking to a waterfall for a jungle picnic, or going on a boat trip to visit lakeside caves and take a swim in the crystal waters."
Best activities for older children & teenagers
Amy Poulton from Wayfairer Travel:
"Teenagers will love Thailand's national parks, which are like natural adventure playgrounds. White water rafting, jungle trekking, lake kayaking, camping and waterfall chasing in national parks such as Erawan, Khao Sok and Khao Tai are great for active teenagers.

One great thing to do for the whole family is a homestay experience. This usually involves a trekking expedition with an overnight stay with a local family who have kids of their own. This is a truly enlightening experience and another great opportunity for cultural exchange that provides a more authentic and meaningful travel experience."
Unusual cultural encounters
Amy Poulton from Wayfairer Travel:
"In Thailand, it's very common for teenage boys to spend several months as a monk; shaving their heads and eyebrows, spending time living at a monastery. In Chiang Mai, some of the temples run a 'monk chat' programme, where you can speak with the young monks there, so that they can practice their English – a great chance for cultural exchange."

Lesley Schofield, from All Points East:
"Great activities for teenagers include interacting with local hilltribe people in the North of Thailand – including a homestay; excellent zip wire adventures again in Northern Thailand; diving and snorkelling options – there are many well run PADI certified diving organisations on some of the quieter islands; and visiting historical sites such as Kanchanaburi with the Bridge Over the River Kwai, Death Railway and Hellfire pass."
Our top trip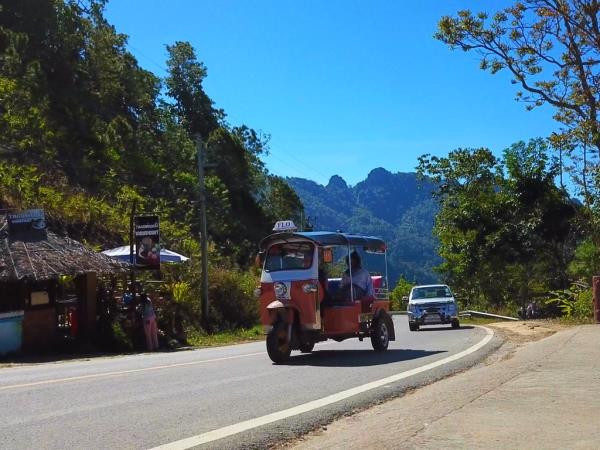 A Tuk Tuk Adventure in the stunning mountains of Thailand
From £1395 to £1695 11 days ex flights
Small group travel:
2024: 6 May, 3 Jun, 10 Jun, 8 Jul, 15 Jul, 22 Jul, 29 Jul, 5 Aug, 12 Aug, 19 Aug, 4 Nov, 21 Nov
2025: 4 Jan, 11 Jan, 18 Jan, 25 Jan, 5 Feb, 12 Feb, 19 Feb, 26 Feb, 5 Mar, 12 Mar, 19 Mar, 26 Mar, 2 Apr, 23 Apr, 30 Apr, 7 May, 14 May, 21 May, 28 May, 4 Jun, 11 Jun, 18 Jun, 25 Jun, 2 Jul, 9 Jul, 16 Jul, 23 Jul, 30 Jul, 6 Aug, 13 Aug, 20 Aug, 27 Aug, 3 Sep, 10 Sep, 17 Sep, 24 Sep, 1 Oct, 8 Oct, 15 Oct, 22 Oct, 5 Nov, 12 Nov ...
If you'd like to chat about Thailand family or need help finding a holiday to suit you we're very happy to help.

Thai food
Lesley Schofield, from All Points East:
"Depending on how adventurous the children are at home, they can try local famous dishes such as Pad Thai and fried rice – Pad Kapow was my own son's favourite as a child. Many of the beach resorts will also grill whole local fish, and French fries are usually available! We find on escorted tours the children tend to be a little more adventurous egged on by their local guides. Much easier to say "I don't like" that to Mum and Dad than it is to a Thai national who is suggesting one of their favourite dishes. Failing that, who doesn't like satay?!"

Amy Poulton, from Wayfairer Travel:
"Some Thai dishes can seem spicy to those unused to Asian spices in their diets, but we find that kids love to be daring and try the spiciest dishes, even if it's just a mouthful! However, simple fried rice or noodle dishes (such as delicious pad thai) aren't spicy at all and perfect if you're looking for something mild.

Thai sweets are very unique, and there are lots of fruits to try that kids might not have seen before, such as dragonfruit, papaya, mangosteen, longyan, as well as fresh mango and pineapple (the smell of durian will certainly leave an impression as well!)

Street food is a quintessential Thai experience, but if you're concerned about street food, be sure to stick to the rules to only buy from busy vendors and trust your instincts about how fresh the food is, especially if it's not covered. Snacks such as fried banana or coconut pancakes go down great with children and are usually cooked fresh in front of your eyes."
Health & safety
Amy Poulton, from Wayfairer Travel:
"Sunscreen, sunscreen, sunscreen! The heat and the force of the sun can be intense, so have high factor creams to hand and cover up where possible, with hats and rashie swimsuits to minimise exposure. Mosquitoes can also be a problem in certain areas, especially in the jungle or by water in the evening. We find that local and more natural remedies actually work better than shop-bought sprays, which can contain controversial and harmful elements such as DEET."

Lesley Schofield, from All Points East:
"Being a committed advocate of escorted tours, I would say that the best advice is to travel with a local experienced tour leader. They can guide you through hygiene and safety issues while enabling a family to try things outside of their comfort zone and surely that's one of the reasons to choose Thailand in the first place. We usually do the more adventurous and active parts of a holiday with a tour leader for the first week or so and then leave a family to relax on the beach knowing they are holidaying like a local."
Thailand family holidays tips
from our reviews
At Responsible Travel, we think the best people to advise our travellers are often… other travellers. They always return from our tours with packing tips, weather reports, ideas about what to do – and opinions about what not to.

We have selected some of the most useful Thailand family holiday tips that our guests have provided over the years to help you make the very most of your holiday – and the space inside your suitcase.

If you want to experience the elephants, visit the sanctuaries where you can spend a full day up close and personal with them

"Get off the beaten path. There is so much to see outside of the main cities such as the Lawa caves and Erawan Waterfall. If you want to experience the elephants, avoid the places where you ride them. They are "gimmicky" and exploit the animals there." – Sumi Mazzarolo

"Honestly, if going to Bangkok, avoid Chinatown unless you don't mind all the very strong and unusual smells around along with eating strange food. We were right in the middle of chinatown and it has many strange and somewhat unpleasant scents. Apart from that, pack light – I thought I did, but I really didn't. You really don't need anything apart from a few t shirts and a pair of shorts, perhaps 1 pair of jeans, 1 good bathing suit, flip flops and a pair of tennis shoes. You will regret taking too much stuff and having to carry it around, plus this takes space in the luggage which could have been used for shopping." – Lisa Digiorgio

"Make an effort to do a homestay, meet local people. Their customs are so different. Enquire about travel time and weight that against what is important for you to see or experience." – Anita Simon



Get off the beaten path. There is so much to see outside of the main cities such as the Lawa caves and Erawan Waterfall.

"Homestaying felt like direct help to the Thai woman who welcomed us and a great way to get to know authentic Thai ways of life when she took us around her neighbour to explore it and on an outing with her friend." – Veronica Susani

"Throw yourself into it. We all like nice hotels and cosy arrangements and indeed, on my trip I had these as well. But doing Homestay was fantastic as the families were so welcoming and they involve you in local life, which you would never get staying in the usual holiday 'bubble'. Also, investing in the use of your own guides etc. is not particularly expensive and the additional value far outweighs the cost." – Michael Anderson

"Take lots of Deet and diarrhea tablets and travel as light as you can. Book an extra day at the beach at the end because you will need a good rest before the long flight home (and the beach is amazing)." – Shefda Cattermoul
More Thailand family articles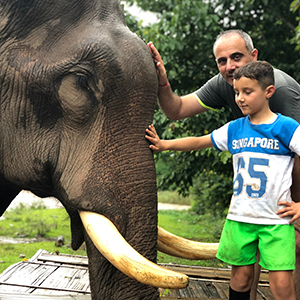 One of Asia's most family friendly destinations, Thailand offers plenty of experiences.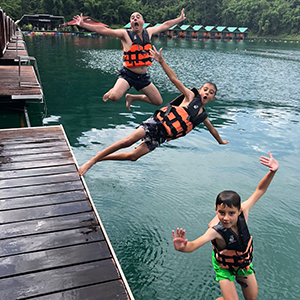 You might be thinking of taking a leisurely break by the beach, but think again.