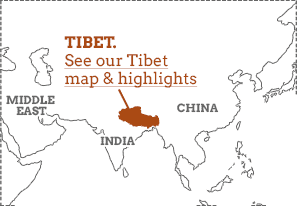 The 'Roof of the World' has a mystic allure, and there is no question that Tibet is truly beautiful inside and out. But having been occupied by China since 1949, this land is besieged by change. Much of traditional Tibet – its territory, society and architecture – is fast being subjugated by all things Chinese; horror stories about cultural suppression and appalling injustices of human rights towards Tibetans fighting for their freedom are all too common.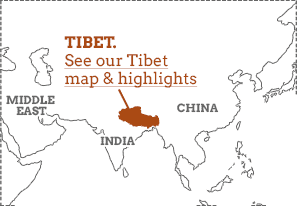 The home of looming mountains, staggering scenery and a warm and welcoming people, Tibet is a peaceful place bound by Buddhism: it is the very fulcrum upon which the countryside rests.

Yet the Tibetans' devotion to Buddhism transcends any past, present, or future plight; the religion is in their very veins and the awe-inspiring monasteries are a testament to their unshaken belief. Seek and you will find pockets of abject peace – any visitor would be wise to learn as much as possible about this fascinating nation, and getting behind tourism in traditional Tibet is a surefire way to show your support too.

Read on in our Tibet travel guide.
Tibet is...
a deeply spiritual and evocative place where Buddhism is the only true leader
WHAT WE RATE & WHAT WE DON'T
Human rights
According to
Freedom House's
annual reports, Tibet consistently ranks as one of the least free countries in the world. The Tibetan people are under near-constant surveillance from security cameras and checkpoints, and detentions, violence, imprisonment and even torture are commonplace. Tibetans face strict travel restrictions, and China has closed many monasteries. Follow
Free Tibet
to find out more.
Mount Kailash
Bon followers, Buddhists, Hindus and Jains all consider this dark, ice-streaked dome to be one of the most sacred places in the world. Each year, thousands of pilgrims complete anticlockwise circuits of this four-sided mountain, which rises to an imposing 6,368m in one of Tibet's most inhospitable regions. Trekking holidays complete this 52km circuit in three days, accompanied by porters and yaks.
Central Tibet
Most visitors to Tibet cluster around the main sights close to Lhasa and Everest Base Camp, leaving the rest of this vast nation to be explored by yak herders, devout pilgrims and the occasional intrepid. Much of central and western Tibet is inaccessible by plane and train, so adventurous drives will take you past mountains and across the vast plateau for extremely remote trekking.
Barkor pilgrim circuit
The Dalai Lama's former residence, Potala Palace, is a must when visiting Lhasa, but joining the Barkor pilgrim circuit should also be added to your to-do list. It's a kilometre-long devotional circumambulation that winds its way around the outer edge of the Johkang Temple in a mesmerising tide of humanity that's sure to sweep you up; you'll have gone round twice before you know it, we guarantee.
Everest Base Camp
While Nepal's Everest Base Camp sits on the mighty mountain's southern face at the end of a multi day trek, Tibet's is on the north, and can be reached by vehicle, making it much more accessible yet rarely visited. Also unlike Nepal, Base Camp (5,150m) rewards visitors with panoramic views of Everest itself; the killer, snow-blanketed peak is tantalisingly close. Spring and autumn offer the clearest views.
Spirituality
Despite being oppressed by the Chinese government, Tibetan Buddhism underpins just about every aspect of life in this Himalayan nation. Mantras and meditations, rituals and celebrations and the belief in the long-exiled Dalai Lama are key to Tibetan life, as are the associated prayer wheels and flags. Pilgrimages are deeply important too – and some treks here follow ancient spiritual routes.
Potala Palace
This UNESCO site was the winter palace of the Dalai Lamas, dating back to the 7th century. And what a place they chose to inhabit. Overseeing the city of Lhasa on a steep hilltop, the striking red and white palaces stand out against a dramatic Himalayan backdrop. These massive rammed earth and stone walls contain 1,000 rooms and 698 murals, but you're only allowed an hour inside – do your research and get on it!
Trekking
This is big Himalaya country, and the highest region on earth – the routes here are every bit as spectacular as you would imagine. Craggy, snow-blanketed, 8,000m+ peaks provide a constantly jaw-dropping background as you follow ancient pilgrimage trails along ridges, over passes and through glacial boulder fields. Pass monasteries and nunneries, and spend star-spangled nights in simple herders' camps.
Dalai Lama pictures
Along with the Tibetan flag and national anthem, pictures of the Dalai Lama are banned in Tibet, along with any of his teachings. Travellers have reported having Lonely Planet travel guides banned as they reference the Dalai Lama and political situation – and that Dalai Lama tattoo? Don't even think about it.
Rushing
The Tibetans are not lazy, they are laid-back – they are also used to their roads quite often being in a bit of a bad way, or simply blocked momentarily as two bus drivers up ahead have a chat. It's just the way it is. Expect a longer trip time than you're told and take it all in your stride as part of the adventure. Slowing down will also help you combat altitude sickness, in Lhasa and on mountain treks.
Yak butter tea
Some describe this salty drink as a warming cup of velvety-smooth loveliness, others as 'like thin, mouldy cheese with a bit of tea in it'. It's clearly an acquired taste, but one you must experience to be truly Tibetan – they drink up to 30 cups daily. Try the sweet milk tea as a slightly more palatable alternative.
Independent travel
While it was once possible to travel independently in Tibet, this is no longer the case. All tours much be arranged through a travel agent, who will also be able to acquire your Tibet entry permit and other paperwork, with the exception of your visa. While you can choose between a small group and private tour, your itinerary must be planned in advance and you'll need to travel with a driver in a private vehicle.
Our top Tibet Holiday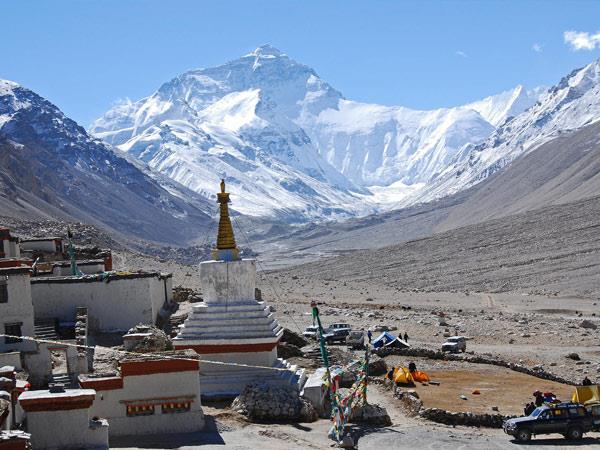 Surrealistic beauty of Mount Everest and Namtso Lake
From
US $1400
10 days
ex flights
Small group travel:
2023: 1 Oct
If you'd like to chat about Tibet or need help finding a holiday to suit you we're very happy to help.

Eating & drinking in Tibet
Tibetan food is influenced by the harsh, high altitude environment and the tough lives of its hardy people. Expect stodgy staples – and scarce veg. Tsampa is eaten at most meals – rice pounded to a thick paste.

Mutton, yak meat and beef are boiled with spices and ginger as a chewy source of protein.

Momos are tasty, gyoza-style steamed
dumplings that contain vegetables with either tofu or beef. Every family will have their own favourite recipe.

One of Tibet's biggest festivals is Shoton – which means 'sour milk banquet'. It celebrates the act of consuming yogurt, on the journey down from the mountains and in the streets.

PEOPLE & CULTURE
Within Tibet, there are around 6 million Tibetans – and around 7.5 million Han Chinese. Almost all Tibetans are deeply Buddhist and follow the teachings of the Dalai Lama; the religion affects many aspects of daily life. The main language is Tibetan, which is more closely related to the languages of Burma and Bhutan than to Chinese. Tibetan has up to 220 local dialects, spoken across China, Bhutan, Nepal, India and Pakistan.
My name is… = ngey ming-la … re
Monastery = gon-pa
Monk = da-pa
Thank you = thu-je-che
Gifts & shopping
Thangkas are traditional paintings on cloth which are framed in silk. They are exquisite, colourful, and may depict spiritual and religious imagery such as mandalas, the wheel of life, animals or Buddha. These are not cheap, due to the extraordinary skill – and many months – that go into creating them.

Handwoven wool or yak's hair rugs are not as difficult to transport as they may sound. They tend to be small, designed for use in temples, and can be used as wall hangings or cushion covers.

Jewellery may be made from gold, silver and copper as well as bamboo, yak bone and turquoise. Many items of jewellery and other ornaments will have Sanskrit inscriptions.

Five of Asia's largest rivers originate in Tibet, which is known as the 'third pole'. After the north and south poles, it contains the greatest amount of glacially stored water on the planet.

How much does it cost?
Entry to Potala Palace: £23, or £46 in high season (May-Oct)
Meal in a good restaurant in Lhasa: £6-8
Chinese visa: £90 - £140 for travellers from Europe and North America
Be aware that coins are not usually accepted in Tibet, nor are credit cards outside of the larger cities. You'll need to use Yuan notes.
A brief history of Tibet
A high altitude plateau sitting on the roof of the world between the great civilisations of India and China, Tibet's human history stretches back many thousands of years. The specifics, however, are somewhat blurred by the mythology – which describes the first Tibetan King, Nyatri Tsenpo, as having descended from a one footed creature called the Theurang somewhere between 100 and 400 BCE. Nyatri Tsenpo had a ghastly, monster-like appearance which resulted in his exile to Tibet. Here, his grotesque features and webbed fingers resulted in awe, and he was crowned king. It was believed that Tibetan kings had a
dmu
cord which connected them directly with the heavens.
Read more