"They call the mountain the stairway to heaven. Walking around it is one of the most amazing things I've ever done." Jane Westwood, Head of Operations at our trekking specialists Wild Frontiers Travel, recommends you visit Tibet. "I went there in 2013 to see the stunning scenery at the roof of the world, and I completed the Mount Kailash kora while I was there."

When it comes to trekking, Tibet needs no introduction. Serene, beautiful, rooted in tradition and spirituality, and tipped with some of the tallest mountains on the planet, it offers just the right amount of challenge for regular trekkers. You don't want to come unprepared, but if you're comfortable hill-walking then you won't have any great difficulty here. Tibet is also home to Mount Everest. Although most ascents begin on the Nepalese side, short hikes up to the north face Base Camp from either Rongbuk Monastery or, further, from Tingri, are a highlight of many tours. But that's just one option available to you.
The Mount Kailash Kora trek
Mount Kailash is Asia's holiest mountain, venerated not only in Buddhism but also the Hindu, Jain and Bon religions. Bon followers go anticlockwise, everyone else goes clockwise. So far as is known, no-one has ever reached the mountain's summit, and attempting to do so now is forbidden – it is said that it is the stairway to heaven. Four rivers flow from the slopes of Mount Kailash: the Karnali, going south and eventually reaching the Ganges; the Sutlej flowing west; the Indus north; and to the east the Brahmaputra.
This is one of the great pilgrimage walks and it is believed that to circumnavigate the mountain just once will erase the sins of a lifetime. To complete 108 circuits guarantees nirvana. Some extremely devout and determined pilgrims attempt to complete the 53km circuit in a single day, while others prostrate themselves all the way round, a journey that takes weeks. Many of those trekking alongside you will already have walked for hundreds of kilometres just to get there.
To tackle the Mount Kailash Kora you need to negotiate a pass at 5,650m, but for the most part it is a straightforward and relatively forgiving route. From a village called Darchen you cross a plain, then walk up a wide river valley before reaching the Drölma-la pass. From there it's down another river valley and back across the plain to Darchen again and the finish line.
"It's very peaceful," says Jane Westwood. "Everyone chats on the way, and there are various resting points, but it's a sin to set foot on the slopes. Westerners typically complete it over two days, stopping overnight, but the locals will often start at 3am and finish in the evening. We use yaks to carry everything so you just need a day pack, and we build up to it first with lots of short walks. So it's very manageable if you're a regular walker."
How fit do I need to be?
The Kora is tough-going in places, but very manageable so long as you're prepared. Even if you're a regular walker at home, a few long-distance hikes, at as high an altitude as you can find, are recommended. Tibet trekking holidays that include the Kora will often only reach the mountain halfway through the itinerary, building up to it with several short, scenic walks. Lhasa is at 3,700m and you will usually get much higher. You'll only need to carry a day pack – your overnight bag will usually be transported by the yaks being led around with you by their handlers. After the Kora, it's possible you'll pop over to some nearby hot springs. There are no rituals involved; it's just a great way to soothe your muscles alongside the locals having a bath.
Practicalities
Technically you can trek in Tibet through the winter. Technically. Probably you'll want to stick to the main trekking season, which spans April through to November. Spring and autumn are generally regarded as the best times for walking in Tibet, for the wildflowers, and to dodge the summer rains and winter snows.
The main Mount Kailash trekking season is between mid-May and mid-October, but tours usually run in August, by which time there should be little if any snow on the Drölma-la pass. Trip lengths vary, but one that encompasses the Kora might last for three weeks, staying in a succession of locally owned guest houses.

Despite its remoteness, or perhaps because of it, Tibet is one of the world's most desirable trekking destinations. On popular routes in peak season you will encounter bottlenecks, and sadly a lot of litter. Responsible trekking means ensuring you carry your waste with you, respect local customs, and handle delays gracefully. Oh, and if you do get caught short before you can reach a loo, carrying a little shovel to dig a hole is much appreciated.
Our top Tibet Holiday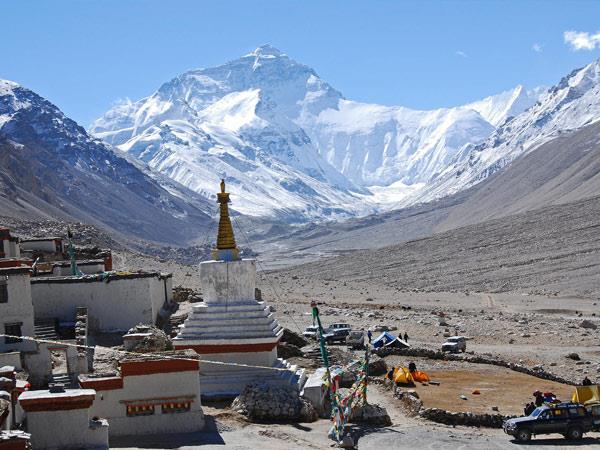 Surrealistic beauty of Mount Everest and Namtso Lake
From
US $1200

to

US $1400
10 days
ex flights
Small group travel:
2023: 11 Jun, 22 Jun, 9 Jul, 16 Jul, 1 Oct, 15 Oct, 24 Dec
2024: 30 Sep
If you'd like to chat about Tibet or need help finding a holiday to suit you we're very happy to help.

Travelling in Xinjiang
Some tours end in Kashgar, once an important oasis city on the ancient Silk Road. You can visit the largest mosque in China here, which holds 20,000 worshipers, and a popular livestock market where people descend from the hills to barter their wares. Kashgar is in the Xinjiang province, which at the time of writing is under international scrutiny as up to a million Uyghur Muslims are being held in extremely controversial 're-education' camps, the latest development in a complex political situation.
"You have to be really careful as it's western China, and this is a very sensitive topic" Jane Westwood from Wild Frontiers explains. "We have lunch with some local Uyghur people, to support them. We also stay in local guest houses owned by Tibetans as opposed to Chinese. The Tibet infrastructure has been built up but it's certainly not all positive. People need to make up their own mind about whether to travel." There may also be travel delays at times due to checkpoints.