Put very simply, China says Tibet has officially been part of the Chinese nation since the mid-13th century and so should continue to be ruled by Beijing. Ever since the Chinese Army marched into Tibetan territory in 1949 attempting to conquer it, there has been tension between the Chinese communist authorities and the Buddhist population of Tibet. China has closed 99 per cent of Tibet's monasteries, jailed thousands of monks, banned all images and teachings of their spiritual leader – the Dalai Lama – and significant efforts have been made to supplant the Dalai Lama with a communist-approved alternative. Relations are strained to say the least, so much so that in 2010, the Dalai Lama himself accused China of attempting to "deliberately annihilate Buddhism".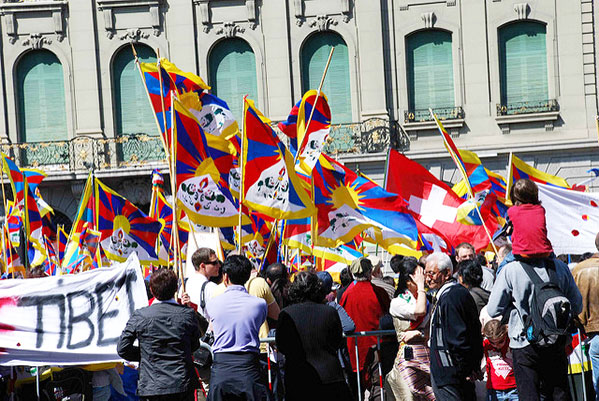 Sadly, the religious consequences of China's need to occupy and exert power over Tibet are just one slice of a very long-running and brutal pie. Throughout decades of Chinese occupation in Tibet, over one million Tibetans have died as a direct result of conflict. This conflict has divided Tibet geographically too; the land claimed by Tibet would be the world's 10th largest nation, but parts of the original country have been renamed and incorporated into Chinese provinces, hence Tibet's current identity: Tibet Autonomous Region, or TAR.
It's not just China that feels this way; former US president Barack Obama met with the Dalai Lama and urged China to support human rights in Tibet – but insisted he
did not recognise Tibet's independence
. The UK was previously the only country in the world not to recognise Chinese sovereignty over Tibet, but in 2008 the then foreign minister, David Miliband, reviewed this opinion, to Tibet's disappointment. Former Prime Minister, David Cameron subsequently reiterated that the UK government
officially recognises China's sovereignty over Tibet
, despite meetings with the Dalai Lama. China strongly opposes any meetings between the Dalai Lama and foreign governments.
Unsurprisingly, then, that Tibet has been repeatedly named as one of the 12 most repressed countries in the world by independent watchdog
Freedom House
, scoring the lowest possible marks for freedom in both political rights and civil liberties. There are now more Han Chinese people in Tibet than ethnic Tibetans – who are a minority in their own country. Free education provided by the Chinese government has supplanted traditional monastery schooling, Mandarin is taught in nursery schools and unrest is growing; over 100 Tibetan monks have self immolated in protest since 2011.
Understandably, Tibetans see nothing but negative impact from the Chinese and have accused them of suppressing their culture, their freedom of expression and their right to worship whom they want to worship. The communist authorities disagree, with Chinese leaders pointing out – through the example of major infrastructure projects such as the railway linking Lhasa to Qinghai province – that Tibet is much wealthier under Beijing's rule than it would otherwise have been and there is a significant growth of industry in the region.
The Chinese are a determined people and, in many ways, they should be commended for that, but what it seems they've failed to recognise since the 1950s is that traditional Tibetans are unconcerned with commerce and cash. They are a conservative and contemplative people who want the freedom to determine their own futures and who believe in human rights for all – they simply want to be free.
Read more about China's occupation of Tibet and Tibet's ongoing struggle via
Free Tibet
.
What you can do
It seems, particularly where the Chinese are concerned, that this isn't a case of what you can do, but rather what you can't. As Westerners, we simply cannot expect to have a completely accurate take on the mindset of the Chinese and the reasons for their actions, which isn't to say we have to agree, or even understand, but is to say that storming in with our opinions would likely cause more damage to an already vulnerable situation.
Knowledge is power here, so if you want to understand Tibet's plight further and learn how you can help, your first port of call should be
Free Tibet
, an organisation with a whole host of ongoing campaigns aimed at spreading the word about Tibet and securing the rights of its people. Secondly, visit Tibet – it's a beautiful and mysterious country with so much culture to share and any support it receives by way of tourism will only ever be a good thing.