TOUR DE FRANCE HOLIDAYS GUIDE
First things first, a col is the highest road dividing two mountain peaks. Secondly, a peloton is the main cluster of cyclists in a road bike race. Finally, a Tour de France holiday is tough, very tough. However, with the right fitness training, hill climbing practise and small group tour operator, you'll be able to ascend l'Alpe d'Huez, conquer Col de la Bonette and take your place at a key stage viewing area as you prepare to witness one of the world's greatest sporting spectacles.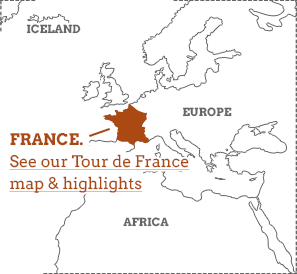 Les Alpes et les Pyrénées; Galibier et Tourmalet; Danser même en haut; le peloton est regroupé; camarades et amitié; Tour de France, Tour de France.

Tackling the hairpins, gradients and cols of the Tour can be undertaken outside of July, when the race takes place, although, it has to be said, there's nothing quite so thrilling as climbing Port de Bales, for example, just a few hours before the pros pedal past. The first flash of maillot jaune, taste of tartiflette des Pyrénées; your peloton, your leader, your bike; Tour de France, Tour de France.

Find out more in our Tour de France holidays travel guide.
Our Tour de France Holidays
WHAT DOES A TOUR DE FRANCE HOLIDAY ENTAIL?
A Tour de France holiday will suit keen amateur and club cyclists who are fit and up for a challenge, although, nine times out of ten, it can be mind over matter to conquer cols, alongside a positive 'marathon not a sprint' mentality. Average daily distances are over 100km, often with an elevation gain of over 3km, and you'll be cycling every day to ensure you get to experience as much of the actual course as possible. Joining a small group (sometimes as small as seven cyclists) means you will be accompanied by an expert group leader and a support vehicle which give you every chance to enjoy the ride without feeling like you might be heading in the wrong direction. Bikes can be rented for an additional fee and tours include bike fittings, mechanical assistance, coaching support, tour maps and pre-tour training advice. Support vehicles carry your bags and food, and you can always hop in if the cols get the better of you.
Cols such as Col de la Colombière, Col de la Madeleine, Col du Glandon, Alpe d'Huez, Col du Galibier, Col d'Izoard and Mt Ventoux, for example, which could all feature over the course of an eight day itinerary. Completing cols just a few hours before the riders themselves whizz by is an incredibly exciting experience and a typical itinerary will include at least a couple of live stages before cycling back to base after the last rider has completed. When watching the race you'll be able to take advantage of access to tented viewing areas at key stages where chilled drinks and grilled grub add to the festival atmosphere, and a TV screen lets you embrace the action before watching the peloton pass before your very eyes. Accommodation is chosen for character and proximity to the start of each day's ride with chances to visit Andorra or Saint-Étienne combining with visits to out of the way villages, such as Bagnères-de-Luchon, Saint-Lary-Soulan and Argelès-Gazost, all of which offer a glimpse at life outside of the winter season as well as some darn fine food to enjoy after a solid day's cycling.
Andy Ross, from our leading supplier of Tour de France holidays, Exodus:
"A Tour de France holiday involves finding out just how tough some of the mountains can be. It also puts into perspective just how fit the pros are."
Our top Tour de France Holiday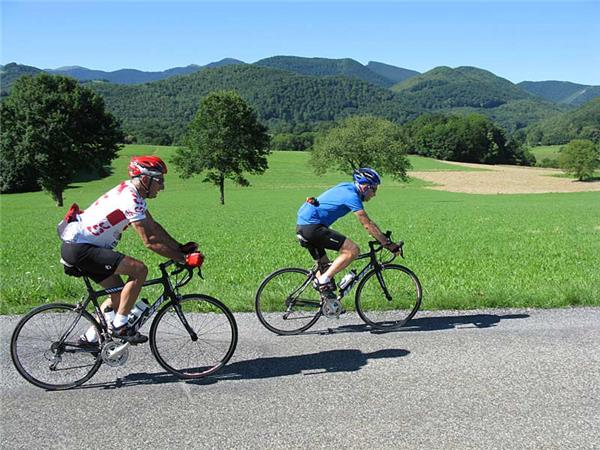 A unique cycling tour of the Pyrenees
From
£1469

to

£1599
8 days
inc UK flights
Small group travel:
2019: 22 Jun, 10 Aug, 31 Aug, 14 Sep, 22 Sep
2020: 20 Jun, 11 Jul, 8 Aug, 29 Aug, 12 Sep, 20 Sep
If you'd like to chat about Tour de France or need help finding a holiday to suit you we're very happy to help.
What do the jerseys of the Tour de France mean?
Yellow (maillot jaune): Worn throughout the race by the fastest overall race leader at the time. This is presented at the end of each day/stage and worn for the entirety of the following day/stage.

Green (maillot vert): Awarded to the rider with the most sprint points at the end of the entire event. Sprint points are given at the end of each stage as well as during the stage at mini-sprint sections.

White with red polka dots (maillot à pois rouges): This jersey goes to the 'king of the mountain' at the end of the entire event i.e. the rider that accumulates the most points by reaching the most summits first; the steeper the climb the higher the points.

White (maillot blanc): Awarded to the best performing riders in the under-26 category. The same calculations to determine the yellow jersey are used to work out who wears the white jersey at the end of each day/stage.
BEST TIME TO GO ON A
TOUR DE FRANCE HOLIDAY

Although July and August tend to be dry, the higher you climb the colder it gets with mountain breezes cooling down sweaty clothing no sooner than you've stopped for a rest.

The cycling season runs from mid-April to mid-Sept, but if you're super keen on watching the actual race then July is the best time to go on a Tour de France holiday. If you'd rather experience the cols without the chaos and the prices without the inflation, opt for Sept instead as temperatures and crowds are less full on. Weather in the Alps and the Pyrenees can be dramatic during the summer months, especially as atmospheric pressure builds in mid-afternoon, so set off early to avoid the midday heat and the chance of a flash storm after lunch.
Tour de France Weather Chart
More about Tour de France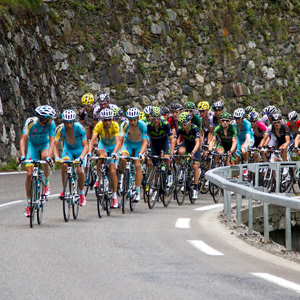 If you're looking for the best time to go on a Tour de France holiday to witness the race first-hand then July is the only month of the year that you need to circle on your cycling calendar.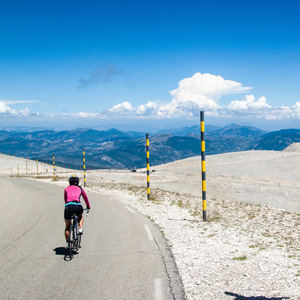 The beast, the giant, call it what you will; the ascent of Mont Ventoux has been firmly cemented in cycling lore.
Convert currencies