Tour de France MAP & HIGHLIGHTS
Tour de France holidays feature many of the race's classic cols, often working north from Col de la Lombarde (2,350m) on the Italian/French border to Col de la Bonnette (2,715m – the highest col in Europe) to Col de Vars (2,108m) and onwards to Col d'Izoard (2,361m), before tackling Col du Galibier (2,642m) and then the 21 hairpins leading up the Alpe d'Huez (1,860m). Although the actual Tour de France route changes every year it always leads through the Pyrenees and the Alps before the grandstand finish on the Champs-Élysées. Going on an organised tour is the best way to watch from tented race viewing areas as well as cycling key sections just hours prior to the peloton passing.
Our Tour de France Holidays
1. l'Alpe d'Huez
2. Col de la Bonette
3. Col du Galibier
4. Col du Tourmalet
5. Mont Ventoux
6. Pas de Peyrol

1. l'Alpe d'Huez
As any scene of great drama and captivating climax, l'Alpe d'Huez's impact on the Tour de France is akin to a Hollywood production with spectators camping out in their thousands just to snatch a slice of the cycle to the summit action at 1,860m above sea level. Preceded by 21 hairpins, every one named after an Alpe d'Huez stage winner, this isn't one for the purists but it's certainly lots of fun in the sun.
2. Col de la Bonette
The continent's highest col, close to the Italian border, presents cyclists with an intensely scenic circle around the Cime de la Bonette as well as the highest point reached within the Tour de France. Conquering the Col de la Bonette, after a 26km climb from Saint Etienne, is a real achievement and worth celebrating in the town of Barcelonnette in the Ubaye valley below.
3. Col du Galibier
A 37km ascent from Briancoon is definitely worth an extra portion of carb-loading tartiflette the night before cycling Col du Galibier, just as much as a celebratory snifter of schnapps or six upon completing the endless freewheeling descent into the Maurienne Valley, once on the other side. Pay your respects or curse the memorial to Tour founder, Henri Desgranges, upon reaching the top.
4. Col du Tourmalet
Ever since its inclusion within the Tour in 1910, no other mountain pass has been climbed more than Col du Tourmalet with the 2,115m elevation making it not only the highest paved path in the entire French Pyrenees but also the most popular for cyclists. Coffee and shimmering silver statues at the summit of the mythical mountain make the views from the top all the more memorable.
5. Mont Ventoux
The Beast, the Giant, the bald head that sits unprotected from the unforgiving mistral wind; Mont Ventoux is a Tour de France legend and one of the circuit's most punishing climbs. The shrine to Tom Simpson casts a chill at the summit but sensible cyclists know that slow and steady wins the race so follow in the tyre treads of heroes as you attempt an infamous ascent to tell the grandkids about.
6. Pas de Peyrol
Considered the main climb in the Massif Central, Pas de Peyrol, also known as Puy Mary, is peppered with volcanic points of interest over the course of 12km as well as a welcoming chalet restaurant from where to rest and refuel at 1,580m. Used within the Tour de France as recently as 2016, Pas de Peyrol is a great climb, with views over the Chaîne des Puys providing ample reward for cycling to the summit.
Our top Tour de France Holiday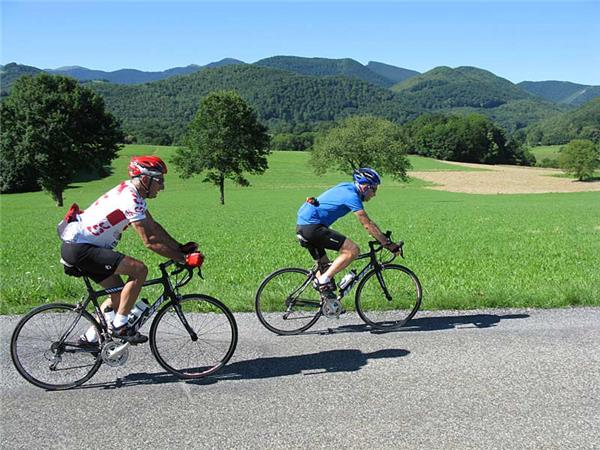 A unique cycling tour of the Pyrenees
From
£1399

to

£1579
8 days
inc UK flights
Small group travel:
2019: 22 Jun, 13 Jul, 10 Aug, 31 Aug, 14 Sep, 22 Sep
2020: 20 Jun, 11 Jul, 8 Aug, 29 Aug, 12 Sep, 20 Sep
If you'd like to chat about Tour de France or need help finding a holiday to suit you we're very happy to help.
Things to do on a
Tour de France holiday
Things to do on a Tour de France holiday...
The Alps and Pyrenees offer stunning landscapes from where to witness sections of the Tour de France each July, all the more thrilling if you've cycled the very same route just a few hours before. From the razzmatazz of the ride to the thrill of cheering a summit finish, Tour de France holidays present a unique opportunity to say 'I was there' as well as enjoying the party atmosphere after achieving your own grandstand finish.
Cycling the classic cols and celebrated sections of the Tour de France is about as authentic a European cycling experience as you can hope to imagine, with a group leader showing the way out in front and a back up vehicle carrying the luggage at the rear. Cycling as part of a small group lets you embrace the camaraderie and witness 'once only' moments as part of a team with the added security and the social side both playing their part in a Tour you'll never forget.
From gratin dauphinois and cassoulet to fondue and raclette, there's much to appreciate about riding in and around the Rhône-Alpes with many a mountain tavern tempting one too many portions prior to hitting the hay in time for an early start. Appreciate the Alps and the Pyrenees not just for the hairpins and ascents but for the food, the hospitality and the gorgeous landscapes that definitely deserve a few moments respect on foot or at least whilst comfortably out of the saddle.
Things not to do on a Tour de France holiday…
Although the sight of all those hills and all that Lycra can turn some cyclists to jelly and others into iron, not being prepared is a big mistake. This is not an experience to take too lightly, and with the right training and a certain amount of understanding as to what lies ahead, you'll be much better prepared for every eventuality rather than simply thinking that this is going to be your average pootle around the park.
We've all seen 'Le Gentleman Wiggins' wiggling his way to le maillot jaune with that steely look of determination in his glare and go-faster stripes in his sideburns, but if you're thinking of cultivating your very own 'race face' perhaps a Tour de France holiday isn't the best place to start. Cycling as part of a small group means you'll be part of a team so don't go sprinting off, even if you're fit enough; be sociable, make friends, enjoy the scenery and, most of all, relax – you're on holiday.
Your tour leader, the team in the support vehicle and those who've cycled sections of the Tour de France route before will all tell you: ignoring health and safety advice is an absolute no no. Wearing a helmet, applying sun screen, perfecting pace and taking food and fluids are all top tips for cycling in general let alone when you're undertaking some of the most significant climbs in Europe. Pride and pedals don't mix. Listen and learn and you'll get much more out of it.
TOUR DE FRANCE HOLIDAYS TRAVEL ADVICE
Andy Ross, from our cycling holiday experts Exodus, shares his top tips for Tour de France holidays:
Watching the Tour de France
"If you want to see a stage then it can be best to stay some distance from the route and ride in and out each day. A high mountain pass towards the end of a stage is the best place to watch as riders are likely to be quite spread out so the action lasts for a lot longer than on a flat stage where 200 riders whizz past in the space of 10 seconds! Going to a stage start can also be really enjoyable as you see the riders and team cars all mingling around and can watch the riders signing on etc."
Advice on training
"The lighter and leaner you are, and the more you practise hill climbs at home, the more prepared you'll be for the cols of the Tour de France. Start to train about six months before your holiday using a fitness plan that's been specifically designed to improve your cycling performance, and follow the hill climbing advice below to advance techniques and avoid exhaustion."
Hill climbing advice for cyclists
Although it's tempting to tackle a 6 percent gradient in a high gear at home, in the Alps and Pyrenees, where gradients can continue over 20km, clicking into a lower gear than you might normally use will ensure you're not wasting energy as you climb. Pacing yourself is another key component of improving hill climbing although sometimes it's just a case of grinning and bearing it, especially when undertaking steep gradients or lengthier distances.

Eat and drink little and often when you're cycling on the Tour de France routes and try to do so when you're on a flattish section or cycling downhill so you can prepare your body for whatever climb might be waiting around the next bend.

Listen to your group leader as they'll have cycled the route before and they'll know when and where you'll need to make the most of fuel reserves, and which gear is best suited for which climb.
More about Tour de France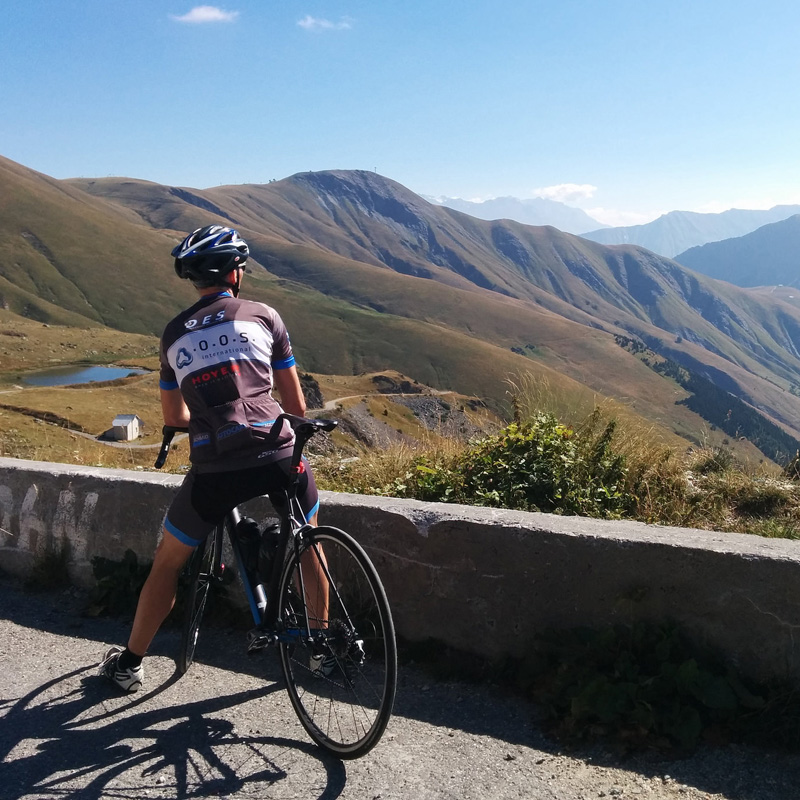 The French Alps and the Pyrenees provide the perfect platform for cyclists looking for a challenge and there's nothing more thrilling than a Tour de France holiday to aid cyclists in their quest to emulate the kings of the cols.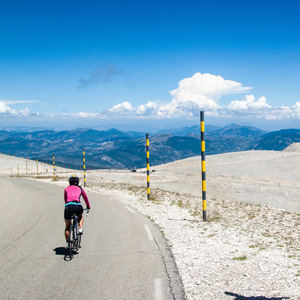 The beast, the giant, call it what you will; the ascent of Mont Ventoux has been firmly cemented in cycling lore.
Convert currencies