Responsible tourism in the United Arab Emirates
Superlatives abound in the United Arab Emirates. Here you can take a lift to the top of the world's tallest building, and run some quick sums to see what kind of yacht you can afford while wandering around the world's largest manmade marina. You can take a spin on the world's largest Ferris wheel, take in the air at the world's largest natural flower garden, take a deep breath when turning over the price tags at the world's biggest shopping mall.
One area that the UAE doesn't excel in, however, is sustainability. The fact the UAE is scheduled to host the 
United Nations Climate Change Conference in 2023
is a joke that's not very funny, given the bulk of the country's fortunes comes from the export of petrochemicals which are literally driving the climate crisis. It could be argued that, like the 'sports-washing' engaged in by neighbouring Saudi Arabia, hosting the conference is the UAE's way of cleaning up its image and reassuring tourists that it's okay to travel here. And it is okay to travel here, but it's important to travel well.
People & culture in the United Arab Emirates
Human rights in the United Arab Emirates
It's hard to square popular images of cities such as Abu Dhabi and Dubai – the ultra-modern hotels, immense shopping malls, supercars and 'influencer' lifestyle – with the fact that stoning and flogging are accepted forms of punishment under Sharia law in the United Arab Emirates for 'crimes' such as homosexual relationships, adultery, premarital sex or drinking alcohol.
Freedom of expression, especially criticism of the country's rulers, is strictly repressed in the UAE, and any form of political dissent is swiftly crushed. Emirati citizens, along with foreign workers, are routinely spied on and can disappear into prisons on spurious charges for years. Supposed 
legal reforms in 2021
did little in the way of actual reforming.
One of the clearest examples of abuse is when it comes to labour. There are different tiers of inequality in the UAE. Emirati citizens, tourists and wealthy Western expatriate workers are treated far better than the workers from poorer countries who make up the vast majority (up to 90 percent) of the UAE's workforce.
Menial jobs are often spurned by Emirati citizens, more than 80 percent of whom work for the government – though women can only do so with the permission of an adult guardian, usually their father. But this kind of work is highly sought-after by people from much poorer countries, because even a very low wage in the UAE can make for a very good living back home. It's not unusual for workers to stay in the UAE for years at a time, sending money back to families they see only on their phone screens. Long hours, arduous conditions and cramped living conditions are common, and naturally all of this can lead to mental health issues – the 
suicide rate among migrant workers
is staggering.
A big part of the problem is the
kafala
system that requires all workers coming to the UAE to have an in-country sponsor. People will often be in debt before they even arrive in the country as they have to pay large sums to recruitment companies. Many workers have alleged that their passports were confiscated on arrival to prevent them leaving before their contract ends, as well as difficulties in changing jobs.
The failings of the UAE system of labour were laid bare during the Covid 19 pandemic. As the economy contracted, many workers lost their jobs. With some countries reluctant to repatriate their citizens due to fears of infection, hundreds of people were left homeless and
reliant on charities
.
Campaigning and bringing these issues to light has brought change. Steps have been taken to protect workers' rights such as by making employment contracts more transparent and making it easier to change jobs. And things are certainly much better than they were in the early 2000s. But the
kafala
system still allows for exploitation and abuses of workers' rights.
Preserving cultural heritage in the United Arab Emirates
When far and away the most common images people abroad have of your country is of towering skyscrapers, artificial islands and an uneasy balance between luxury consumerism and strict religious principles, it's understandable that the UAE authorities want visitors to learn a little about the culture, and what it's like to actually live here. That's why a popular activity on responsible holidays in the UAE is a shared lunch at the Sheikh Mohammed Centre for Cultural Understanding in Dubai, where your hosts can answer questions you have about life in the emirates, customs and etiquette.
The 
Heart of Sharjah
is a huge, 15-year preservation project that is aiming to revitalise the city's heritage district by restoring many old buildings and giving them new, modern functions from restaurants to tea houses, hotels, museums and art galleries. The intention is for the revamp of this walkable neighbourhood to recreate the feel of Sharjah in the 1950s while appealing to contemporary travellers and residents.
Other ways that you can explore the UAE's cultural heritage include taking a tour of the world's largest
dhow
-building yard in the emirate of Ajman, shopping for handmade souvenirs and gifts in the
souks
, or cooling off among the oases of Al Ain, named UNESCO World Heritage Sites for their ancient irrigation system that carries water around underground. Visiting these places either contributes funding through entrance fees, or encourages their preservation by showing their appeal for tourism.
What you can do
Travel with an open mind and try to drop any pre-conceived ideas you may have about places such as Dubai. Yes, the rampant materialism on display can be off-putting, but there are many different sides to the culture of Dubai, and the wider UAE, than those that drive the social media clicks.
Be extremely wary of opening conversation about human rights with anyone you meet in the UAE. You risk getting yourself, and other people, into trouble. And if someone else broaches the topic with you, you may be better off sticking into generalities unless you can be certain of the motivations behind the conversation.
When you holiday in the UAE you will regularly encounter migrant workers who will likely be putting in long hours for low pay, much of which they will need to send home for their families. These are the people cleaning your hotel room, checking the chemical levels in the swimming pool, washing up after your meals and pruning the resort's gardens. Treat everyone you meet with respect and friendliness. And make sure you tip well.
Wildlife & environment in the United Arab Emirates
Wildlife conservation in the United Arab Emirates
Dubai's 'Dolphinarium' bills itself as the Ultimate Dolphin Experience. We'd disagree. These beautiful and intelligent animals should be seen where they belong, in the wild and free, not jumping through hoops and, along with captive seals, posing for photos.
Unpleasant as it is however, the dolphinarium is something of an anomaly. In fact the UAE has a number of excellent nature reserves and wildlife sanctuaries that travellers can visit, their work often partly funded by the proceeds of tourism.
Sir Bani Yas is an arid, natural island off the coast of Abu Dhabi, and dominated by the Arabian Wildlife Park which was created by the first President of the UAE, Sheikh Zayed, as part of an ambitious plan to 'green the desert'. Decades of conservation have resulted in habitat for several thousand large animals from Arabian oryx to Somali ostriches, gazelles, and predators including cheetahs and striped hyenas. Ten out of ten for achieving some ambitious results, but the execution leaves a lot to be desired. Greening a desert requires planting millions of trees, which in turn requires
vast, vast amounts of desalinated water
. That water is pumped all around the island from the coast using a sprawling network of plastic pipes – and the system is powered by fossil fuels.
The unfenced Al Marmoom Desert Conservation Reserve comprises some 10 percent of the entire emirate of Dubai, spanning shrub land and manmade lakes to provide habitat for many species of bird, several of them endangered. Great flocks of flamingos can be found here, as well as rare Egyptian nightjars. Camping and picnicking are controlled here, due to problems with waste in the past. Dubai has another prestigious wetland reserve in the Ras Al Khor Wildlife Sanctuary (RAKWS) where species include pink-beaked flamingos, reef herons, kingfishers and black-tailed godwits.
Is it okay to visit the Palm Islands?
The Palm Islands are three artificial islands constructed just off the coast of Dubai, designed for tourism and prestigious real estate. The idea is that Deira alone (now rebranded as Dubai Islands) would accommodate some 80 hotels.

So far, however, the reality of the Palm Islands project has not lived up to the vision. As of 2022 the only island to have been significantly developed is Palm Jumeirah, while Deira and Palm Jebel Ali have been hit by delays including the 2007-2008 global financial crisis. Similar problems have been beset another artificial archipelago, known as the World. Still, vast amounts of sand have been dredged up to create these islands, and around 5.5 million cubic metres of rock were quarried with an astronomical carbon footprint.

While you may not be staying on the islands, we'd advise against tours to explore them, simply because they lend legitimacy to a project that is about as unsustainable as it's possible to get.
How do the Palm Islands affect the environment?
The architectural achievement of the Palm Islands is up for debate, but what isn't, is that they are a tragedy for the marine environment.

The case against the Palm Islands is pretty appalling. They have eroded the natural coastline. Coral reefs and fields of sea grass have been smothered, destroying habitat for sea life. Wave patterns have been disrupted by the breakwaters constructed to protect the islands and waters clouded with silt after sand had been dredged and re-deposited meant less light filtering down to vegetation on the seabed.

But the state-owned developer, Nakheel Properties, takes a different view, saying they've gone to significant lengths to 'green up' the islands' operations. They claim an exhaustive study was done before the first grain of sand was dug up, showing that 95 percent of the development would fall on bare seabed. The communities on the islands will be almost car-free and connect to the mainland by monorail. Water quality is closely monitored and said to be better than anywhere else in Dubai. And the artificial breakwater, made from rocks the size of cars, has created new habitat for many marine species including sponges and barnacles.

All of which is for nought, because there was absolutely no need to build this titanic vanity project in the first place other than 'we can, so why not?'

What you can do
There are plenty of tourist attractions and activities in the UAE that aren't appalling for the environment or wildlife. You can take a cruise along the Dubai Creek or off the coast aboard a traditional sail-powered dhow, take an amazing sunrise hot air balloon flight above the desert, or watch a Bedouin falconry display, for instance.

And rather than watching as trained dolphins jump through hoops before being returned to their enclosures, see the UAE's wild animals where they should be: the wild, in some of the country's many reserves and sanctuaries.
How will climate change affect holidays in the United Arab Emirates?
"Climate change will significantly impact the United Arab Emirates," says Yousri Mohamed of our partner Surprise Tourism. "Already during summer the temperatures outside can easily reach fifty degrees, so that people rarely walk about in the daytime but stay in air conditioned buildings."

Tourism is a growing part of the UAE's economy as the country looks to diversify its economy, aware that the oil won't last forever. Ironically it's the world's addiction to that oil that is driving climate change, and bringing even hotter, drier weather to this desert country which will make holidays here a less-inviting prospect. And the oil pumps are still going strong: 3,500 barrels per day in 2022, up from 3,150 in 2021. Oh well.
Effects of climate change in UAE
Climate change will mean the UAE's tourist season becomes shorter, and hotter. While there is plenty to do that takes place in air-conditioned comfort, during the peak summer months from June to August far fewer people come here on holiday. It's just too hot. Daytime temperatures are usually in the high 40s°C and beyond, so spending time outdoors gets unbearable very quickly. The winter season, December to March, is already the most popular time to visit the UAE, and as temperatures gradually increase, the 'shoulder months' – September, October, November, April and May will start to become less appealing for tourists.

The Gulf area has a long coast, so it's inevitable that many areas will be damaged by rising sea levels. Beaches will be eroded, and scuba diving, a popular watersport in Dubai, will become less attractive as coral reefs become bleached out due to a warmer sea. Heritage areas along the coast, such as the historic districts around the Dubai Creek will also be at risk as the sea rises.
Resource exploitation in the United Arab Emirates
Climate change means that the cost of a holiday in the UAE will increase. The UAE ranks among the
highest users per capita of energy and water in the world
, which is hardly surprising given the desert environment. Public spaces are closely climate-controlled in the UAE. In fact if you spent your entire holiday walking round air-conditioned shopping malls, you could easily catch a chill. Already, air con is far and away 
the biggest drain on electricity supplies in the country
and that will only rise, bumping up the costs for hotels, restaurants, museums and other tourist facilities that then pass the cost on to visitors. Then there is food. Not a lot grows in the desert, and already the UAE is heavily reliant on imports. There will be an even greater need for them as a warmer and drier climate makes it harder for crops to survive, again raising the costs of meals for tourists.
Less rain than ever will fall in this already-parched country, which is reliant on desalination plants. Tourism is a huge driver of water consumption, whether it be for filling swimming pools, watering hotel grounds, or laundering towels and bedding. This is a desert country, where giant water parks and ski resorts feel utterly out of place, yet there they are. In future, hopefully tourists will give these water-hungry attractions a swerve. Whether they do or they don't, it may not be long before local people start questioning why they struggle for fresh drinking water when the slides seems to have plenty.
What you can do
Vote.
Vote for politicians that take the issue of climate change seriously
. The people of the UAE can't vote, but in democratic countries our voices can be heard.
You'll need air con whenever you travel to the UAE, but you may be able to turn it down. You can also
minimise your use of water
by taking shorter showers. Our responsible partners seek out accommodations in the UAE that are conscious of environmental concerns and seek to reduce their water and energy use.
Responsible tourism tips in the United Arab Emirates
Holidays to the United Arab Emirates are not all about high-end shopping, five-star dining and vulgar luxury. There are plenty of opportunities to have a more meaningful, rewarding cultural exchange here, whether that's exploring in the company of a local guide, sitting down with Emiratis for a traditional lunch at the Sheikh Mohammed Centre for Cultural Understanding in Dubai, staying in locally owned hotels, or chatting with stallholders in the souks. And the UAE is not all Dubai and Abu Dhabi either. The seven emirates are all close together and well-linked by road, so you can travel between them easily. The atmosphere in Al-Ain, Sharjah and Fujairah are a world apart from their better-known cousins, very laidback with relatively small-scale developments. Compared with other Gulf States the UAE is sometimes seen as relatively liberal, but this is definitely not a country where you want to fall foul of the law if you can help it. Be aware of and respectful towards local customs and laws, especially around alcohol, public displays of affection, and travelling as part of a same-sex couple. Dubai's Palm Islands are just the latest in a long line of environmental atrocities – hello gigantic water parks, dolphin shows and indoor ski resorts. Give these places a big swerve. Human rights, or the lack of them, are a sensitive subject as far as the UAE authorities are concerned. And of course, many Emiratis are happy with things just the way they are too. So unless they bring it up, it's best not to discuss the subject with local people in case you cause offence, or worry them that they might get into trouble. The UAE is one of the most water-starved countries in the world and that will only get worse as climate change starts to bite. Go easy on your water usage, and avoid tourist attractions that use massive quantities of fresh or desalinated water that could be used for better purposes. Dubai's huge Miracle Garden is an exception however, as it irrigates its flower beds at night using treated wastewater.
More about United Arab Emirates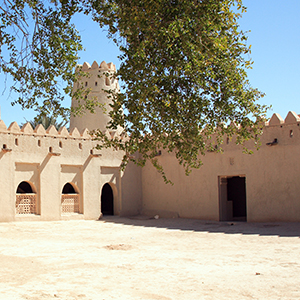 There's much more to the United Arab Emirates than just Dubai and Abu Dhabi, as our guide explains.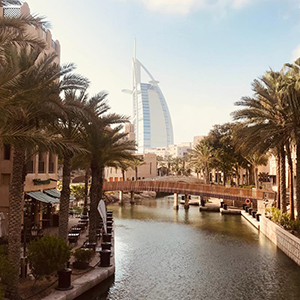 The best time to visit the United Arab Emirates is from October to April - the winter season.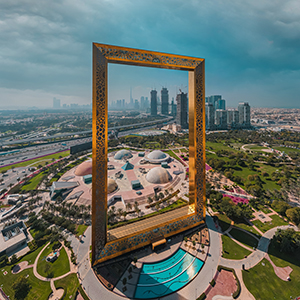 Our Dubai travel guide gives a new introduction to a city we feel has an undeserved reputation.