When to go to the United Arab Emirates

Don't visit the United Arab Emirates in summer. At least, not if you want to go outside and do stuff.

If you want to know when to visit the United Arab Emirates, the rule is very simple: don't go in summer. In July and August the daytime temperatures are routinely in the 40s°C and often clip 50°C. It's just far, far too hot to enjoy yourselves even on the coast, and you'll find yourselves confined, like the locals, to air-conditioned buildings that would feel hospitable to a penguin. It still gets hot in the winter season, which is from December to March, but the temperatures are far more manageable for outdoor activities. You can comfortably travel in the UAE between September and April, but always pack sensibly with light cotton clothing, sunglasses and wide-brimmed hats all recommended.
Best time to visit the United Arab Emirates month-by-month
Temperatures are milder in the UAE during January and February. Expect it to be around 20-24°C in the early afternoons, but bring a light sweater or jacket for the evenings when there can definitely be a chill in the air.

February also sees the Dubai International Jazz Festival take place, attracting artists and jazz enthusiasts from around the world.

March in the UAE gets warmer as summer approaches, and daytime temperatures can easily hit 30°C. By now, desert hikes are kept shorter, and city cultural tours will often get you into museums or restaurants for a few hours around midday.

Weather-wise, April is about the end of the UAE travel season. It will be hot and sunny – rain is very rare in the UAE during summer, and the sea is the perfect temperature for swimming. But you'll want to cover up and seek shade during the afternoons.

By May, temperatures are climbing and tourist numbers are falling. Midday temperatures will be in the high 30s°C, and local people who don't need to work outside will stick to air-conditioned buildings for the most part.
Don't visit the UAE in June, July or August unless you want to spend most of your holiday confined to cars, hotels and shopping centres. The heat is intense, even after nightfall, and many cultural attractions simply close up altogether for the summer.

September is still very hot in the UAE, on a par with May, but manageable if you want to come at a time when there are not too many other tourists around. Many places however, such as Dubai's Global Village, do not open until October when it starts getting a bit cooler.

November in the UAE is winter, and daytime temperatures are a generally pleasant 30°C or so. You'll get the odd cloudy day and (whisper it) you might even see a bit of rain. From late November into January, the Sheikh Fayed Heritage Festival in Abu Dhabi showcases various events that celebrate the cultural heritage of the UAE through music, dance and song performances – a great place to pick up traditional handicrafts such as woven rugs and baskets, musical instruments and pottery.

In December, the two-week Al Dhafra Festival takes place in Abu Dhabi, with markets, horse and camel races, falconry displays and folk music performances rounding out the cultural calendar. December is the best month to visit the UAE, for ease of travelling around and getting the most from your daytime activities.

Ramadan, the Islamic month of prayer and fasting, and Eid-al-Fitr, the three-day festival that sees families and friends come together to feast and celebrate afterwards, are taken very seriously in the UAE, and Eid can be a great time to visit.
THINGS TO DO IN THE UNITED ARAB EMIRATES
Things to do in the United Arab Emirates…
Many travellers choose to combine the UAE with Oman. It's a little over an hour by air from Dubai to Muscat, capital of the sultanate (though we'd recommend going by road if you can, which takes about seven hours). Once there, you can explore the many similarities and sometimes startling contrasts in culture between the two countries, as well as enjoying some traditional Oman activities, from visiting a Bedouin family home to relaxing by a water-filled wadi.
Perhaps surprisingly, desert landscapes can be hubs of biodiversity. Wildlife can thrive in arid environments like that of the UAE, it just needs to be clever about it. You can go birdwatching in Al Zorah Nature Reserve, a wetland wonder just outside Ajman where you can see herons, pink flamingos and many other species. The Wasit Nature Reserve in Sharjah is another superb spot for both resident and migratory bird species – the salt flat and coastal sand dune ecosystem is a triumph of environmental restoration – as recently as 2005 it was a waste water and rubbish dump.
Dhows are traditional wooden sailing vessels used by traders, fishermen and pearl divers around the Persian Gulf, the Indian Ocean and the Red Sea for centuries. While the sight of their sails billowing in the wind is not so common nowadays, you can still enjoy a dhow cruise in many parts of the UAE. For an interesting take on their history and cultural significance, you can also visit a dhow boat-building yard and watch craftspeople at work. Such visits, and tourist cruises, help this venerable custom survive in the face of motorised competition.
Things not  to do in United Arab Emirates…
Despite ranking among the most water-starved countries in the world (less than 100mm average rainfall annually), the UAE also has one of the highest per capita water consumption rates in the world, 50 percent above the global average – and much of that is used by the tourism industry – swimming pools, bathing, watering gardens, laundry. So, don't sing in the shower – at least, not Bohemian Rhapsody. Avoid hotels with several swimming pools or vast landscaped gardens, as well as water parks and indoor ski resorts that feel bizarrely incongruous in a desert country. Ignore the local customs. Compared to many other parts of the Middle East, the United Arab Emirates can seem relatively liberal, especially Dubai and Abu Dhabi, where you can drink alcohol in some hotels and restaurants, and the culture is quite cosmopolitan. But public displays of affection are generally frowned upon, you should dress modestly, and remember that it's considered rude to point at anyone. Above all same-sex couples should be discreet. Same-sex sexual activity is punishable by the death penalty under Sharia law, and people can be prosecuted under public decency laws just for holding hands. Limit yourself to Dubai or Abu Dhabi. They may be the best-known cities, but they're definitely not representative of the UAE as a whole. Spend a day or so in Sharjah, or Al Ain, to explore more traditional Arabic culture. And if browsing for designer clothes in frosty-fresh shopping centres isn't your thing, you can get your kicks out in the desert, hiking, zip lines and camping among the sand dunes.
Our United Arab Emirates Holidays
If you'd like to chat about United Arab Emirates or need help finding a holiday to suit you we're very happy to help.

UNITED ARAB EMIRATES TRAVEL ADVICE
Yousri Mohamed and Jyoti Khatri from our Dubai-based partner Surprise Tourism share their top tips for visiting the United Arab Emirates:
When to visit
"The best time of year to visit the UAE is from October to March, but September and April are still fine too. From June to August most people find it just too hot. The Global Village, which is Dubai's main cultural venue, is open during this time."
What to wear
"It's quite relaxed in Dubai, but obviously this is an Islamic country so it's nice for travellers to respect our customs here. Clothing for instance – it's recommended to cover up, and that is especially the case at religious sites."
…and what to eat
"In Dubai there are many nationalities and many restaurants catering to them, so you can try cuisines from around the world. As for Arabic cuisine, our recommendation would be to try biryani, a spicy meat, rice and cashew nut meal which is the national dish in the UAE."
Things to do with kids in the UAE
"Ras al Khaimah is a hidden gem for families and well worth the visit from Dubai. We know it as RAK, and it has sandy beaches, a desert and lots of adventurous activities including the world's longest zip line, a via ferrata and hiking. Overnight desert safari camps are also popular here which give you a dose of culture as well as the excitement of sleeping beneath the stars."
More about United Arab Emirates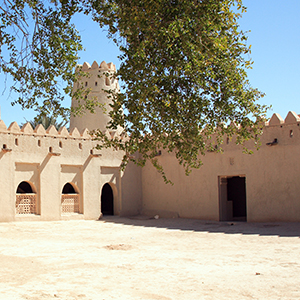 There's much more to the United Arab Emirates than just Dubai and Abu Dhabi, as our guide explains.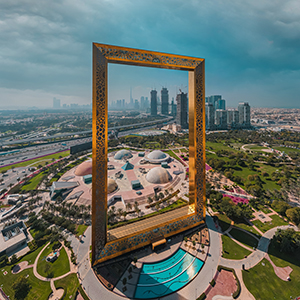 Our Dubai travel guide gives a new introduction to a city we feel has an undeserved reputation.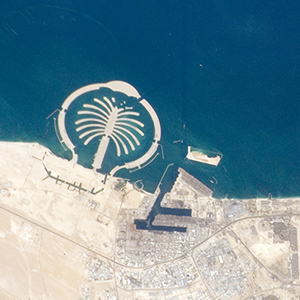 Learn how to travel responsibly in the United Arab Emirates.