Vietnam small group holidays map & highlights
Although Vietnam's not a huge country, it stretches a surprisingly long way from north to south, so depending on the duration of your small group holiday and how much it packs in, you could be using a range of transport. A 10-day break will give an overview of the country's key cities and sights, but to speed up travel, expect to use trains and planes, too. You might ride an overnight sleeper from Hanoi to Hue, and also take a flight from Hoi An to Ho Chi Minh City in the far south in a single trip of 10 days.
1. Halong Bay
Halong Bay is a UNESCO World Heritage Site and one of Vietnam's most celebrated spots. It is the world's largest marine karst landscape, with over 2,000 giant limestone boulders emerging from the greeny-blue waters. Small group holidays often include an overnight cruise around the bay on a classic wooden junk, which allows plenty of time to drift through this otherworldly and beautiful seascape.
2. Hanoi
Vietnam's capital may be 1,000 years old, but it has an unexpectedly European feel, with balconied buildings, tree lined streets and pleasant parks. Street names describe the industries found in each one, including Rice Street, Boiled Fish Street and Silk Street. Wander through the Old Quarter, see ancient pagodas, Ho Chi Minh's mausoleum, skinny 'tube houses', artisan workshops and enjoy fantastic street food.
3. Ho Chi Minh City
The markets, temples and roaring motos of Ho Chi Minh City provide instant immersion into urban Vietnamese life. There is much to see here, with the Ben Thanh Market, Chinatown, Taoist temples, lacquer workshops, Reunification Palace, Notre Dame Cathedral, Opera House and the excellent War Remnants Museum all worth a visit. Try the street food too – delicious and unbelievably cheap.
4. Hoi An
Another World Heritage site, Hoi An is a leap into the past. The car free streets of the old town are lit by lanterns, and the architecture speaks of Spanish and Portuguese colonial times. Shopping is great here – find paintings, ceramics and colourful lanterns in markets and preserved Chinese shop houses. There's delicious regional food, too, so head to a riverside restaurant or take a cooking class.
5. Hue
Once the capital of the Nguyen Dynasty, Hue speaks of Vietnam's imperial past. Explore the ruins of the Imperial Citadel complex and try dishes that once graced the Nguyen emperors' table at busy Dong Ba Market. A short cruise down the Perfume River reveals iconic scenes of rural life, too, as workers in conical straw hats tend to rice paddies.
6. Nha Trang
Small group holidays to Vietnam often focus on its cities, but time to chill in coastal Nha Trang brings a welcome change of pace. The resort is rapidly growing, but you can still find sandy beaches, idyllic islands, coral reefs and superb seafood away from the tourists. Head by boat to remote coastal spots and fishing villages, snorkel in turquoise waters and enjoy a seafood lunch.
Small group holidays in Vietnam travel advice
The benefits of joining a small group tour
The benefits of joining a small group tour
Nicola Marshall is a Vietnam tour leader from our leading supplier of small group tours, Intrepid:

"Travellers won't waste time planning how to get from A to B; we've worked that out and the leaders will handle the logistics on trip. Many of our Vietnam trips include flights and overnight trains; travellers just need to be ready at the appointed time. Travellers can get to places that they may not discover on their own or may struggle to get to independently. On homestays, travellers are able to integrate more easily due to the small group size. They can have more meaningful interactions and learn more about the way local people live. A small group can go with their leader to a great local restaurant to eat – maybe it's the tour leader's favourite place for banh mi in all of Vietnam – but larger groups have to go to places that have space for them. Smaller groups can interact with local people through their leader if there's a language barrier, and ask questions about a task, activity or way of life."
Advice on the tour leader
"All our leaders are Vietnamese and they are qualified to guide at sites visited throughout Vietnam (Tu Duc tomb in Hue, Sung Sot Cave in Halong Bay). We include local guides on a few specific activities, such as the Mekong Delta visits, trekking in Sapa and Da Bac, and kayaking at Cat Ba Island."
Group dynamics advice
"People absolutely do bond on small group holidays. Smaller groups mean better opportunities to spend more time with one another and get to know one another beyond the basics. Travellers will also experience things together which help them bond, such as sharing a cabin on an overnight train or a homestay in the Mekong Delta."
Responsible tourism
"Leaders can explain and demonstrate responsible travel more clearly with a small group. For example, installing water tanks on private buses so travellers can refill their bottles; supporting local laundry businesses (rather than at the hotel); learning about traditional crafts from organisations that support disadvantaged people."
Our Vietnam small group Holidays
If you'd like to chat about Vietnam small group or need help finding a holiday to suit you we're very happy to help.

At Responsible Travel, we think the best people to advise our travellers are often... other travellers. They always return from our tours with packing tips, weather reports, ideas about what to do - and opinions about what not to.
We have selected some of the most useful Vietnam small group holidays travel advice that our guests have provided over the years to help you make the very most of your holiday – and the space inside your suitcase.

Take cleaning wipes, a sheet sleeping bag, black out mask and earplugs for the overnight train between Hanoi and Hue. Not essential but does aid sleep!

"Take a rucksack, travel light and don't forget the mosquito repellent." – Marian Jenkins

"Pack light as there is lots of tempting things to buy, plus having wheels on your bag is seriously an advantage. Don't spend too much extra time in Hanoi if you have no firm plans as there are definitely nicer places to stop over a few days." – Loretta Ahmed

"Be prepared for packed days, early starts and seeing lots." – Faisal Butt

"Leave room in your suitcase. You'll want to buy a lot!" – Garry Glanz

"Be curious about the country and its people and ask questions to your guides, they are full of information." – Wally Garrod

"The night train is a challenge, comfy but very noisy! Take ear plugs and eye shades and don't expect to get much sleep." – Janet Sutherland


Try everything – food, climbs, rides, meet local families - it's the best way to see the country

"Maybe tag on Cambodia to this trip as a number of our group did this." – Susan Latham

"Bring mosquito repellent, and willingness to try lots of street food." – Amy Cochran

"As with all group travel, it helps to "go with the flow" in order to get the most from your trip. I was with people who were at least 15 years younger than me and I occasionally had to remind myself that I had been their age once!! Having said that they were all very friendly and we all got on OK. There was another group we came across where I would have been one of the youngest...you don't know what the demographic of the groups will be... it's all part of the adventure! The trip itself is more about experiencing or getting to know the culture and customs of the Vietnamese and is not a "sightseeing tour" in the traditional sense. There is no wall to wall commentary but if you've read up a bit beforehand or take your Lonely Planet guide with you, then you can supplement the information given by the tour leader. The true value of the tour leader is their local insight." – Gail Morris

"It can be wet and quite cold in Hanoi in early March – a fleece and waterproof are a wise precaution. You don't need many clothes – light, informal wear (with an opportunity for cheap, high quality laundry in Hoi An. Arrange to spend a day in Hanoi before the start of the trip (it doesn't start until 18:00 on the first day) and a day in Saigon at the end (don't miss the water puppet theatre.)" – Andrew Jackson

"Take some comfortable sandals which you can walk or climb in, not just flip flops!" – Charlotte Barton
More about Vietnam small group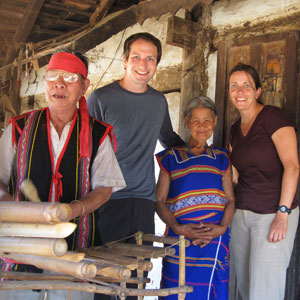 From group size to itinerary and guides, our Vietnam small group holidays guide details all you need to know about travelling in this fascinating country. There is information on Vietnam's climate and best time to go, too, and useful tips on everything from crossing the road to mugging up on the country's history.