Vietnam travel guide
---
2 minute summary









A patchwork of straw-hatted rice farmers, terraced rice paddies, enchanting bays, glitzy cities, unexplored rainforest and stilt-house villages, our Vietnam travel guide takes you through this enthralling introduction to Southeast Asia.
Ho Chi Minh City (formerly Saigon) and Hanoi are frenetic, moto-filled urban sprawls, yet they still manage to be safe and friendly with pockets of French-style tranquillity in which to sip a coffee. The
Mekong Delta
reveals rural Vietnamese life: fruit trees, rice paddies, fishing villages and floating markets. And Halong Bay is an ethereal landscape of limestone boulders rising from the waters, traversed by traditional junks. There are lantern-lined towns, fast-fingered tailors and over 3,000km of coastline – which gives way to near-deserted islands, which we reveal in our Vietnam travel guide.
Rediscover your wild side with a voyage into the hills and national parks, to encounter remote hill tribes, primary forests and newly discovered endangered species.


Hello.
If you'd like to chat about Vietnam or need help finding a holiday to suit you we're very happy to help.
Rosy & team.
01273 823 700
What we rate & what we don't
---
Our guide to the best & worst of Vietnam
Underrated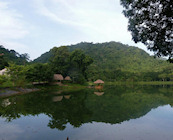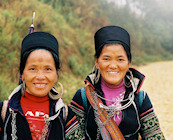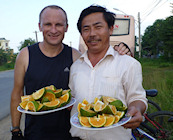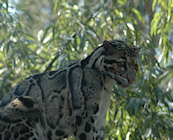 Con Dao Archipelago
It's hard to believe that this outstandingly beautiful archipelago was once an island prison. Today, it forms part of a national park, sheltering nesting sea turtles, primary rainforests, thriving reefs and endemic species. Con Dao is starting to receive attention from tourists and hotel chains – but thanks to its remoteness, development has been sluggish, and there's still time to make the most of that.
Hanging with hill tribes
Unusually, around 70 percent of Vietnam's people still live in the countryside, and a homestay or hill tribe trek is a fascinating immersion into traditional Vietnamese life. Few tourists make the effort to head up into the hills, but the bumpy drive is worth it, as you can sleep in a stilt house, wake to the sound of the village, enjoy traditional music and dance and chat to the rice farmers.
Vietnamese hospitality
Tales of scammers and cheaters abound, yet sadly the many stories of wonderful interactions and overly-helpful staff go unreported. Traditional communities are quietly welcoming and hospitable, while receptionists and hosts will often go out of their way to ensure you get safely to your destination and have a great eye for detail – without expecting a Dong in return.
Obscure national parks
Our Vietnam travel guide helps you escape the hustle of the tourist trail on your with trips to the less-visited national parks. Pu Luong has some fantastic hiking and the homestays with local families in stilt houses, while Cat Tien and Cuc Phuong offer the rare chance to discover Vietnam's wildlife, with superb birding and elusive mammals including the clouded leopard, sun bear, civet and langur.
Rated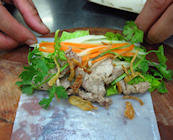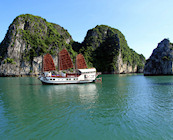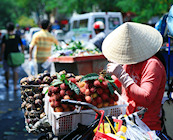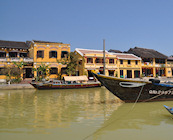 Fab food
Cheap, fresh and abundant – Vietnamese cuisine is a taste sensation. Roll your own spring rolls, buy bargain pho on the street, or discover the satisfying French-Vietnamese combo of a banh mi baguette. Alternatively, take a guided shopping trip round a market to buy ingredients, then learn how to put them together in a class run by a local chef, so you can recreate your favourite dishes back home.
Halong Bay
This dreamy seascape is one of Vietnam's most distinctive scenes. A UNESCO Site, Halong is the world's largest marine karst landscape, with over 2,000 giant limestone boulders emerging from the waters. Sail on a classic wooden junk, paddle into secluded caves and admire the sunset over the karsts from the deck of your boat. You can also visit the surrounding fishing villages, and a floating school.
Ho Chi Minh City
A marvellous Asian microcosm of markets, temples and roaring motos, the city – formerly known as Saigon – is an instant immersion into urban Vietnamese life. You could easily spend several days losing yourself in the Ben Thanh Market, Chinatown, Taoist temples, lacquer workshops, Reunification Palace and the excellent, emotive War Remnants Museum.
The Hoi An time warp
Leap into the past on your Vietnam holiday. The lantern-lit streets of Hoi An's old town are car-free, with evidence of Spanish and Portuguese settlers visible in the crumbling architecture. Tailors and artisans abound; this is the best place to buy a tailor-made suit or dress, as well as paintings and ceramics. Walk or cycle the narrow streets, browse the riverside fish market and visit a project for local children.
Overrated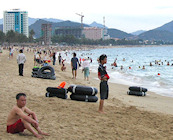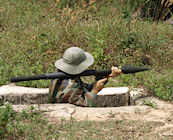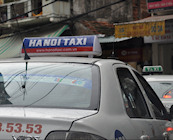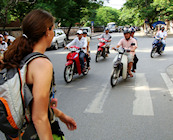 Nha Trang
Vietnam's answer to the Costa del Sol is not your postcard-perfect beach setting at all. The country's fastest growing resort is jam-packed with tourists along with Chinese and Russian investors. If you do find yourself here on your Vietnam holiday, head out by boat to more remote coastal spots, sail to whale island or take a tour with local fishermen, who have fished in the same way for centuries.
Cu Chi Tunnels
With thousands of visitors each day, the tunnels are one of Vietnam's most crowded attractions. The wartime ingenuity is evident, though the stories of what occurred here are brutal – and the information is entirely one-sided, which may grate with some. Crawling through the hot, narrow tunnels is an experience of the discomfort and fear of war, though the nearby firing range – complete with AK47s to shoot – is a rather tasteless addition.
The 'Vietscam'
Tales abound of cheating, hassling, and general unpleasantness, but there's more to Vietnam than being ripped off, and many horror stories are overrated. Backpackers are likely to face the worst of it as they haggle to the last Dong, but you can avoid the main scams by booking taxis through your hotel, not always choosing for the cheapest option, hiring a guide and taking care of your belongings.
Safe pedestrian crossings
Half the thrill of Ho Chi Minh City is the adrenaline rush that comes each time you have to cross the road. Drivers are crazy, the motos don't stop for anyone, and there are no pedestrian crossings – the only solution is to run. Terrifying at first, most visitors report that they actually begin to enjoy the adrenaline rush after a while – as they've conquered a truly Asian skill.
Food, shopping & people
---
Travel like a local with our Vietnam travel guide
Eating & drinking in Vietnam
---
Backpackers have long known that Vietnam has the world's cheapest beer. Bia hoi is brewed daily and delivered to little street-corner bars in jugs – a glass can cost as little as 12p.
Pho is the Vietnamese staple – you can pick up a bowl of delicious and eye-wateringly cheap noodle soup on almost any street corner.
Nom hoa chuoi is not your average salad. Made with the thick, purple banana flower, it also contains chicken, peanuts and fish sauce.
Silk isn't the only use for Vietnam's silkworms. Their pupa are fried and eaten – ask for con nhong, but be prepared for the chewiness.
Despite its diminutive size, Vietnam is the world's second largest exporter of

rice

– and more unexpectedly, the

second largest exporter of coffee

.
People & language
---
There are officially 54 ethnic groups in Vietnam, 86 percent of which are Kinh (Viet). Tay and Dao are two of the largest minorities, but many originated from elsewhere in Asia, including the Khmer Krom (Cambodia), ethnic Chinese and White Thai.
Vietnamese is the main language – it has six tones, which change the meaning of words and make it devilishly difficult to learn.
Greet a Vietnamese:

"Xin chao!"
Request a hot, black coffee:

"Ca phe nong"
When you receive your bespoke new suit, tell your tailor:


"Tôi thật sự thích nó"


– I really like it!
Gifts & shopping
---
Hoi An is famous for its bespoke tailoring, from Italian cotton suits to full length silk dresses. The key is not to choose the cheapest shop, get off the main street and be very precise about your needs – or bring a favourite item for them to copy. You'll also need to stay in the city for two or three days to allow for fittings.
54 Traditions gallery in Ho Chi Minh City references Vietnam's 54 tribes. Tour the three floors of hill tribe artefacts with the knowledgeable owner, including textiles and paintings, all of which are for sale and certified for export.
See traditional Vietnamese lacquerware artisans at work in Ho Chi Minh City's Tay Son Lacquerware studio
Once here, you may think everyone has the surname Nguyen – but you'd be wrong. Only
40% of Vietnamese share this name!
How much does it cost?
---
Glass of bia hoi beer: 12p

Bowl of Pho on the street: 59p

3* overnight cruise in Halong Bay: £36

Tailor-made suit in Hoi An: £36 - £142

Bus around Ho Chi Minh City: 9p

Tour of Cu Chi Tunnels: £3
A brief history of Vietnam
---
Ruled by China for over 1,000 years, controlled by the French from the 1850s and occupied by Japan during the Second World War, Vietnam had little chance to make its history its own, even before the onset of the Vietnam War, known locally as the "American War". However, the constant colonisation seems to have resulted in the Vietnamese clinging more closely to their unique culture and heritage as a way of distinguishing themselves from outside influences.
Read more ▼