The UNESCO World Heritage Site of Halong Bay is simply gorgeous – the largest marine karst landscape in the world has some 2,000 "sugarloaf" limestone islands rising from its waters, and each day thousands of tourists flock here to photograph the spectacular views, cruise out to secluded beaches and kayak through fairytale caves.
However, if you look that bit closer the story is rather different. Litter bobs around in the bay along with dead fish and raw sewage. Swimming is not an option in many areas, and you're unlikely to have these secluded islands all to yourself – you may well be sharing them with dozens of other boats. Even the air is hazy with pollution. Sadly, the local government has not capped the number of tourists of boats who set out into the bay each day. Instead, they have created plans to resettle local fishing communities – some of whom live in floating villages – inland, apparently to prevent them emptying wastewater and trash into the water, despite the traditional culture being as integral to this landscape as the karsts themselves. Halong Bay is still very much worth seeing for yourself – but only responsible tourism will be able to return the bay to its full glory, and protect the communities who are its custodians, so be sure to travel right.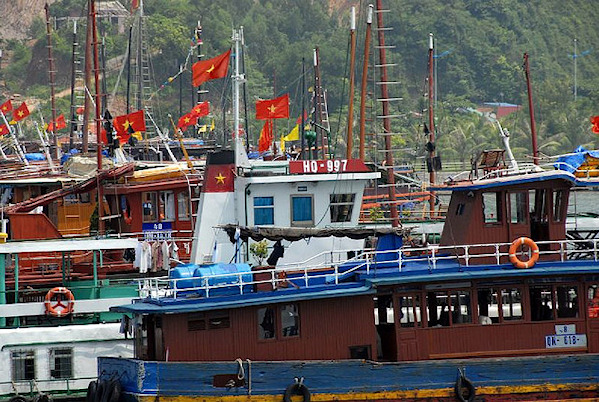 What you can do
Choose an operator with a responsible tourism policy
. Ask about their methods of disposing of trash and wastewater, and whether they invest in any local clean up initiatives. Find out if the staff are local – many of the fishing communities around the bay are no longer able to fish – as the sealife is dying, and the waters polluted – so employment in tourism is a way of sustaining their floating communities.
Don't just stay on your ship
. Find a tour which visits local communities, and which allows you the chance to interact with the people and spend money by buying refreshments or crafts.
If your boat crew or guides throw litter into the bay,
report this to your operator and shout about it on review sites and social media
. The word will spread that tourists demand responsible practices, and more will begin to follow suit.
Take a two-night cruise rather than one night
– this allows you to sail further and to reach some of the more pristine bays and islands, beyond the pollution and litter. But remember – once there, you are responsible for keeping it this way